Amazon's New Lord of the Rings Series Will Reportedly Focus on Young Aragorn
Bring back Viggo or bust
Images via New Line
TV
News
Lord of the Rings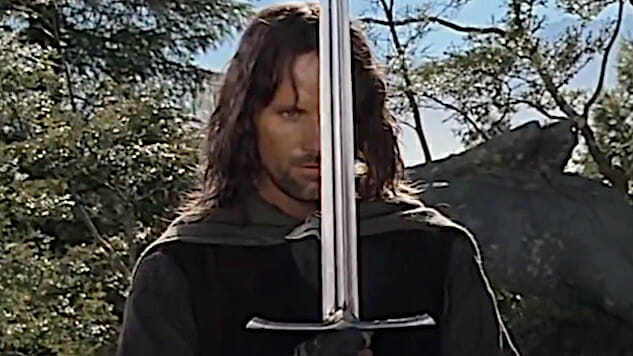 Last November, Amazon announced that they were creating a new Lord of the Rings series for their streaming service. The series is expected to be one of the most expensive shows ever made and Amazon acquired the rights for an equally massive $250 million dollars. Since that initial announcement, the series has been shrouded in as much mystery as the innermost caverns of the Misty Mountains. Until Wednesday, that is.
[BREAKING] We have confirmed from multiple sources that @AmazonStudios new billion-dollar #LOTR series will open its first season centered on a young Aragorn.

Let's discuss whats available and how this opens up Tolkien's Legendarium. A thread. #Tolkien
/1 pic.twitter.com/mfbkf4jyX6

— TheOneRing.net (@theoneringnet) May 16, 2018
According to reputable, Tolkien-centric Twitter account TheOneRing.net, the new series will focus on a younger Aragorn, a rumor said to have been confirmed by "multiple sources." If true, this is big, Balrog-sized news! Fans were worried that show might trample on the lineage of Peter Jackson's original masterpieces, but if TheOneRing.net is right, the series will hopefully build upon and add to what made those filmic adaptations so special.
Though Aragorn's backstory and younger exploits are never fully fleshed out in Tolkien's extended world-building works, his youth spent in Rivendell and his romance with the elven Arwen feature heavily in Tolkien's trilogy of Lord of the Rings books. Either way, the showrunners have plenty to go on. The exploits of a young Ranger could prove very interesting. The show is seemingly set for a multiple-season format, given how much Amazon paid for the rights, so, hopefully, each season is some sort of unconnected, standalone adventure in Middle Earth. In other words, just give us a 10-episode season of Tom Bombadil walking around his forest and rhyming at trees.