Netflix Renews Narcos: Mexico for Season Two
Photos by Carlos Somonte/Netflix
TV
News
Narcos Mexico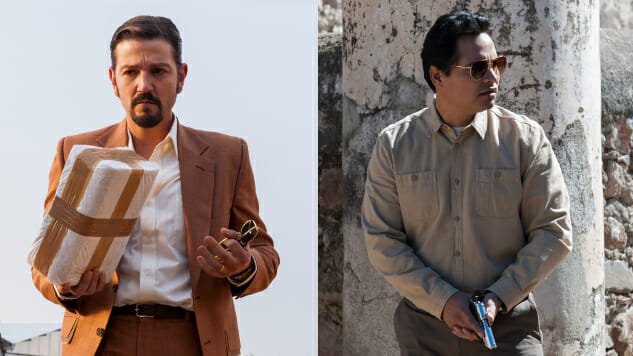 Netflix has renewed Narcos: Mexico for a second season.
Originally intended as a fourth season of Narcos, which followed the rise of the Colombian cocaine trade and drug kingpin Pablo Escobar, the first season of Narcos: Mexico launched last month. The companion series moves the action to Mexico with two new leads: Michael Peña (DEA agent Kiki Camarena) and Diego Luna (drug lord Miguel Felix-Gallardo).
The first season of Narcos: Mexico tracked the rise of the Guadalajara Cartel in the 1980s, led by Luna's Felix-Gallardo, while Peña's DEA agent Camarena provided a glimpse into the other side of the era's drug war. The show's debut season also starred Aaron Stanton, Alyssa Diaz, Joaquín Cosio and Matt Letscher.
It's unclear whether Luna will return for the second season of Narcos: Mexico, as it's been recently confirmed that he will reprise his Rogue One role as Cassian Andor for a live-action Star Wars universe series on the forthcoming Disney+ streaming service.
Netflix has not yet announced an episode count or return date for the second season of Narcos: Mexico.