How WGN America's Outsiders Continues Building Its "Weird Little World" in Season Two
WGN America
TV
Features
Outsiders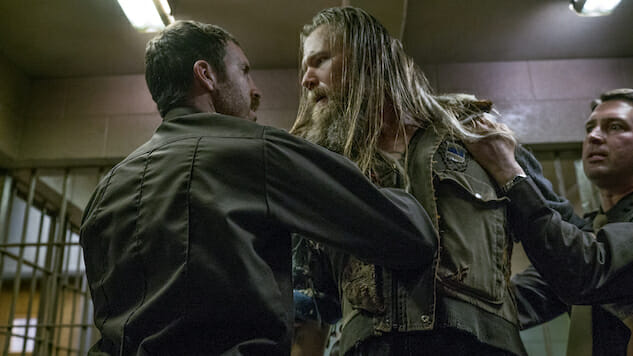 Created by playwright Paul Mattei (Love in the Time of Money), with Rescue Me's Peter Tolan as executive producer, the second season of WGN America's Outsiders picks up where the first left off, as the battle for Shay Mountain between Big Coal and the Farrells—a clan of squatters in the easternmost reaches of Kentucky—picks up speed and the townspeople in the mountain's shadow become increasingly enraged by delays to a mining project that promises much-needed jobs. To further amp up the drama, there's infighting among the Farrells, who lost two Bren'ins—their term for chief—in short order last season. Add in romantic angst and conflict for power and Outsiders is the most explosive mash-up between Shakespearean drama and Appalachian lore on TV's current roster.
Outsiders isn't just about the conflict within a rough-and-tumble family. It also depicts those disenfranchised at the mercy of capitalism. There is only one, true villain: Big Coal. During the series' panel at the biannual Television Critics Association press tour earlier this month, executive producer Peter Tolan addressed Outsiders connection to today's political headlines.
"There's always going to be those projects that will always reflect what we're doing," he said. "It's an ongoing thing: the environment against business."
In Outsiders, for instance, the town's new emergency manager orders a new fence to be built around the mountain to keep the Farrells in one place. G'winveer (Gillian Alexy), the former healer turned Bren'in, only has this to say in response: "We ain't trapped up here, they trapped down there."
"There's a lot of themes of people confined and imprisoned in this season," Mattei says. "I can't really talk about the details, but various members of the family are separated for a while and go through the difficult journeys, then to reunite."
One could easily compare Outsiders to other TV series—Sons of Anarchy and Justified, both of which aired on FX, come to mind—but the mysticism of Shay Mountain, known as Blood Mountain to the indigenous people living on the land prior to the Farrell clan, adds an element of magic, prophecy and folklore that distinguishes Outsiders from its competitors. The cousin of David Morse's Big Foster Farrell, Asa Farrell (the charming Joe Anderson) ran away from Shay Mountain ten years ago, only to return after being distressed by the state of the world. This is when the landscape becomes a living, breathing character: In the pilot episode, we're introduced to Asa right before he attempts suicide, when he receives a message—or a vision—to go home. During the Season Two premiere, the mountain, personified as a young girl, gives the headstrong Asa a tool to help as he plots a new plan to escape his imprisonment once and for all.
"It's a weird little world that we have," Tolan says. "It's separated by this gulf of six or something hours from the people of the mountain and the town below. We wanted to place the characters in situations that the audience would not expect, especially so we weren't treading the same ground as we did in Season One."
If Big Coal is the main villain of Outsiders, there's a second character that can be just as menacing. Big Foster not only shows off Morse's ability to carry a scene, but also suggests his deftness as an actor: It's fun to watch him spar with Asa, G'winveer and his son, Li'l Foster (Ryan Hurst), in part because you'll love to hate him. Still, though he spends much of the first season scheming to usurp his mother, Phyllis Somerville's Lady Ray, Big Foster suffers the consequences of his actions.
"The first season, believing himself to be the center of the clan, and the actions he took, in terms of the guns and stealing his bride, it alienated him more and pushed him further out," Morse says. "He's not the same man he was before. He really does become more an outsider of his own world."
"That was all Mr. Morse," Hurst says of Big Foster's unexpected emotional resonance. "The way that the character was originally written [he] was much more of a thug. I get to watch him craft this thing that became very complex and very, very touching. You read the scripts and go, 'Okay, he's doing all of this bad stuff' to watch him craft a really, really in-depth character. It was fascinating."
Besides the family turmoil, the series offers a number of romantic entanglements, including the relationship, reminiscent of Romeo and Juliet, between Hasil (the energetic and pensive Kyle Gallner) and Sally-Ann (Christina Jackson)—a man who doesn't even know that "coon" is a racial epithet and the black store clerk he manages to charm. Though Sally-Ann tries her best to keep her relationship and her life in town separate, her brother's angry intervention sends her and Hasil reeling (exacerbated by the brother's own long-term unemployment, and thus his rage at the entire Farrell clan).
Hasil is just as conflicted. The young character attempts to make things right with Sally-Ann while carving out more responsibilities of his own within the clan: His heart is in two places at once.
"He's an outsider in town and the family," Gallner says. "His family is looking towards him, his role gets bigger, what to do with his life and Sally-Ann. He will never feel comfortable in either world. And that poses a lot of challenges for him."
Similarly, G'Winveer's assumption of the title of Bren'in last season means that she now confronts the task of holding the Farrells together as they fight against Big Coal. Heavy is the arm that wields the clan's oak staff.
"[G'Win] is a much more independent force in Season Two," Mattei confirms.
"The challenges of leadership are very apparent quite early on in her reign," Alexy explains. "I think [G'win's] ideas of how to do things may clash with certain members of the clan, and her voice is going to be challenged. So she's navigating through that." (In the season premiere, for instance, G'win is visibly uncomfortable facing the aftermath of a decision made in last season's finale. But as the episode progresses, she is persuaded by certain signs—more from the mountain—to accept her new role.
"I think the imminent threat of the outside world and the coal company has definitely made people question the history of how they've done things in the past," Alexy says. "It's really important, especially to G'win, that their way of life, their rituals, their traditions [are] maintained, because the more they become like the town, the less of a paradise Shay Mountain becomes."
Season Two of Outsiders premieres tonight at 9 p.m. on WGN America.
---
Iris A. Barreto is a writer for
Fangirlish
, freelance writer for
Paste
and social media intern for
Pink is the New Blog
. Heavily caffeinated. Forever lost in Westchester, NY & NYC; all GPS apps hate her. You can follow on Twitter.