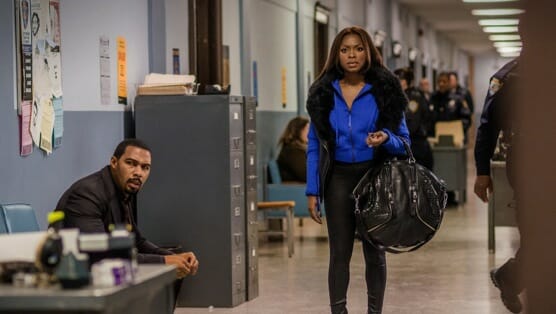 I forgot to mention one thing that stood out to me last week, and I must state it now: Power is not a show meant to fit in one genre—it's everything combined, and that's what makes it completely delicious. Last week's episode was slower than usual, but the dialogue and certain moments between actors were reminiscent of a stage play. Meanwhile, last night's episode was full of energy, but it still feels like we're in the eye of the storm, even though the hurricane is just beginning to touch down.
If you told me a few episodes ago that Holly would endear herself to me, I probably would have laughed in your face. But her recent story arc proves that waiting for a character to flesh out is well worth it, as "Why Her?" cements her status as a major player in the game. Last we left off, Holly was on a mission to save Tommy from Angela's investigation. When it comes down to it, she is a lost soul. She doesn't have anyone else in her life taking care of her, so she latches on to Tommy and the safety he provides. First, he helped her out of the hospital. Next, he buys her a puppy, to keep her from being lonely. Third, and most importantly, Tommy decides that it's time to give Holly his grandmother's ring—the ring that his mother continuously pawned and got back, so it has emotional ties to all the women in his life. This is as close to a proposal Holly will receive from Tommy, so she takes it as a sign that she needs to help keep him safe, which will keep her safe.
Angela and Holly, so far, are the most interesting when they play off each other. Sitting in a booth, both characters can recognize themselves in the other—they are both trying to protect the men they love as best they can. They're two sides of the same coin, really, and it's incredible to watch their focus become razor-sharp. For Angela, who seems to constantly muddle through her investigation, she needs the reassurance that Jamie and Ghost are two different men. Holly, on the other hand, just wants to leave town and protect Tommy, so she tries her best to find the weapon that killed Rolla, during the night of the big snowstorm. She's unsuccessful, but after another threat from Ghost, Holly decides on a course of action that changes everything.
After Ghost gets into a mini-bumper accident, Tasha has to pick him up from a police precinct. The standoff between Ghost and Tasha in the car is well-played. Tasha forces the "Why her?" conversation to happen, which allows the audience to view another facet of Ghost—the cheating husband, finally admitting to his sins. While Omari Hardwick is far too talented to reduce Ghost to a bumbling man, it's amazing that, in front of his wife, his relationship with Angela is explained in such a mediocre way, making it sound like Angela is just the girl from 'round the way, whom he fell in love with, and still isn't over. It's robotic-sounding, but that doesn't fool Tasha. She was there to witness the passing looks between her husband and his mistress, which confirmed their love. It hurts to watch a character realize that they're not enough, but all that vulnerability disappears when she hears that Angela is a fed.
It's in this moment that Tasha steps up to the plate. Earlier in the episode, Tasha's mother (played by the great actress, Debbi Morgan) slaps her daughter for pushing Ghost away and belittles her parenting skills. It's entirely unfair. Tasha has always made moves in the background, ensuring her family's safety and status—recall the snatched smile of the principle as Tasha reminded her of the large donation to the school. While Ghost might have fallen out of love with Tasha long before Angela came back into the picture, it's always been recognizable that Ghost (along with Tommy) listens to Tasha's plans-and she has good ones, too. Add danger to her family's wellbeing, and you have a fierce woman who's leveling up to be the partner that Ghost needs, since his emotions are quickly dismantling his usually level-headed planning. Ghost is losing control, while Tasha is holding a firm grip—which will push him as far away to legitimizing his life as possible, but the writing team is giving Naturi Naughton the storyline she deserves. I'm ready!
In a pivotal moment at the train station, Holly feels that love can make all things possible, so she runs back to Tommy's loft to tell him the truth. Right when they're about to have sex, she handcuffs him to the bed—an instinctual act to protect herself—and tells Tommy the truth about Angela and the feds. Tommy is in a state of fury, but her boldness leads her to ask, "Ghost or me?" It's Ghost all the way and in a scene that started off so eerie, Holly walks out of Tommy's world and the episode ends in complete quietness.
Stray Observations:
Tariq is having "behavior problems" and fighting in school. While it's common for children to react this way in times of familial strife, it was way out of line for the principle to assume that a man had to "talk" with Tariq to straighten him out. However, props to Tasha for reminding her who holds the purse strings of the household.
Angela is addicted to sex with Ghost. I mean, we always knew this, but she straight up and forgot about Holly, her possible eyewitness. I almost died.
Tasha and Shawn FINALLY stopped circling around each other—to wind up having sex… in the same vehicle that she and Ghost argued in earlier. Juvenile? Possibly. Hot as hell? YES.
"You want to know if he's a good guy or bad guy, so you can decide if you should keep fucking him. But be real, who wants to fuck a good guy?" (Holly)
"You keep fucking this bitch until I tell you to stop." (Tasha)
---
Iris A. Barreto is a writer for Fangirlish, freelance writer for Paste and social media intern for Pink is the New Blog. Heavily caffeinated. Forever lost in Westchester, NY & NYC; all GPS apps hate her. You can follow on Twitter