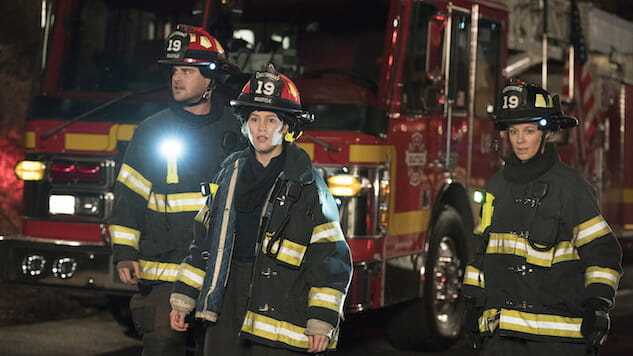 I would love to live in Shondaland.
It's a world where beautiful people of all shapes, sizes and races save live, litigate cases and solve problems. Their hair is fabulous, their wardrobe even more so. They have children, without the pesky nuisance of actually having to care for them. More often than not, the sex is earth-shattering. They have once-in-a-lifetime romances and best friends who are family. Sure, sometimes they commit murder, but it was an accident. Really!
In her series, including Grey's Anatomy, Scandal and How to Get Away with Murder, executive producer Shonda Rhimes has created worlds that are compulsively watchable. I've said this before, but it's true: Other series will build up on my DVR unwatched, unloved and abandoned, but I'm always caught up on the shenanigans of Meredith Grey and her cohorts. Even though Grey's Anatomy had a spinoff before (Private Practice, which ran from 2007 to 2013), Rhimes has never created a whole franchise world à la NBC's Law & Order or Chicago Med, Fire, and P.D..
That all changes with the arrival of Station 19, which spins off Grey's Anatomy's Ben Warren (Jason George), who's left surgery behind to become a Seattle firefighter. Even though Ben is the character that tethers Station 19 to Grey's, he's not the star of the show. That's Andy Herrera (Jaina Lee Ortiz). Relative unknown Ortiz is up for carrying a series. She simultaneously conveys inner strength and vulnerability.
At first, I was a little upset/annoyed that ABC only made one episode of Station 19 available for review. This is especially irritating given that the premiere is two episodes back to back
But then I realized the first episode told me everything I needed to know, as Station 19 more or less replaces the medicine of Grey's with fire. It's like those analogies that are on standardized tests. Meredith is to Grey's Anatomy as Andy is to Station 19. Like Meredith, Andy narrates the show via plaintive voiceover, filled with metaphors and bon mots. Like Meredith, she is working in the shadow of her successful parent (in this case her father, played by Miguel Sandoval). Like Meredith at the beginning of Grey's, she has a complicated romance. Meredith's was with her married boss; Andy's is with police officer Ryan Tanner (Alberto Frezza), which is a problem since she's quasi-engaged to fellow fighter Jack Gibson (Grey Damon). Her best friend/Cristina is no-nonsense firefighter Maya (Danielle Savre). Barrett Doss' Victoria doesn't suffer any fools, just like Miranda Bailey (Chandra Wilson, who also appears in Station 19—Bailey is Ben's wife). Andy hooks up in supply closets. Ellen Pompeo even turns up in the premiere, in an almost literal passing of the baton. When Andy is near tears, Meredith takes her to—yes—a supply closet so she can cry. "OK, that's enough," she tells Andy. "You go be brave for them." Since the people saved on Station 19 are treated at Grey Sloan Memorial, it's easy to see the characters on both shows weaving in and out of each other's lives.
If you start to think the show is a little too much like Grey's, there's the rapid fire screen shots at the commercial break just like Scandal. But the series has so much shared DNA with Grey's that you can't help but see a franchise starting to form. I mean, can Precinct 20, about Seattle's finest police officers, be far behind?
For viewers who know George's Ben Warren, his arc is consistent with his character. On Grey's, he's always had career wanderlust and impulsive medical judgment. He started as an anesthesiologist before changing to surgery and now he's a firefighter/EMT. Here he's the new guy, and it's an uncomfortable position for him to be in. He also quite clearly has much to learn. "What we can treat in this rig and what you do in an OR are two very different things," Danny (Jay Hayden) tells him.
All this may sound like I'm complaining, but I'm not. Like I said, I actually do want to live in Shondaland. Rhimes' series are the ultimate comfort food TV. Station 19 may not set your viewing world on fire, but I bet you'll be glad you watched.
Station 19 premieres Thursday, March 22 at 9 p.m. on ABC.
---
Amy Amatangelo, the TV Gal®, is a Boston-based freelance writer, a member of the Television Critics Association and the Assistant TV Editor for
Paste
. She wasn't allowed to watch much TV as a child and now her parents have to live with this as her career. You can follow her on Twitter (@AmyTVGal) or her blog .