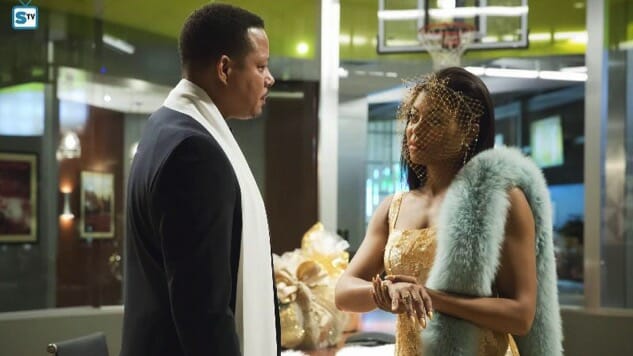 You had to know that as Empire veered towards the season finale, the writers would start breaking out the big dramatic guns. And it was probably a safe assumption that the characters on the show would be wielding firearms in some capacity. I can't say that I'm surprised that one of the main characters took a bullet and wound up in the hospital. I'm just amazed that they let us know who it was, and will—hopefully, next week—drop the news about Jamal surviving the attack. (If any of you think that they're going to kill off this character and lose the talent that is Jussie Smollett, you've got rocks where your brains should be.) What happened to a good old fashioned "Who shot J.R.?" cliffhanger? People would have been bugging out waiting to find out either who Freda Gatz shot down, or if they survived the attack. Makes me wonder what big thing they have planned for the last episode of this second season. North Korea invading the city? Zombie apocalypse? Jamal killing his dad in a fit of rage, and going on a three-state spree of murder and mayhem? All kidding aside, my guess is that someone else from within the show is going to wind up in prison again. Most likely Lucious, but I wouldn't put them past dropping Cookie back behind bars or sending Andre into a bipolar frenzy by locking him up. We'll have to wait until next week to find out what's really going to happen. Until then, let's look back at the penultimate episode of Season Two and see what sticks out.
1. Freda gunning down Jamal
Something like this was pretty inevitable, wasn't it? That one of Lucious's sons was going to take a bullet for daddy dearest and wind up in the ground, or in the hospital. Credit the writers that it was the person we expected least to be the one who got bloodied. Especially after the big showdown between Jamal and his dad in the studio, and the former's insistence that he was through with Empire and the Lyon family following the ASAs. The whole scene forces us to suspend our disbelief too, because there's no way anyone in real life would have been able to get that close to a superstar like Lucious, let alone doing it after stealing a cop's gun and knocking him out. Other than that, the whole thing was staged and pitched perfectly, reminding me of the opening of Season Two of The West Wing, when the staff dealt with the fallout of an assassination attempt on the president. How about that for a sentence you never thought you'd read?
2. Jamal vs. Lucious
Once again, the show revealed another layer of Lucious's unctuous personality. And to make matters worse, he was spewing his vitriol at his own son. It doesn't make much sense to me that Lucious would get this pissed off about his son fooling around with Dee Major, especially since it's out in the open that Jamal is a homosexual. It works for the character though, and left at least this viewer with that sour taste of anger in my mouth watching him wish an AIDS-related death upon his child. That that dialogue seems like something Terrence Howard might say to someone in real life, only made it worse to hear.
3. Cookie vs. Carol
Is this going to be the episode that Taraji P. Henson sends to the Emmys, so she might have a chance at taking home a statue? Because she was swinging for the fences tonight as she threw down with Tasha Smith, kicking her character to the curb for drinking and for bringing Federal eyes back on to the world of Empire. Cookie let what felt like decades of bottled up aggression out on her sister and exploded in a most colorful fashion. It was like watching a few minutes of the best fireworks display in the world.
4. Cookie to Tariq, the FBI agent courting Carol: "Watch out, because my sister has herpes. I hope it's not too late."
Daaaaaaaaaamn that's cold, Cookie.
5. Leslie Uggams
Why does it feel like this poor woman is slumming it by being a part of this show? Here is a singer and actress who had her own variety show in the '60s, has won Tony Awards, and was in the original Roots. What is she doing acting like a senile old bat with a murderous streak on this show? As much as I enjoy watching Empire, she doesn't need this show. This speaks volumes about the lack of engaging roles for older women, particularly women of color, in TV and movies. Besides, they missed out on the chance to put Kelly Rowland in old woman makeup and truck her out as Lucious's mom ca. 2016. How awesome would that have been?
Robert Ham is a Portland-based freelance writer and regular contributor to Paste. Follow him on Twitter.