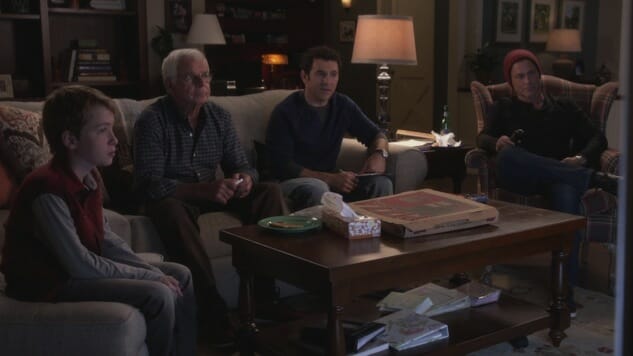 The Grinder actually got back into the courtroom this week, though it was brief, and Dean was not there to grind. It would seem that the show has decided it doesn't want to have this crazy plot where an actor who played a lawyer actually works real court cases. It does, however, want to have this crazy plot, where Stewart can practice his Shadow Boy skills in order to catch his son's drama school teacher and principal in a nefarious lie. It's not all it could be, but it's still fun.
"Dedicating This One to the Crew" is all about whether or not you should swing for the fences, and also about shouting out the little guy, be it a crew member of a play, or a blind, deaf paralegal who may or may not grind even harder than The Grinder himself. Ethan is the focal point this week, in many ways. As a precocious child on television, this is a risky proposition. Rob Lowe and Fred Savage are seasoned, veteran adults who have great comedic timing. The child who plays Ethan is a child. Fortunately, while Ethan is at the center of this story, the show is wise enough to make sure Dean and Stewart and their relationships to Ethan are prominently involved. Also, the kid who plays Ethan is an alright actor. The girl who plays Lizzie is better, but she's not precocious, so nobody cares about her.
The school play is coming up, and Stewart has been grooming his son to be a backstage crew member—a Shadow Boy—which is what he was. Dean, meanwhile, was the star of the show, at least after he had to give up being a star quarterback because of a shower sex accident. We've all been there. Ethan, of course, is a reasonable child, so he wants to be an actor, and not just a guy who moves furniture around. He tries out for the play, and he doesn't get the part, even though the description of the character could have been taken from the casting call for Ethan.
Dean smells conspiracy, and he's right, because the guy running the play, Sandy, lost the role that gave Dean his big break. He's played by Michael Showalter, which is nice because he has a good repartee with Lowe as Dean. Eventually, Dean ropes Todd, and his Excel skills, into a hacking operation much to the bemusement of Claire. Yes, Todd's role is basically the guy who loves Dean and buys into everything he does, and Claire's role is to scoff at all this insanity alongside Stew. But Steve Little and Natalie Morales are both perfect for those roles, as static as they may be. Todd, in particular, is a delight—a veritable Ralph Wiggum who mostly gets to say ridiculous things to get laughs, but it almost always works.
"Hacking" turns into "stealing Sandy's computer," and Stewart gets involved to support his son, who is clearly deserving of the part. Eventually, the conspiracy is unveiled and there's a lot of hugging between the Sanderson boys and their dad.
It's just not as easy to create absurdity, and meta humor, out of a tertiary child's quest to get a role in the school play. When The Grinder is riffing on law shows, they have so much to work with, but it has become increasingly clear that, perhaps, they don't want to do that—at least not in a courtroom setting. Of course, the other idea might be that the characters get fleshed out, so they won't need tropes as much to provide the backbone. Still, it's so fun watching those tropes get skewered. In the end, The Grinder may always be stuck between two worlds. Plenty of other shows just end up consisting of funny characters spouting jokes. The rest is just madlibs.
Oh, and shout out to all the camera operators and grips and costumers who worked on this episode of The Grinder. This review is dedicated to the crew. The Shadow Boys.
Chris Morgan is not the author of THE book on Mystery Science Theater 3000, but he is the author of A book on Mystery Science Theater 3000. He's also on Twitter.