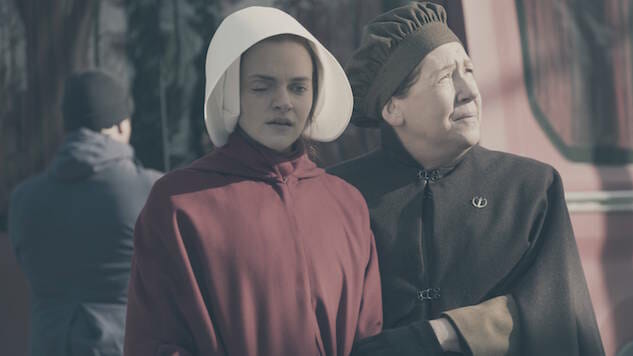 It's good to know that the makers of The Handmaid's Tale aren't above a bit of dark humor. Or was that a bit of unintentional editing, when the image of Ofwarren/Ofdaniel (Madeline Brewer) cowering in the corner, insisting that her former Commander was "coming for her," switches to Commander Waterford (Joseph Fiennes) fucking Offred (Elisabeth Moss)? God, I hope not, because even with the small glimmer of hope at the end of the hour, the weight of the agony and despair that all the Handmaids confront, and by proxy the viewers, is starting to buckle our knees and test our balance.
Especially in our current state—a president with no filter, no regard for anyone's lives outside his own and a healthy amount of the American populace in his corner—this series is starting to feel like a slog. Not that the creators could have anticipated this, even if the parallels are right there, playing out before us with each intemperate tweet and each moment of unbelievable horror, like what happened on a commuter train in my hometown of Portland.
We are all of us in the same place that Ofwarren/Ofdaniel is in, the same position that gave this episode its title: Standing on a bridge, overlooking the possibility of easing the pain with one jump. "It can't hurt very much," she says. The tension of the scene is that she's holding her baby in her arms as she teeters on the edge. But I would have somehow forgiven her for leaping off and taking her child with her. I feel mounds of guilt wondering about raising my son in this environment, where casual racism and misogyny is ignored or forgiven. When Offred begs her friend to "do what's best" for her daughter, didn't some small part of you think that included getting her out of this mess?
I know how fatalistic that sounds. And, no, I'm not suggesting murdering your children instead of fighting back against the tide of shit that keeps washing over us every day. But who among us who didn't vote for our current president or are regretting the decision to do so hasn't felt completely exhausted by the nonstop barrage of ill-considered remarks that could have international ramifications? We want to have someone like Offred there at our side, reassuring us that "change is coming" and "everything is going to go back to normal," with the promise of a night of drinking and karaoke at the end of it all. Yet every bombshell announcement and article and editorial and rally and petition and supportive discussion doesn't seem to be moving the needle toward bringing a swift end to this living nightmare.
With what strength we have left, we do what Offred is doing and join the resistance, making our small push back against the bastards that would like to grind us into dust. We use what powers we have at our disposal, as when Offred's feminine allure convinces the Commander to head to the brothel for another dalliance. We seek out those among us who will back us up and urge us to carry on and tell us, as she tells Moira (Samira Wiley), to keep fighting. All of us at some time or other are going to find ourselves on the figurative bridge, tempted to just give into the tide and completely give up. And we are all going to take turns talking one another down from the ledge, too. We are all of us in the gutter, so let's look at the stars together.
---
Robert Ham is an arts and culture journalist based in Portland, OR. Read more of his work here and follow him on Twitter.