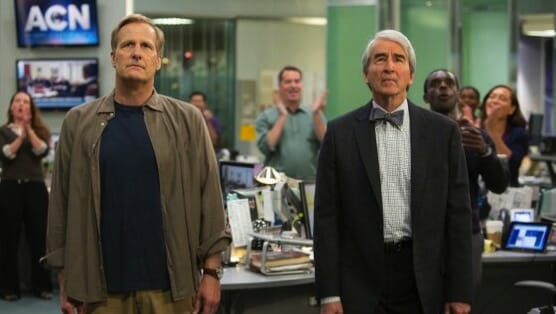 If what Aaron Sorkin says is true, and he is going to be finished with television after this abbreviated third season of his fourth TV show The Newsroom, the celebrated and reviled writer/showrunner is going down swinging. Trouble is, he still has a hard time landing the majority of his punches.
The show kicks off just as the news breaks of a bombing at the finish line of the Boston Marathon. It's tasty news, but in the wake of the Genoa scandal that nearly upended the news division and Atlantis World Media as a whole, Mac, Charlie and everyone is preaching caution, and making sure that all their sources are triple-checked before going on air with the story. That puts them well behind the big three networks, but at least their integrity is intact, right?
That's one question that hovers over this episode. The other is whether a rush to be first with a story without getting the facts completely straight is the right thing to do. Sorkin calls everyone out in this regard: CNN's John King for jumping the gun on a story that Boston Police had made an arrest, the New York Post putting a pair of unwitting men on their cover as suspects, and the users of Reddit and Twitter for adding to the fray with exponentially shared disinformation. Sorkin is back on his soapbox, and damn if he doesn't have a point. Where he fumbles is trying to wend in pieces of discussions happening today, by bringing in some not-so-subtle commentary on GamerGate when social media gets involved.
Things suddenly turn when it's revealed that—for all their good work and careful journalism— NewsNight and ACN got bumped to fourth place in the ratings, a huge price to pay when trying to regain their dignity after a big scandal. In response, Will decides to quit, but quickly changes his mind and decides, like Sorkin, to not go quietly into that good night.
Along the way, the other big storylines for the season get put into place. First, an anonymous source reaches out to Neal. He promises thousands of classified government documents, some of which reveal a PR company's responsibility for deadly riots in a foreign country after they planted some fake news stories about instability in the government. Sounds juicy until Neal also reveals that he asked for more documents, thus incriminating himself as a conspirator in this crime.
Not enough drama for you? How about the potential takeover of Atlantis World Media, uncovered by Sloan after getting a tip about an outside interest coming to town to potentially buy up Merrill Lynch and Goldman Sachs? She put the pieces together after Reese told her that the company wasn't going to meet their earnings projections, yet AWM stock was actually going up. It was a savvy play by Sloan, and should keep making some serious waves over the next five weeks.
Sorkin has never shied away from using his TV programs to proselytize about the slow death of our American institutions, from the White House to the television industry. And, as I said, he gets his licks in on that message once again. But he's also trying to do something else on Season Three of The Newsroom, and it's a pleasant surprise: he's emphasizing the maturation of a number of characters here.
Sloan proves capable of doing some real investigative reporting, coming up with a huge scoop for her efforts (yes, she got a leg up from Don at one point, but she connected all those stray threads very much on her own). Also, Maggie got the chance to prove her mettle after a tough Season Two, hurrying to Boston to do production work and, by happenstance, doing an on-camera report that delights all of her co-workers ("Did she age 10 years this week?" Mac marvels).
Sorkin has always written his female characters to be the equal of their male counterparts when it comes to their jobs, but undercuts them by turning them into stumbling buffoons when their personal lives comes into play. For one glorious hour, none of that happens. If anything, the tables were turned, and it was the dudes who screwed up early and often, both personally and professionally. I hold out zero hope that he can continue this trend for five more hours of television, so I'm just going to hold this up as a stellar example of how good Sorkin can be when he's really giving everything he's got to his work.
Robert Ham is a Portland-based freelance writer and regular contributor to Paste. You can follow him on Twitter.