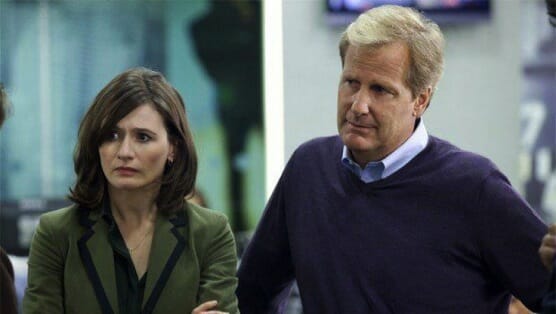 The core of this season is, without a doubt, a fascinating one—a fictionalized version of the Wikileaks/Chelsea Manning/Edward Snowden storylines that have been running through the news cycles with consistency. And the questions it brings up are worth discussing.
Aaron Sorkin's problem is that he can't simply let that lie there, and let the conversation stick to that one thing. Instead, he has to fill in the edges with an ongoing civics lesson about the dour state of American journalism, throwing characters under the bus for taking a job where they get bonuses for page views, and dropping a new character into the mix who wants to talk about crowd sourcing the news, and a TV channel "devoted to people who are stalking Danny Glover." These are the nightmare scenarios that Sorkin wants the medium to avoid. But just as the EPA deputy assistant manager tried to oh- so-allegorically warn us tonight, we are 20 years too late.
Tonight was such a huge dropoff from the dynamism of the first two episodes of this season. Although it should be said that it was not without its moments, including a showdown between the FBI and the ACN new team (the latter threatening to go live with the story of their offices and hard drives being raided), a great back and forth between Will McAvoy and an assistant attorney general over the identity of their source, and the arrival of the source itself at the White House Correspondents' Dinner (played admirably by the always-welcome Clea Duvall) who threatens to leak the story of the riot in Kundu if Mack doesn't run the story by Wednesday.
The rest of the drama just wasn't all that interesting. In a mirror image of the final season of Sports Night, the Lansings welcome a white knight in the form of Lucas Pruitt, a tech billionaire who wants to spend the money to spin ACN off from its parent company. Enter BJ Novak (he played Ryan on The Office), trying to play the Mark Zuckerberg type, but coming off more like Clark Gregg in the final few episodes of Sports Night. In those shows, the now-famous Agent of S.H.I.E.L.D. was the CEO of a company that was going to save Continental Sports Network from being sold off for parts. For a guy that has been mocked for his tendency to repeat himself, Sorkin isn't doing much to upend that line of thinking.
While that story was in motion, Jim finds himself in hot water with his lady friend Hallie, because she deigned to take a job for a news startup that offers bonuses for traffic and page views. In his eyes, it's just an excuse to tell sensationalist stories, rather than getting into the real, hardnosed reporting that he and ACN attempt to do. There's a discussion to be had on this subject (says the guy writing for a website), but I don't want Sorkin's holier-than-thou angel yammering in my ear about Edward R. Murrow and Paddy Chayefsky while it's happening.
The whole thing just felt a missed opportunity with wheel-spinning attempts at humor via Don and Sloan's efforts to make sure the new HR rep doesn't know they are together, and the bitter banter between Jim and Maggie. Even though the story moved forward just enough to keep me interested, and willing to dip back into the well next Sunday, I'm bracing myself for more of Sorkin's worst habits to be on display with it.
Robert Ham is a Portland-based freelance writer and regular contributor to Paste. You can follow him on Twitter.