13 Things You Need to Know About Top of the Lake: China Girl
Photo: Screengrab/See-Saw Films (TOTL2)
TV
Features
Top of the Lake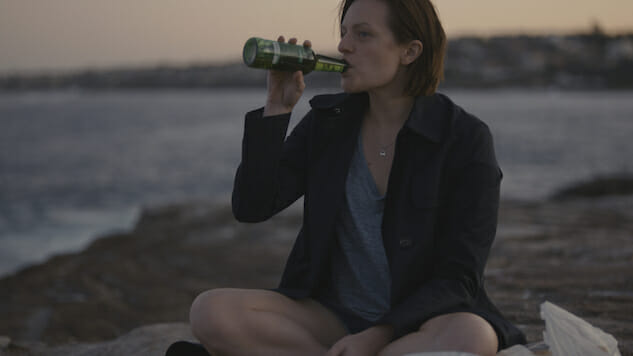 When the first chapter of creator Jane Campion's Top of the Lake ended, audiences saw Elisabeth Moss's deeply troubled detective, Robin Griffin, acting on behalf of brutalized women and girls everywhere as she attempted to take down the despicable figures responsible for child sex trafficking in New Zealand.
The second chapter, Top of the Lake: China Girl, which will air as a three-night event starting September 10 on SundanceTV, picks up with Robin suffering PTSD from that experience. She's also heading to Sydney—not only to track down Alice Englert's Mary, the daughter she conceived as a result of a gang rape when she was a teenager and subsequently gave up for adoption, but also to join a police force that includes Gwendoline Christie's much-in-need-of-a-mentor Miranda. That Mary's adoptive mother, Julia, is played by Campion's longtime friend, Nicole Kidman—and that Englert is Campion's daughter—should not go unnoticed with regard to the themes of the series.
"For me, this season is so much about motherhood, and Robin's main challenge is to figure out how she's going to be a mother to Mary, who is essentially a stranger," Moss says.
Plus, Robin has a case to solve: An Asian Jane Doe—the titular "China girl"—has washed up on Bondi Beach. How did she die? And did she die alone?
Moss and other stars of the series shared more details with journalists Saturday at the show's Television Critics Association press day in Beverly Hills, Calif.
Robin is stubborn, but Moss says the other female leads have found ways to get under her skin.
"The most important thing for her is to solve the case, as usual," Moss says. "And in typical Top of the Lake fashion, the personal always lines up with the political and she has to figure out both."
How does Top of the Lake add to the conversation on prostitution and sex trafficking?
"With Jane, I feel like one of the wonderful filmmaking qualities that she has is she doesn't judge her characters," Moss says. "She portrays these different situations and walks of life and choices that they've made in a way that's very non-judgmental and she just sheds light on these different facets… It's one of the things that's attracted me most about the scripts."
"It doesn't tell you what to think, but it does invite you to think about it," Englert adds.
"And it's important that these issues are explored in our mainstream entertainment," Christie says.
This series also is a commentary on class—as are other projects this year, such as Kidman's Big Little Lies and (to a lesser extent) Christie's Game of Thrones and Moss' The Handmaid's Tale.
"We're living in a world where it's coming to our attention that there's a great gap between the haves and have-nots," Christie says. "In the U.K., there has been a period of austerity and there has been a loud response to that and, as a consequence, I think that's been on people's minds. I think that it's something that's happening around and it is a comment on our evolving world."
"It seems natural to me that that would find a way into our storytelling," she says, "particularly in mainstream television."
Why do the actresses think there are so many good roles for women on TV lately?
"I think there's obviously still work to be done and it has to continue to be pushed in that direction," Moss says. "You look at the landscape of television now and how much is led by women and made by women. That's exactly where it should be coming, because that's what audiences want to see. I think what's happened is the people who hold the purse strings—the people who can give money to these projects—have started to realize that they make money and people want to watch them. It's a very obvious thing that these things make money, Wonder Woman being the most obvious example."
"With the internet being so prominent in all of our lives, we are all now interconnected," Christie adds. "We all do have an equal voice in the realms of the Internet, and what's been uncovered is people want to see stories that reflect them. As human beings, we're all so unique and different. That needs to be celebrated and explored and, in my opinion, only brings us closer together."
Is there something about modern masculinity that's being reflected in this series?
There are male characters on the show, but not all of them are as strong as the women.
"It's real that they're also spiraling and in flux and maybe we're just not used to seeing them that way," Englert says. "I think sexism hurts everybody, including men."
As dour as the subject matter of China Girl sounds, Christie is actually playing a lighter character compared to her work on HBO's Game of Thrones and the new Star Wars films.
"I was very lucky to have received classical training in drama school, and what that really taught me was that I wanted to have a range of parts," she says. "Particularly what interests me are the darker recesses of life. I was fortunate enough to play those two parts, but I was really looking for a challenge."
Christie adds that Miranda is "a woman who essentially is failing in life, or so she thinks."
"She has a wonderful open heart and a wonderful sense of humor, but she doesn't have a lot of success either personally or professionally."
This part of the series was shot in Australia instead of New Zealand, and that does mean something.
"Jane said the first one was about the wilderness outside, and China Girl is about the wilderness within," Moss says. "I think you can actually hide much better out in New Zealand than you can in Sydney and they all have to face things they don't want to face because of that."
Englert stresses that "this isn't the story of Australia," though.
"I love that she set this in Sydney and you get to see a different side of Sydney," Kidman adds. "You see the beaches and you see the culture that's sort of an underground culture."
Englert enjoys playing Mary, who is "prickly and sometimes a little monstrous."
"I think she's a young woman and she's in love [with an older man] and she's also a kid with a broken heart" because she'd wanted a relationship with her birth mom, Englert says. "She really does has to wrestle with the belief she feels."
Despite playing a problem child, Englert has a good relationship with her mother.
"That's been something that exists outside of our mother-daughter relationship," she says. (She notes that she calls Campion "Jane" on set.)
Kidman has known Campion since the writer-director discovered her when she was 14 and loves working with her.
"It's a surprise the way she gives us the stories and gives us the people who are telling the story and even the topics that she chooses to present to the world," Kidman says.
Kidman went straight from filming Big Little Lies into rehearsal for this production.
"To go from Celeste [her character on Lies] to Julia was such a great thing to do," she says. "I love that for the two series that I've done for TV, I'm sitting with women [at TCA]… and that means the roles are here and the roles are in television. As an actor, you go where the great roles are."
She says Julia was "far easier for me to come into than Celeste. For Celeste, I played her for six months and was pretty disturbed. With Julia, I got to come in and have this fierce exterior and I also came into a series that was constructed with some rigorous directing" between Campion and fellow director Ariel Kleiman. With Jean-Marc Vallee, who directed Big Little Lies, she says, "He was feeling me… and he would stand back and catch things."
Kidman is happy to stick with TV if it means she keeps getting good roles.
"I'm always looking to play characters; I consider myself a character actor," she says. "When a director gives me a chance to really find, physically and emotionally, a character, I'm just thrown."
She'd love to be able to do a comedy, but she's never offered them because "they always say I'm not funny."