Put the Needle Down: An Argument for More Original Scores on TV
Photo Courtesy of HBO
TV
Features
TV Music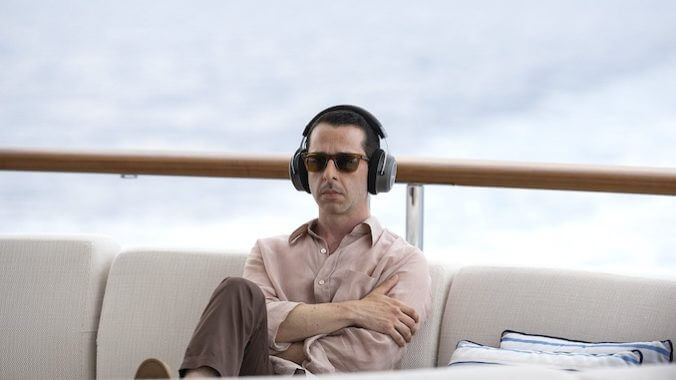 Composer Ramin Djawadi's score is responsible for all the poetry and power of House of the Dragon's first ten minutes. Game of Thrones' iconic cello riff begins, then falls away ("bends the knee") to support a stranger, more martial theme: the Targaryen leitmotif. A dragon soars over a city and the theme soars with it in graceful arpeggios, piercing octaves like clouds. Then, as the camera drifts downward and settles on the commonfolk moving about their daily lives, that original, familiar riff returns in a major key.  
Without that score, you're left with an ominous voice-over and a collage of stale images: glowering kings, pseudo-papal pomp, castle ramparts, and dragons sailing over medieval landscapes. Warhammer, Baldur's Gate III, Elden Ring, World of WarCraft, Shadow of the Gods, Eragon, Dragonriders of Pern… It's the fluff that the fantasy genre churns out cover by cover, trailer by trailer, year after year. 
With it, you receive a strong impression of vassals and subjects, conqueror and conquered, the celestial and the earthbound. More importantly, you know you're in Westeros. 
It's an exception in TV, and so is the career of its author. Bear McCreary (Foundation, Rings of Power), Nicolas Britell (Succession), and Djawadi (House of the Dragon, Westworld) work in productions that seemingly leak money from their pores. Aside from an intro and an outro, everyone else gets needle drops.   
Needle drops. You know, the "sometimes an American classic song, often whatever's hot on Los Angeles' radio stations." In Lincoln Lawyer Season 2, "The Rules of Professional Conduct," attorney Mickey Haller's career is on the upswing and he's been dubbed "L.A.'s Hottest Lawyer" by L.A. Lawyer Magazine (yes, that's real). Music choice? "I'm the Man," by Silversun Pickups. In  The Bear's first season finale, a line chef weathers her trauma about her career and returns to her job. "Crushed and laying around," Radiohead croons in the background. "Despacito" will have its day in the sun, I'm sure. 
In me, at least, they arouse the same truculence that makes novels written in second person so unpopular. "You're a twenty year-old bricklayer in Glasgow." 1) I wish, 2)  no, I'm not, and 3) I've never been. When taken to such an extreme, soundtracks no longer complement or recreate narrative, but become instructions for interpreting scenes. Well, either that or they, like Wednesday's "Goo Goo Muck" dance, turn into fodder for social media. 
To be fair, it's not a recent issue. I marathoned House for a Rewind column, and its love for soft pop ballads and closing montages abideth forever. The YouTube channel Every Frame a Painting laid out a succinct explanation of the temp track and the increasing pressure to keep scores invisible and married to the storyboard. Visual medium. Smaller budgets. Gotcha.
But the needle drop invasion also seems like yet another sign of modern entertainment's vanishing amenities. Scores are now just a jukebox stocked with all the breadth of human feeling, atomized into hit singles and discrete economic units. (If you listen carefully, you can hear the sound of David Zaslav purring at the thought.) Major categories include "Down and Out," "Hustlin'," and "Gonna Bang Tonite."  Have a hot air balloon ride in your romcom? Have a Sabrina: The Teenage Witch reboot and wanna show her learning to fly a broom? The answer's the same, my friend: "Free Fallin'," by Tom Petty.
Much as I love Mad Men and Boardwalk Empire,  period pieces exacerbate the issue. The merest suggestion of bell-bottom jeans or lava lamps tempts directors to rummage through Beatles and Creedence Clearwater Revival hits. "Please, not 'Fortunate Son,'" I pray to Salieri, patron saint of musical mediocrity. "Mea culpa. Mea maxima culpa." 
Maybe shrieking about Suits' and its shitty, rote playlist can itself be filed under "Feelin' Old." Musical prosody, the art of constructing narrative in music, isn't a common talent, after all. But the polished scores of Stargate or 24, which are modestly budgeted shows from twenty years ago, say otherwise. 
No, this appears to be yet another case of a diseased industry devaluing its own talent. Whether the motive is cost-cutting, micromanagement, laziness, or James Gunn's weird obsession with his mixtapes, the damage is the same. Composers are basically treated like ushers. They scurry underfoot, put you in your seat, and retrieve you, but they're not allowed to participate. All the techniques honed by centuries of opera, ballet, and programmatic music utterly squandered. 
And what a loss! In the 15th century, composer Clement Janequin created an entire aviary in "Les Chant des Oiseaux." In the 17th, Bach captured the heat of a mob more vividly than a thousand mugging extras ever could. In the 18th, Jean-Philippe Rameau made you feel the rattle and weight of chains in his "Air for the African Slaves." In the 19th, Bedrich Smetana immortalized, through a whorl of woodwinds and strings, the beauty of the Vlatava River for people who will likely never see it. Musicians' lust to tell stories like this will continue, but they'll resume that craft elsewhere. 
This medium will be greatly diminished for it. Battlestar Galactica's blend of deeply ethnic instruments, of duduks and taiko drums and bagpipes and sitars, communicated more about its intergalactic society than any amount of VFX shots. Succession indulges in heavy polyphony and wraps itself around a handful of themes, its sibling melodies sparring within endlessly inventive variations. When McCreary and Britell were allowed to leave a heavier mark on the end result, they built a bespoke language.
Of course, needle drops can be the right choice. Who watches the end of The Wire's first season and imagines anything else but Jesse Winchester's "Step by Step" in their ears? One at a time, the characters vanish into their new departments and Baltimore's game of cops 'n robbers continues. "All those happy saints go marchin' in." Cranberry sauce proves that good stuff can come out of a can.
But those are the happier accidents. Who can forget when the voice of Star Trek transformed from this into this? It felt like a horrific accident committed behind closed doors, like a mouth with scar tissue where its tongue should be. 
---
Sean Weeks is a student of classics and mythology who's wandered slightly off course. If you want to join him in his odyssey, you can visit him at www.weeksauthor.com.
For all the latest TV news, reviews, lists and features, follow @Paste_TV.