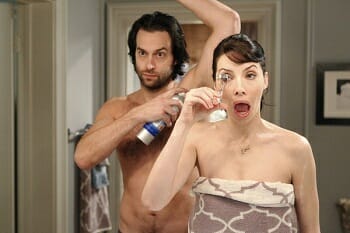 Whitney Cummings has big shoes to fill. Her show Whitney is fourth in a lineup that features the funny, but under-appreciated Community, Emmy-nominated Parks and Recreation and the long-loved The Office.
If that wasn't enough, the sitcom is holding place for 30 Rock, which will return in January. A lot of people had opinions months before last night's premiere's that Cummings is a knock-off Sarah Silverman or that she should have chosen to act in 2 Broke Girls, which she created for CBS, instead of taking on a vehicle of her own.
Whitney returns to sitcom's roots as a multi-camera show that's filmed in front of a live audience, even though they do use a laugh-track. But it seems a little out of place following the deadpan shows that precede it. Even so, Whitney has it moments. The cold opening showed Whitney and Alex (played by Chris D'Elia), her live-in boyfriend of three years, in front of a bathroom mirror goofing off and messing with each other. While dressing for a wedding they have to go to, the couple banters back and forth in a somewhat humorous, but realistic way. That's probably the best part of the show. But there are so many conversations I have had over the years — somehow this might not be enough.
The characters of the sitcom are all genuinely funny and leave me wanting to see more of them. The boyfriend stands his ground to Whitney's sarcastic nature and fires right back. It's refreshing to see a couple who actually seem like a real couple like Marshall and Lily from How I Met Your Mother as opposed to polar opposites.
He's mean in a playful way, and it fits because even though Whitney complains they're not having sex as often as they should, it's their chemistry makes it seem like they have been together for three years. Of course there has to be that one cutesy couple that's still in their honeymoon phase (Neal and Lily portrayed by Maulik Pancholy and Zoe Lister-Jones) and the chauvinistic minor male character (a cop named Mark played by Dan O'Brien), but Roxanne (Rhea Seehorn), Whitney's best friend, is the badass of the show. She wears pants to a wedding and says things like "Get off my balls" when someone questions her ability to do so. She also brings her own alcohol to weddings. Yeah, she's going to be a fun one.
Unfortunately, Whitney just isn't that funny. Cummings might be able to write jokes, but the rest of the episode falls short. Way short. The entire half hour was hit or miss, with more misses than hits. Throughout a scene where Whitney's dressed up in a sexy outfit to spice things up for the couple's third anniversary, I kept waiting for it to turn into something raunchy.
Instead of pushing the networks boundaries, it's deflated. It left me saying, "I could have written it better than that," and I'm sure I'm not alone. She's supposed to be a rebel and pushed boundaries, but instead her character falls into a whiney, attention craving lead. The show would be so much better if Cummings didn't star in it and the show focused on the rest of the characters.
I kept waiting for more, but kept reminding myself that it was just a pilot. Compared to other pilots this season, Whitney has too many kinks to fix in a short amount of time. The first step would to make Whitney the character more like Whitney the stand-up. It'll prove hard because she's on a major network and not on FX or Comedy Central. Maybe NBC will realize she'll need to push the envelope and give her a longer leash.
There is one important question that needs to be asked: if Whitney falters at all, will it be cancelled to make way for the return of 30 Rock? Or what if it proves me wrong and actually succeeds? Where will Tina Fey's show fit into the Thursday schedule? It might not even make it until the New Year and NBC will probably be forced to show reruns of something until we're saved.