Alison Brie, Betty Gilpin and Liz Flahive Talk About Netflix's GLOW
Photo courtesy of Netflix
Wrestling
Features
GLOW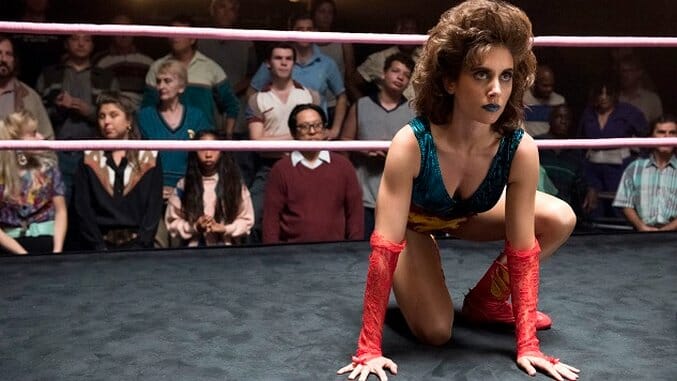 The Gorgeous Ladies of Wrestling are getting a new life on Netflix this summer. Helmed by Liz Flahive and Carly Mensch, GLOW is a new take on the 1980s TV cult classic that threw strong women in the ring. Set in 1985 Los Angeles, the show follows Ruth Wilder (Alison Brie), a struggling actress whose desperate search for work leads her to a tryout for a women's wrestling TV show. Jenji Kohan (Orange Is The New Black) serves as executive producer on this hilarious comedy that sees Alison Brie and Betty Gilpin among its lead actresses. Paste talked to Flahive, Brie and Gilpin about the genesis of the show, the importance of strong female roles on television, and the challenges of learning the intricacies of wrestling.
Paste: Can you tell us about how GLOW got started?
Liz Flahive: Carly Mensch and I co-created the series and we came to it through the documentary GLOW: The Story of the Gorgeous Ladies of Wrestling. Carly and I worked together on Nurse Jackie and we wanted to write something together, and we wanted it to be very female-focused. We had never heard of GLOW, but once we saw the documentary and the emotion of the women talking about that time, we watched old episodes of GLOW. We thought "this is bananas, how have we never heard of this and how has no one touched this yet!" We wanted to make it our own thing so we talked about the kind of characters we wanted to create for the show, then we emailed Jenji Kohan to ask her if she wanted to work on a wrestling show about women in the '80s and she immediately said yes. When we pitched the show to Netflix, they understood it right away. Everything has felt very fortunate, the right people coming together to make the thing that we intended.
Paste: How much did you know about wrestling before starting all this and how did you prepare for the show?
Alison Brie: I didn't know anything about wrestling in general, I never really got into it, but it's like everything I never knew I always wanted. Hearing that same pitch from my agent, about this show for Netflix, produced by Jenji Kohan, about women wrestling in the '80s, it already sounded like a dream job. The first thing I did was google the original GLOW, and again it's unlike any other wrestling that you could watch. GLOW was really its own thing, and it is bizarre, outrageous and radical. The women, the characters that they've created, are so over the top, they're having so much fun—and the wrestling is very scrappy and wild—that it's such an exciting, bizarre thing. It's like a dream '80s scenario, so my research was watching some of those episodes, and then watching the documentary as well, which was a big thing to just understand their mindset. In terms of the inspiration for the show, all of our characters are fictional and none of them are based on the actual women on the old show, but similarly our show is about all these women who were not wrestlers, who were actresses who got this strange opportunity and really ran with it. I wanted to create my own character but it was nice to watch the original show and get permission to take it as far as you wanted, nothing is too offensive, nothing is off limit, nothing is too broad.
Flahive: And nothing is too big in the ring. The ring is a very different space. When you take actresses, who are playing very grounded characters, who are emotionally real and are dealing with their real lives, and you put them in the ring after having known them as real characters, then it's a whole new gear. I think all of our actors found this new space to be a new kind of performer too. When we were casting that was a big thing, we wanted people who do grounded naturalism and who were not afraid to be physical and comedically bigger than they've probably ever been.
Betty Gilpin: I auditioned for a lot of parts, especially in the last couple of years, where there is this trend in female roles of characters not really revealing anything and answering in monosyllables, and I realized I was too big for that kind of thing and I wasn't getting parts because I was making too many faces. When I read what GLOW was about, it just felt like something where I could make as many faces as I wanted, and it would totally make sense! At the same time, it's sort of a dual genre. Yes, there is the wrestling world in which we are our cavewomen-selves, but also this drama of the quietest pain happening between the characters. But that's what life feels like. One second you are feeling like the smallest dot in the universe, and then you realize you have the capacity to take off all your clothes and scream. I feel like those things exist at the same time throughout your entire life and wrestling taps into that. It was a world that was foreign to me but once I got into it, it made total sense.
Paste: Tell us about the training process to do a wrestling show. What was the worst part of learning how the ring works?
Gilpin: Before we started shooting, all 14 of us trained for a little over a month. We trained basic moves and that graduated to body slams and that sort of things. Alison and I learned our matches for the episodes. I went to theater school where there is a lot of holding each other's faces and crying, and a lot of kid gloves. With this environment, the first time I tried a move where I jumped off the ropes, [trainer] Chavo Guerrero Jr. looked at me in the face and told me "That was weak." My tiny, privileged self had nowhere to go, but it also felt so good to be like "yeah that was weak and I need to do it again and again until it's perfect." We were covered in bruises and wore them proudly.
Brie: I don't think I ever thought wrestling would be easy but I was really excited by the physical aspect of the show and to be able to learn to wrestle. It wasn't really fear based until we got in the ring and the moves started to become a little bigger and I realized they would only get bigger and more complicated, and we'd just have to get better at it.
Gilpin: They would show us one move, then we'd go down the line and each of us would do it. It was interesting to see how some moves we'd be very excited to try, but then realize some specific moves were really scary, like jumping off the rope when facing the other way and having to turn around.
Flahive: From the beginning of the casting process we wanted all the women to do their own wrestling; that felt like a big part of the show and of how people would emotionally feel the characters. When we were talking to our stunt coordinator Shauna Duggins and pro wrestler Chavo Guerrero, it was about finding the moves that people were comfortable doing and working with people's strength, which I think is a big part of wrestling too. If you can't do a back bump you do a front one, if your knee isn't strong you emphasize something else.
Brie: We are working with the body that we are given. I'm a rather petite woman but I'm playing a heel, so my mission is to get people down to my level, so what moves can I do? This is something in wrestling that changes for all wrestlers depending on who they are wrestling, so it was a very interesting lesson in that respect. I think front bumps were the hardest thing to learn because you're just slamming face first onto the mat.
Paste: How is the show pointing the compass in the right direction when it comes to offering well-rounded female roles?
Flahive: It's very clear that this is a big part of the show, and Carly and I have been very fortunate in the spaces that we've worked in. I came up on Nurse Jackie and it was a show with a woman at the center, created by women, surrounded by great female characters. Her first job was on Weeds, and she worked on Orange Is The New Black. We haven't had to fight the way other people have to work in that space, but I think that it is our space and we are not letting go of it. We've all seen the case of a great series with only one female part, so the idea was to flip the script and have a cast of 14 women and one man. In a way, that is radical.
Brie: It's shows like this that are waging the war against boring female characters, and this show's existence is a step in the right direction. We're very fortunate that this conversation is being had, that people are exciting to tell these new stories and that we are seeing that they can be successful, that Wonder Woman can win at the box office and that people are interested in women stories because they are just stories.
Paste: In the beginning of the first episode we see Ruth struggling to get a role that is not a boring female role. She even reads a man's part to show she can do it well. Have you experienced similar situations?
Brie: I have experienced the same type of frustration at wanting to play more dynamic roles. I've never read the man's part at an audition, I've never had quite the balls. But I have been asked to audition for the boring love interest and said I'd rather read for the crazy friend, and was told "no thank you." It's a difficult thing because we all want to work, and I'm really great at finding value in any job because if I'm acting I'm usually happy regardless. I've been fortunate to play some dynamic and interesting women before this, but then it comes to a point where it's just about making choices. After working on this show where I felt fulfilled in every way, where the roles are so interesting and rich, I've not worked at all this year because it's a waiting game of trying to find something like that again. Interesting roles are coming out more and more, you just have to find them.
---
All ten episodes of GLOW premiere on Netflix on June 23.