"The thing that I think a lot of people missed or didn't really understand about Wrestling Society X, was that it was a series created for MTV. It wasn't a wrestling promotion."
Kevin Kleinrock, the co-creator and head booker of MTV's short-lived Wrestling Society X, wants to set the record straight on the tenth anniversary of the show's only season. The traditional way of looking at and talking about wrestling has never fully applied to Wrestling Society X. Like Lucha Underground today, it was a product made purely for television, always envisioned to be heavily edited and molded to fit the youth culture of its day. Geared to be younger, faster and more daring than WWE, Wrestling Society X burned with the youthful fires of punk rock and basement shows, bringing together some of the best young talent in the industry at the time and giving them edgy and sometimes ridiculous characters that would appeal to MTV's audience. With a brisk half-hour running time, and performances from Three 6 Mafia, Pitbull, Good Charlotte and other musical acts, it was a true contrast to what WWE has always produced.
Kleinrock was perhaps the most pivotal figure behind it all. A former producer, writer and on-screen performer for Xtreme Pro Wrestling, the West Coast response to ECW that briefly thrived in the early '00s, Kleinrock had the experience and wrestling connections necessary to run a show like Wrestling Society X. Along with his co-producer Houston Curtis, a home video entrepreneur and producer who had connections with MTV, Kleinrock sold the most prominent youth-oriented cable network on a wrestling show at a point in time when wrestling was several years removed from its last boom period. It might not have resonated that strongly with the viewers at home, but a decade later it still stands as a one-of-a-kind curiosity in the annals of wrestling, and offers an early glimpse at some of the best in-ring performers of the 21st century.
Paste recently had a long conversation with Kleinrock about Wrestling Society X, from the show's genesis, to its unique production schedule, to its tenuous relationship with MTV, to its early demise. It's a typical television story of network interference, half-hearted promotion, and a quickly pulled plug, but like the show itself, it's unlike anything else that's happened in wrestling. And it starts with one lifelong wrestling fan turned insider, Kevin Kleinrock, adjusting to life after the promotion he worked for, XPW, folded in the early oughts. Here, in his own words, Kleinrock recaps the short life of Wrestling Society X.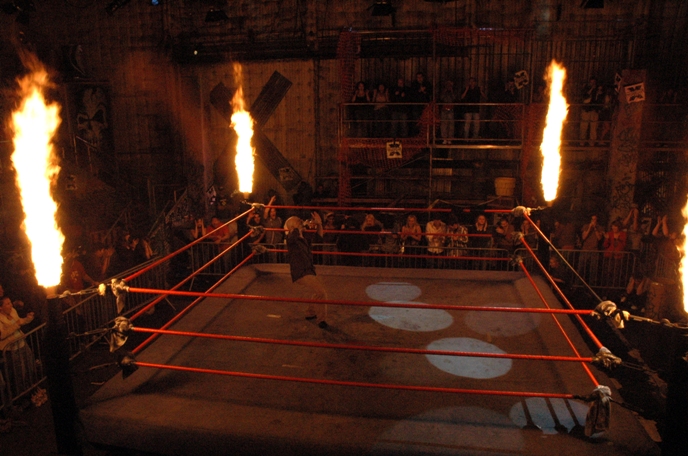 From XPW to MTV: The Birth of Wrestling Society X
Kleinrock: [In 2004] XPW's assets were purchased by a company called Xtreme Entertainment Group, XEG, and they were the ones who originally started the whole backyard wrestling video craze. And they made a ton of money selling a lot of backyard wrestling DVDs. Once they built their fanbase for backyard wrestling, they [looked for] other similar content to acquire and try to sell to the same people in the same way. So they had been distributing XPW DVDs for the last year or two years of XPW's existence. And that was really what was making XPW the money to stay alive, was tens and tens of thousands of dollars of DVD revenue, and that's the only real revenue that's coming in, because the live events were too expensive to put on and we were producing television that we were essentially self-syndicating. But, so, XEG bought the assets, and maybe about 6 months before I joined the company, Houston Curtis, who was one of the two founders of XEG, split off from XEG and started a company called Big Vision Entertainment. And his thing was he wanted to go more mainstream with what he could do at Big Vision, the titles he could get in Wal-Mart, stuff like poker instructional videos and his version of Baby Einstein videos, and really go more mainstream. So I had come on board to work for him, having nothing to do with wrestling whatsoever. I had met him because of XPW, and he had distributed DVDs and he knew that I had the mind for the business and he knew I knew about home entertainment distribution and so I went to work for Big Vision.
Once you love wrestling, you're never completely away from wrestling, and it started innocently enough. I had recognized that there was no lucha libre DVDs in Spanish that were being put out in the United States, so I had reached out to Konnan, who I had worked with in XPW and had mutual friends with. We at Big Vision put out the first Spanish language lucha libre DVDs that had been released in the US. One thing kinda led to another, and we started a series called Pro Wrestling Ultimate Insiders, which was kinda the evolution of the shoot DVD, where we sat down and Wade Keller from Pro Wrestling Torch would interview subjects, but like VH1's pop-up video if somebody used a term or something, we'd flash up on the screen and we had additional materials in the DVD. So again, just home entertainment stuff. But Houston had been an executive at MTV, and the whole reason the backyard wrestling craze kind of happened was because they were developing things like The Tom Green Show and other kinda things, and they were getting all these video submissions. But stuff that could just not be aired on TV, it was too out there. He wasn't going to take a risk on it. So Houston was developing shows to go in and pitch MTV having nothing to do with wrestling, and I, just on a whim, one day as he was talking about going and pitching a poker related show, I said, hey, if there's an opportunity, I have this idea for something in the wrestling vein that might be of interest to MTV one day, you know if we get the opportunity. He's like, well what was the idea?
Other than pro wrestling, my biggest passion was music. It was so cool to find out that these bands that I like were fans of XPW. There was a show at the Olympic Auditorium, where Rancid, who's my favorite band, came to hang out with Vampiro. To see them backstage and to hear that they knew what XPW was and they watched XPW was mindblowing to me. So I learned more and more that there were all these punk rock bands that loved pro wrestling. So I always kinda had this idea if, what if we could someday do this punk rock underground bunker version of pro wrestling, where we had bands that played and then we had wrestling that wasn't WWE wrestling. It was more athletic, more exciting, more violent. That was the idea. So we originally actually pitched the idea as the "Rancid Wrestling Federation," but Rancid completely, respectfully to them, said, 'look, we never let somebody else control something that has our name on it. We don't feel comfortable doing it now with MTV. We know that if we put our name on it, then MTV is gonna control it and we won't have control of the product.' And I knew that they were potentially right at that moment, but I learned that they were certainly right and made the right decision, you know, with the way that the show ended up going in terms of creative vision. We tossed around other names, and we came up with Wrestling Society X and that's where the show was born from. We pitched the concept and basically told MTV, look, you guys were partially responsible for putting pro wrestling on the map back in the day, what if you finally capitalized on it by launching your own league? And that was the idea.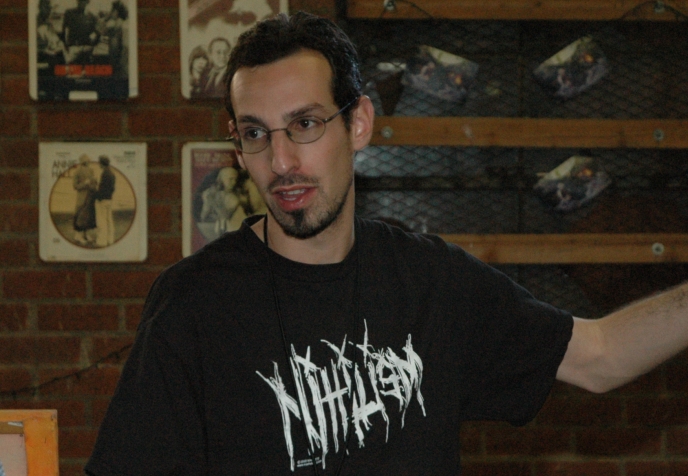 Kevin Kleinrock
This was really my first experience in the television pitching world. I had years of experience in the wrestling world, but not the TV world. We went out and we pitched it to the executives there, and we turned around and went back to our office which was probably about a half hour, 45 minutes away, and sometime within that first hour we got a call about wanting to do a pilot. Which was kind of amazing.
We told them, hey, there's great possibility to do live touring, there's great money in merchandising, there's a possibility to do DVDs of seasons. You know, people aren't going to really buy DVDs of [MTV's then-hit reality show] The Hills once they've seen it. But that was all lost in what I learned, which was if you are doing a television show, the executives that you're working for, all they worry about is the ratings, because that's their job. No fault of theirs. But yeah, so no, we pitched for MTV and they funded it 100%. It's not like WWE that gets a licensing fee that covers some of their expenses from USA. It's not like TNA, who had various different television deals. We were really, what I believe to be, the first wrestling product that was completely network funded. And they put 3.5 million dollars into producing this TV show. And they produced it not like a normal wrestling show would be produced, but they produced it like a television show for better and for worse.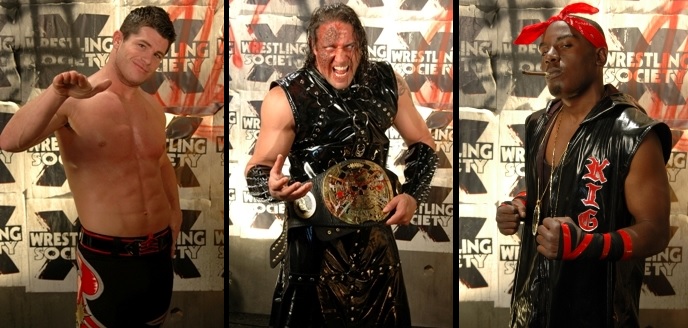 Matt Sydal, Ricky Banderas, Ruckus
Casting the Roster—and the Audience
With the television deal sealed, Kleinrock and his partners went about building a roster for the show. MTV had ideas about what kind of wrestlers and wrestling to highlight on the show, but were more focused on the people outside the ring.
Kleinrock: Between [working for] XPW and just following the industry as a fan and as someone that was at that point going to be doing something in wrestling again, I definitely had my eye on certain people that I wanted to work or that I had worked with or I thought would be right for the show. Again, we wanted to have a few veterans that were going to be recognizable. That's why we had Vampiro, that's why we had worked New Jack into the pilot, and a couple other guys. PJ Polaco, who was Justin Credible, was part of the pilot. And then I really wanted to focus on that young, high-flying athletic style guys like Jack Evans, Teddy Hart, Matt Sydal. And a couple other people certainly had input and influence in terms of kind of where talent came from. Keith Lipinski, who works these days for AAW out of Chicago, was kind of like my liaison to some of the Midwest talent that I might not have had on my radar. A guy like Tyler Black, who's now Seth Rollins in WWE—I wasn't familiar with him at all, but the minute I saw footage of him, I said yes, absolutely, I want this guy. Even then I saw him, I knew he was one day going to be WWE Intercontinental Champion. I didn't see him going the World Title, because it was a different time and place even back then. But I saw it in him. You know, Jimmy Jacobs after the Ring of Honor angle he had done, where he had created his persona and music video about Lacey, who we also hired for this show as an interviewer, I knew I wanted to work with him. So it was a mix of people that I knew I wanted to work with, people from XPW that I had worked with, guys like Johnny Webb and Kaos, and then people who had been suggested to us by guys like Keith and David Marquez, who had the good eye for talent.
In terms of casting, the only place the network really had a say in terms of putting people in front of us was for who the co-host was going to be with Kris Kloss. They wanted it to be a comedian, they wanted it to be someone who was on their list of people they had been thinking about working with. They presented us with a number of people, and we ended up settling on Bret Ernst, who did a great job on the series.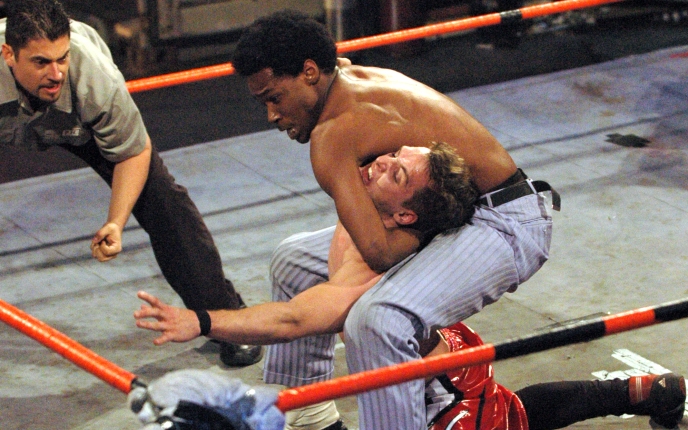 When it came to the casting of the wrestling talent, much like a lot of the process, they didn't suggest, but they could veto. So there were certain people they didn't like their look or they thought they were this or that. When it came to the pilot, they really gave me a lot of freedom, but after the pilot they certainly… They felt Chris Hamrick, who was an incredible talent in the ring, was too old for the demographic. New Jack, due to things in or out of the ring, was too much of a liability. And they loved Matt Sydal because of his tenny-bopper type look. They loved Jack Evans because of his look and his style. They loved Human Tornado because of his personality. I don't really feel like there was anybody I ever brought them that they straight up vetoed before having seen. There were certainly people who, because of the way things came together… Either they didn't have a great [look] or, I'd hype people up and they just didn't deliver quite as well we thought they would in the ring, so the network kinda lost interest. But on the talent side it wasn't really so much of a, "this is what we need you to do," it was more what it came to what the show looked and felt like.
[MTV is] used to having 100% control of what their audience looks like. Usually their audience is 100% extras, they come from talent agencies, they're all pretty people. We shot the show midday, midweek. You know, Tuesday at 10 a.m., and Wednesday at 2 p.m., and so getting real wrestling fans to come out and be that crowd that would've given the show completely natural wrestling reactions wasn't really gonna happen. So our crowd was a mix of wrestling fans who came and then paid audience members. I specifically remembered for the pilot, like conversations going on through the headsets with MTV executives—"move this person from the camera shot, they're not good enough looking." Replace them with a pretty person, essentially.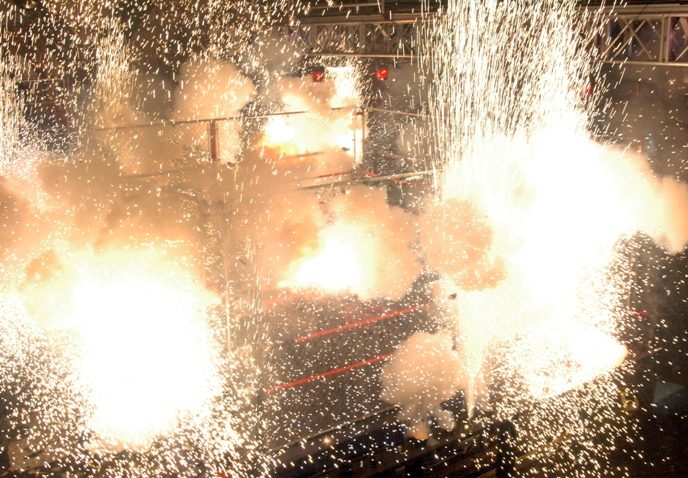 Telling Stories and Making TV Magic
Traditionally the people who plan out wrestling storylines and determine who wins the matches are called bookers. Kleinrock was the primary booker of Wrestling Society X's one season, with help from Vampiro and the retired wrestler Cody Michaels, and had rough plans for a second season that never came to pass.
Kleinrock: The way it mostly worked was I sat down and came up with the general booking, storyline, where I saw the product going. My booking is always backwards. So I knew where I wanted to take the season finale and where we wanted to go, and I worked how to tell the stories to get there, working backwards. And after that, I'd sit down with Houston [Curtis], who was the executive producer of the show, and Sam Korkiss, also from Big Vision, who was another executive producer of the show, and kinda give them my vision, walk them through my stories. They'd add their two cents and ask questions. I figured it'd be better if we did this this way.
With Houston, he really wanted to give people insanity at every turn. And with MTV, the reason that we had so much over the top insanity, was MTV basically said we need to make sure that even though we can't kick and can't punch and can't hit someone with a steel chair, we need to have so much over the top craziness you can't see on WWE. So we will blow stuff up. You can do these insane stunts and blow stuff up. Their initial mandate to me was a big stunt every week. And I was like, we can't blow stuff up every week! Like, we can work in spots where it makes sense, like someone gets thrown off here and explodes, we pull out the electric wires and, you know, Teddy Hart shocks one of the Trailer Park Boys with them. We can work that stuff in, but at least do it every other week and so that's what we settled on. And if you watch it, that's literally how it was. Every other week, something exploded. But it wasn't every week.
Once we got on the same page internally at Big Vision, then we laid it out for the MTV executives. Again, there definitely was some feedback… They wanted to make sure there was enough funny, they wanted to make sure there was enough hardcore, and after that most of where they had their influence came in post-production. Normally a wrestling show is either live, or you're producing one episode a week. Like XPW, we did over 130 episodes of TV, one episode a week. We shoot a live event, and then we chop that up over 3-4 weeks. We edit one episode a week, and then we moved on. The television editing process is very different. They treated this like it was a regular MTV show, so every half hour episode got 5 weeks in post-production. And that meant you did a draft one of the edit, sent it to the network, and they sent you notes. Then you did draft two, and it was a much different process. One of the reasons that the show cost 3.5 million dollars was, with normal editing of wrestling, you maybe have one editor who's making $1,000-$2,000 a week, if that, producing the show. Here you had five $2,000 a week editors, all working simultaneously on different episodes over the course of a few months, and it becomes very expensive to produce TV like TV.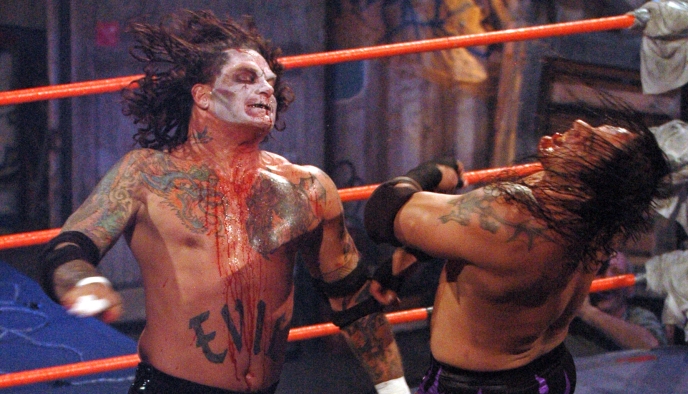 MTV didn't necessarily dictate what wrestlers could do in the ring, but were so hands-on with the editing and general presentation of the show that they basically altered the basic foundations of the matches before they aired.
Kleinrock: One of the tricks in editing for a live show that's going to tape is cutting to crowd shots when you're trying to cut time out of a match. At XPW, we'd do that maybe once or twice if there was a goofy spot, something went wrong or trying to cut around something. With MTV, because of the way that they wanted the show to be… They didn't want to see kicking in matches, they didn't want to see punching, they didn't want to have anything that resembled a wrestling match. And that was all post-production. So we taped all these great matches, and we get into the edit bay and it would be, OK, kids can kick each other at school, we don't have them recreate that. You can do all this crazy high-flying, because kids can't really do that on the playground, but we don't wanna highlight kicking and punching and wrestling is boring. So it basically became a show that was like high spot, person in the crowd, high spot, person in the crowd… My hope and dream is the original uncut matches see the light of day, maybe this year for the 10th anniversary. Because it really was kind of a different show.
The one place where they gave us freedom was in the WSXtra episodes, which was what we did for the MTV website. They didn't really micro-manage those as much. So the matches and the edits there were like actually what you would expect from a pro wrestling match and edit. And so those matches actually came together a lot better.
Even before the first season aired, Kleinrock and his booking partners had plans for a second season that would include a number of wrestlers who went on to stardom in WWE.
Kleinrock: We had tried to get the then "El Generico," Sami Zayn, in at the last minute for season one, but because this was MTV and everything had to be by the book with visas, we couldn't pull off his visa in time. Actually, Matt Cross, who ended up teaming with Teddy Hart, was literally a "24 hours before we shot episode two" replacement. It was supposed to be Pac from England, now known as Neville in WWE. We had hired him, paid for a work visa, and literally there was like a one day hiccup between him being able to get to the consulate and get his visa and get on a plane to come and shoot the series. So we had to replace him at the last minute with Matt Cross. I was going to be bringing in the team of Nigel McGuinness and Fergal Devitt, now known as Finn Bálor, to be managed by Prince Nana as a tag team. A lot of the guys that had been working at the New Japan Dojo in Los Angeles with David Marquez and Bryan Danielson and there were guys that I had my eye on that we were potentially going to be working in the following season.
Colt Cabana, the idea for him was never to be this Matt Classic character. The plan was that in season two he would come in as a fraternity brother of Matt Sydal. And Colt, kind of pushing me because he wanted the paydays, was like, "Hey why don't we work me under a hood…" And this is by his own word in a later interview, "You know, we'll do some dark matches and whatever and just, you know… get me in season one." So I did, and the Matt Classic character took on a whole life of its own, and was great and still exists these days in Lucha VaVOOM and rare indie appearances. And so yeah, there were certainly plans for season two. I wanted to do a women's tournament and crown a women's champion. I wanted to have a secondary title that was going to be, basically the title that guys like Jack Edwards and Teddy Hart and Human Tornado and Scorpio Sky would feud over. Kind of like our light heavyweight title but not actually call it that. So yeah, certainly there were plans for season two and maybe even some very, very basic outlines of what season three major storylines would look like.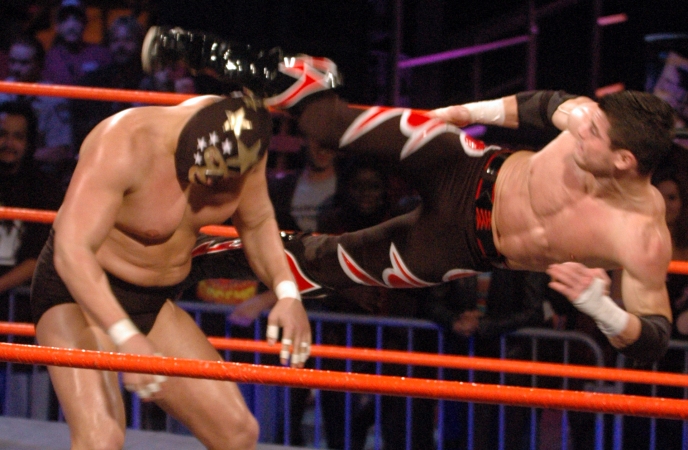 Tuesday Night Titans
The show's official premiere aired on MTV on Tuesday, Jan. 30, 2007, at 10:30 PM ET, although the first two episodes had unannounced previews the previous Friday night. The initial response was encouraging, with the first episode scoring a 1.0 rating. By the third episode that number had dropped to a 0.50, and bottomed out at a 0.30 for the last episode to air. The tenth and final episode never aired on MTV. Despite the solid debut, the Wrestling Society X team quickly knew its days were numbered. In fact, they were worried MTV had sealed the show's fate before that first episode even aired.
Kleinrock: There are a couple of things immediately when you talk about ratings and response. When the show was signed and it was time that we determine the time slot, we said, "Out of all the hours of the week, the only time you cannot put us on is the 10 p.m. hour on Tuesday night up against WWE's ECW show." We honestly thought it would have been better for us to be up against Raw than it would be against ECW, because the Raw fan base wasn't super hardcore at the time. We thought the ECW fan base was going to be more directly in line with who our audience was going to be. Well, they ended up putting us on Tuesday nights at 10:30, which meant not only were we up against ECW, but we were the second half of ECW, which meant they had an entire half hour to get you to stick around. And it's not like it is today where people are judging Nielsens based on live "+3", live "+7", this was do or die by your rating. And so that was a problem, and actually it's funny because they quickly got over their concern, I guess, so to speak, with us. But there was actually—and I don't know if "concerned" is the word— but there was certainly discussions in WWE, "what is the show going to look like?", "What is it going to be?", and the very first time Vince McMahon ever appeared on the ECW show was the night of our premiere. I got a very good story later from somebody who sat on Vince's jet and watched the first episode with Vince the following day, and his reaction and his face and him just being like, "I don't get it; I just don't understand it."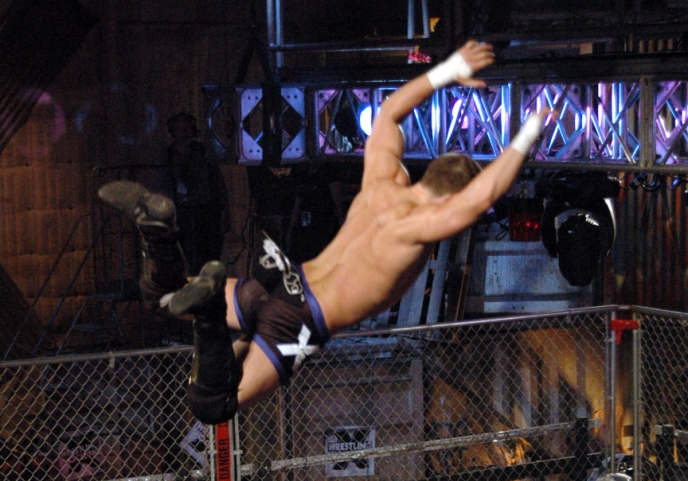 One of the reasons MTV signed our show was they knew, as a network, they had lost the male viewer. It was girls that were watching MTV, and they wanted to put together what would essentially be a guys' night, where girls could say, "Hey, boyfriend, come watch this show. I think you might like it," or, "This show's for you." And so it was a block that was like, Road Rules, us, I think maybe Jackass, and one other show. The first night that the ratings came in, we were the only show that performed to expectation. Now, granted, our expectation was lower than everybody else, but we're the only show that made the expectation. Because the rest of the block had suffered, MTV made a decision the following week: "We're not going to really do any advertising or promoting for the three shows that are after the first show, we're going to put all of the advertising into the first show and hope that people come and they get hooked for the entire block." That didn't work either. The entire block bombed, not just Wrestling Society X. And part of it, I think, in my opinion, was that it was ballsy to even think about putting wrestling on MTV anyway, and it took the executives kind of stepping out of their own comfort zone.
One of the things that I really learned in my first true network TV experience here was that innovation or trying to innovate isn't really rewarded in the TV business. What I mean by that is, you could have a number of hit shows that you develop as an executive, and eventually you might work your way up in the company. But if you have one bomb, that could be it for you. You could be out of development, or out of the division or out of the company. And so, that's why you see so many kind of copycat shows or formats take off, and then everybody has that type of a show. And so I that what happened really was, as much as MTV thought originally, "Let's try this wrestling thing," I think before the first episode even aired, there was kind of an internal decision by a number of individuals, "I don't want to push for this, because if it doesn't work I don't want to stake my name on it." And that's why I think we really didn't have a lot of support. Like, the executives at MTV we worked with directly were very supportive, very great to work with, and I know they did everything they could to make it work for us. But I just think that above and beyond them and higher up at the network, they really didn't want to push this wrestling show in the first place. I think the decision had been basically made from the get go that these were the episodes that we had.
A lot of times, networks are struggling to figure out what their branding is. MTV was at a time where they were kind of starting to be in crisis mode in terms of what was going on there. There was this whole struggle that went on during that time period where dozens and dozens of executives were let go to kind of reshuffle the entire deck at MTV.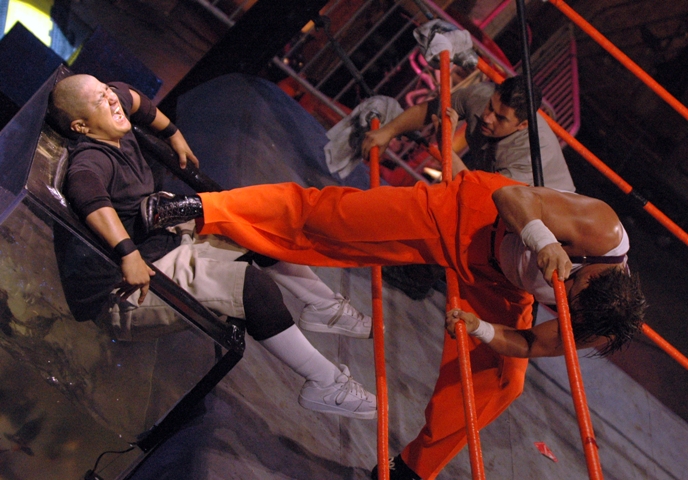 Gone But Not Forgotten
Despite only lasting on MTV for nine weeks, Wrestling Society X made a lasting impression on its fans. It was a new approach to wrestling that stood out greatly from what has become the standard WWE presentation of the last two decades, both in terms of production, atmosphere and storytelling. It shared its talent with other independent organizations of the day, but it always felt like its own, unique show.
Kleinrock: I think the overall feeling [within the industry] was, "Trainwreck of a show… but wow, there's a lot of good talent on there." I mean, you think about what happened almost immediately after that. Matt Sydal went off to WWE, Tyler Black went to Ring of Honor and started a major run there. Teddy Hart and Jack Evans ended up in AAA. Colt Cabana, while not directly from that (and we weren't the first place to expose him), but he ended up in OVW and WWE shortly after that. We were the first people to put stars of Dragon Gate on international television.
I think that that's really what the vibe at the time was. Great talent, really good selection of a roster, but the show was just, you know… If you were looking for a wrestling show that was going to have tremendous wrestling, that was not the show for you. If you were looking for a way to turn off your brain for 23 minutes and watch something wrestling related and just go, "What the hell did I just see? I don't know, but that was awesome," a lot of people watched it for those reasons. And I think now, ten years removed, people look back and they go, "It wasn't as horrible as I thought it was." Like, at least there were consistent storylines, and everything built and made sense, and the talent was really good, And yes, the things that were horrible were absolutely horrible and no one should ever try to do that again. But there certainly were positives there, and I think as we approach this ten year anniversary, I'm hoping that if people kind of look back… I mean, the DVD set still sells. I sat down and I read the Amazon reviews of it and I was blown away by how positive most of the reviews were in terms of, "I missed the show," "I loved the show," "This was so cool, it was so different," "There was a true alternative to the WWE," you know, when no one else was really being an alternative. And that's always been my thing. From XPW to Wrestling Society X to the other stuff that I've worked on, Urban Wrestling Federation and now what I do now with Masked Republic. You're not going to out-WWE the WWE, and there's already the B version of WWE in TNA, and maybe even a C version in Ring of Honor, or you could consider Ring of Honor kind of like the athletic version of wrestling… But my thing has always been, "How do you do something that's not currently being done?" Because that's where you're going to find an audience. You're going to find some of the wrestling fans who love everything wrestling, but where is there another audience to be served? And that's what Wrestling Society X was all about. I wanted to show that MTV audience that when you think of pro wrestling, don't think about dudes in skimpy spandex doing leg drops and like, these not very athletic moves from the '80s. Think of Jack Evans and Matt Sydal and Human Tornado and Teddy Hart and the guys from Dragon Gate, and that's what pro wrestling is "these days" in 2006, 2007. And I was really, truly hoping that the show would kind of help, kind of launch a new interest by a mainstream audience in pro wrestling, and unfortunately that's not what happened.
---
Today Kevin Kleinrock is the President of Masked Republic, a wide-ranging media organization focusing on lucha libre. You can follow his current wrestling-related ventures on Twitter @maskedrepublic. He's also the Director of Digital Operations and Partner Development of Viz Media. You can also follow Wrestling Society X on Twitter @WresSocietyX
Garrett Martin edits Paste's wrestling, games and comedy sections. He's on Twitter @grmartin.