Vince McMahon Avoids Injury in Minor Car Crash in Connecticut
Image courtesy of WWE's YouTube page
Wrestling
Features
WWE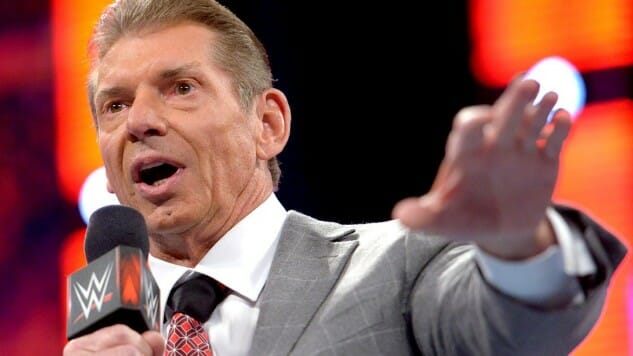 TMZ is reporting that Vince McMahon, who you might know as the owner of WWE, was in a minor car wreck in Stamford, Conn., today. Apparently his Bentley collided with another vehicle near WWE headquarters. According to TMZ, nobody was injured in the wreck, thankfully, and McMahon was seen walking around right after it happened.
We're only even writing about this because of the obvious question this raises: who would ever think Vince McMahon still drives himself? This is a guy who made a regular weekly TV segment out of wrestlers showing up to an arena an hour late in chauffeured limos. Who put his significantly less wealthy father's personal driver into his company's hall of fame. Who has made vehicular malfeasance and misadventure, up to and including explosions and various kinds of crushing, into a recurring staple of wrestling storytelling.
If, before this news broke, you had told me that Vince McMahon hadn't personally driven a car since 1985, I would have believed you without any evidence or follow-up questions whatsoever. I know he came from humble beginnings, and could probably tinker around under the hood of a Corvair pretty nicely back when he was an East Carolina undergrad in Greenville, but the thought of Vince McMahon actually putting his hands on a steering wheel in the year 2017 is basically unthinkable.
Anyway, the key takeaway here, again, is that everybody involved in the accident shows no sign of any injury, according to TMZ.