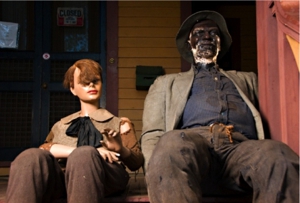 Disney is content to pretend that its 1940s feature Song of the South doesn't exist. Most contemporary critics have denounced the film—and its appropriation of slave narratives—as blatantly racist. But what of Joel Chandler Harris, the white author who created uncle Remus? Is his legacy tainted? Not if his great-great-great grandson has anything to say about it.
On the side porch of the Wren's Nest, an elegant Queen Anne Victorian house in Atlanta's West End, an old man and a little boy slump in lawn chairs, their hair matted with cobwebs, their hands hanging limp at their sides. But the Wren's Nest staff doesn't bat an eye. "They were up in the attic for a long time, being eaten away by moths," explains Lain Shakespeare, who at age 25 is already the executive director of the Wren's Nest museum. "They're part of Wren's Nest's history—and I thought it would be a cool thing to show people."
Despite the literary lineage his surname implies, Lain is the great-great-great grandson of author Joel Chandler Harris, who built this house and lived here until his death in 1908. The dummies, a gift from Walt Disney, were set up in the parlor to celebrate the 1946 Atlanta premiere of Song of the South—at the time, considered Disney's greatest creative achievement, a seamless blend of live action and animation based on Harris' versions of the Brer Rabbit tales and the bankable appeal of the stories' narrator—Harris' own creation, Uncle Remus.
Like the film itself, these musty effigies of the movie's stars must have looked stunning in 1946. But, also like the film (widely criticized for its cheery portrayal of blacks in the Reconstruction-era South, and never released on VHS or DVD in the States), the pair haven't aged well. In fact, lately they've been nothing but trouble. Lain strained his back while excavating them from the Wren's Nest attic last fall. And the years spent stuffed up there only compounded their inherent creepiness—they've startled more than a few museum visitors. Still, Lain can't get rid of them. In a way, they're family. So, at least for now, they remain on the porch where Harris himself used to relax.
In Harris' hometown of Eatonton, 80 miles southeast of Atlanta, a similar figure once sat in the front window of the whites-only Uncle Remus restaurant. Author Alice Walker, also an Eatonton native, dreamed of shattering the glass and rescuing the old man from his rocking-chair prison. "Joel Chandler Harris stole a good part of my heritage," she wrote in her 1981 essay "The Dummy in the Window: Joel Chandler Harris and the Invention of Uncle Remus." "He placed an effective barrier between me and the stories that meant so much to me, the stories that could have meant so much to all of our children, the stories that they would have heard from their own people and not from Walt Disney."
Walker's sentiments are powerful and likely echoed by Americans of all races whose parents' storytelling primacy was usurped by Disney—though it's unclear if she realized Harris had been dead almost 40 years when the film was released. (Walker, on sabbatical, was unable to be interviewed for this story.) Still, criticism of Harris' work rarely implicates the author so directly. Instead, vague suspicions fed by ignorance have saddled his legacy with the undeserved burden of being labeled racist.
Harris' family is all too familiar with this. "I'm tired of it," says Lain's mother, Annette. As Harris' great-great granddaughter, she has long witnessed the disconnect between the perception and reality of his legacy, which dates back to audiences in his lifetime who personally confused him with Uncle Remus. "It makes me cry," she admits, tears welling in her eyes. "People are not educated about Harris' intentions, and it hurts my feelings."
Besides the stuffed figures languishing on the porch and a few anachronistic newspaper clippings displayed in the parlor, little about the house indicates Harris' relationship with Song of the South. Wren's Nest docents skirt the subject during their tours, and the museum's staff of professional storytellers feels no pressure to fill its performances with the tales Disney made famous.
"We change a lot of minds when people come into the museum with preconceived notions," says Lain. "Not because we present a biased opinion, but because we introduce people to the complexities of interpreting history."
Joel Chandler Harris was born in Eatonton sometime around 1845 to an unwed mother and an absentee Irish-laborer father. He grew up flame-haired and stocky, a stammer conspiring with his Irish-bastard status to render him shy and standoffish. But an unlikely love of the written word drew him to a job as a printer's apprentice at The Countryman newspaper, published by Joseph Addison Turner (on whose Turnwold plantation there were far more books in the library than slaves in the fields). Harris felt comfortable there, and many nights after work he would slip into the slaves' quarters and lose himself in the stories of wily rabbits, foxes, bears and lions that they spun by firelight.
The stuttering boy reveled in the storytellers' prowess as much as the tales themselves, and his memories of those nights remained vivid long after he'd left Turnwold and established himself as a newspaperman in Atlanta. When he arrived there in 1876, he began his 24-year career at the Atlanta Constitution. As associate editor, he filled the paper's editorial pages with missives on the political and social issues then ravaging the Reconstruction-era South. "An editor must have a purpose," he wrote once, and so he became the newspaper's staunchest advocate for the suffrage and education of blacks and former slaves. "He never supported integration, yet he supported racial justice for blacks when other editors of his day did not," explains Cheryl Gooch, Professor of Communication Arts at Clark Atlanta University, who has spent the last three years researching Harris' journalism career. "He had an enduring view of education as a means of uplifting formerly enslaved people."
But it was Harris' less urgent work for the Constitution that ultimately made him famous. In 1876, he inherited the newspaper's "Uncle Si" column, which featured stories told in dialect, a style popular with readers at the time. Harris changed little except the column's name, but its popularity soon spiked. His source material—the Turnwold slaves' tales of sly Brer Rabbit and his critter friends—was unprecedented, as was his ear for dialect, honed in spite of his own speech impediment. These elements merged sublimely in the column's new narrator: a fictional former slave named Uncle Remus.
The column's popularity led Harris to compile Uncle Remus: His Songs and Sayings in 1880. Over the next 18 years, he authored seven more volumes of stories. He certainly wasn't the only one publishing adapted slave narratives at the time—Alcee Fortier and A.M.H. Christensen both released popular collections—but Harris outsold everyone else. His work earned the attention of President Theodore Roosevelt, who became a personal friend and once proclaimed, "Georgia has done a great many things for the Union, but she has never done more than when she gave Mr. Joel Chandler Harris to American literature." At the time of his death, only his close friend Mark Twain was selling more books
The ongoing success of the Uncle Remus stories allowed the Harris family a comfortable life in Atlanta, and within a few years Harris had transformed a modest West End farmhouse into an elegant, magnolia-flanked Southern manse, which was christened the Wren's Nest after a family of songbirds was found nesting in the mailbox. Harris died in his bedroom there in 1908. In 1913, his widow dedicated the house as a museum to her late husband's legacy. And in 1946, the dummies moved in.
Oddly, the elements of Harris' Uncle Remus tales that most contributed to their success—his illuminating use of dialect, kindly Uncle Remus character and the mischievous critters themselves—are the very aspects of Harris' work that have drawn the most criticism.
His use of dialect—a device that, historically, has been used to portray blacks as bumbling and unable to adapt to the Standard English of their white superiors—is often viewed as problematic. But Harris saw it as a means of preserving black culture, and he documented the specific rhythm and pitch of his characters' speech patterns with a sophisticated, finely tuned ear. "During his day, many professors and researchers based at the Atlanta University Center lauded his work," explains Professor Gooch. "The stories preserved an African-American dialect, which was a rarity."
Uncle Remus was a rarity, too—a well-developed black protagonist at a time when most white authors relegated their black characters to stereotypic minor roles. Yet whatever humanity Harris instilled in his narrator was stripped away as Uncle Remus became increasingly associated with the likes of Aunt Jemima, Sambo and the rest of the wide-eyed, pink-lipped, subservient icons whites slapped onto product packages to sell to other whites; in Uncle Remus' case, pancake syrup and freight trains.
But perhaps the most frequently misappropriated image from Harris' tales is that of the Tar Baby, a lump of tar and turpentine crafted and clothed by Brer Fox to vex Brer Rabbit. Part of a larger narrative tradition within Native American and West African cultures, nothing is inherently troublesome about the figure, but its dark skin and dumb passivity formed an image that was easily co-opted by those clinging to racist ideologies. "Tar baby" became a pejorative term for black children and an outright slur for black adults. Now, even the colloquial use of the term—meaning a sticky situation, conundrum or quandary—is read as implicitly racist. (Just ask John McCain and Mitt Romney—in recent years, both politicians were forced to apologize after using the term to describe political quagmires.)
Inextricably gooey and nearly unmentionable, this discomfort formed the core of BR'ER, a collaborative painting exhibit spearheaded by two Atlanta-based visual artists, Dosa Kim and Michi—the former Korean, the latter African-American—to explore their complex adult relationships with the Brer Rabbit stories they remembered from childhood. "Why would someone pick out this one thing—Tar Baby—and thrust that image on my culture as a negative thing?" Michi asks. "I wanted to figure out: At what point did things go bad?"
On display at Atlanta's Beep Beep gallery this past March, the theme of corrupted innocence pulsed through the collection's 13 paintings. In Stay Cool Br'er, the most striking piece, Michi's cartoonish, wide-eyed Brer Rabbit cowers at the feet of white-hooded Klan members, his fist sunk deep into the chest of Dosa's red-lipped, eerily menacing Tar Baby. Originally, the artists asked a few other friends to join the project, but the invitations were met with stunned refusal. "They wouldn't touch it with a 10-foot pole," Kim recalls. "They were like, 'I will never do a show like that. You're going to a place that's not very cool.'"
Such trepidation has held Harris' Uncle Remus tales and his legacy in a double bind for nearly a century, the grip growing tighter with each generation. Still, there have been these occasional nudges from artists like Michi and Dosa—plus the longtime efforts of multiple biographers and scholars—who have done their best to stave off the strangleholds of ignorance and fear. Now the task of breathing new life into Harris' legacy falls to the Wren's Nest—though, until recently, it too seemed on the brink of ruin.
These days, ironies abound at the Wren's Nest—from the moth-riddled yet indispensable figures on the porch to the staff's childhood memories of the house itself. Jeri McWilliams, now a docent and events organizer, was denied entrance to the museum as a child because she was black. So, out of spite, she and her neighborhood friends threw rocks at the windows. Lain's earliest Wren's Nest visits were foot-dragging affairs, borne of familial duty. "My mom would make me come here once or twice a year," he remembers. "I would get to cut the cake on Harris' birthday. But once I was 12 or 13, I didn't really come back."
McWilliams wasn't able to visit the Wren's Nest until its desegregation in 1984—coincidentally, the year after Lain's birth. Until then, the Atlanta society women entrusted with the museum's care had upheld what they believed to be a stipulation of Harris' will: that no black person should set foot on his property. In truth, Harris had no will, and had indeed welcomed black friends into his home on multiple occasions—even housing a number of them during the 1906 Atlanta race riots.
Thankfully, when the Wren's Nest's desperate keepers solicited the help of local businessman Ed Negri (then most famous for saving Atlanta's historic Fox Theatre from demolition), desegregation was his first order of business. Negri then paid off a few outstanding bills, set up a board of directors and established the museum as a nonprofit. During the '80s and '90s, a series of executive directors ushered in a sizable restoration project and the development of a fledgling storytelling program, but when Lain arrived in July 2006 the state of things seemed only slightly less bleak than in 1984.
His predecessor had "basically stopped showing up," Lain recalls, leaving the museum with $115,000 of debt owed to 19 creditors (including 54 months of back-rent due on a copy machine that had already been repossessed). The Wren's Nest was close to shutting down. But Lain—after spending his first few months on the job settling the debt and drafting letters to potential donors—found time to resurrect the Wren's Nest website and start a blog (wrensnestonline.com/blog). "I wanted to chronicle what it was like for a 23-year-old to take over a nonprofit organization with no experience whatsoever," he says. For a year and a half now, the blog has served as an open forum for Lain and his staff to ask big questions—"Is Uncle Remus Racist?" (as per one January 2008 post)—and chronicle the museum's day-to-day happenings.
These happenings—much like the museum's fundraising revenue—have increased significantly since Lain's arrival. In the first half of 2006, the Wren's Nest hosted three storytelling events; the total for 2007 skyrocketed to 149. A reading club for elementary-school students and a publishing summer camp for high schoolers are both in their second year, while a proposal to teach after-school blogging workshops to teenagers is still pending. In May, the West End Historic District's Tour of Homes hosted its opening gala on the Wren's Nest grounds.
All of this, plus a major donor's promise to match up to $80,000 of fundraising dollars in 2008, means even more opportunities for the Wren's Nest to educate Atlanta and the world about Harris' life and work. It's a goal that remains vitally important, as Lain notes yet another irony: "We have such great support from the neighborhood, which is overwhelmingly African-American, yet a mother from [the Atlanta suburbs] who's white wouldn't take her kids to our museum because we're seen as racist in some way."
Perhaps Lain should listen to his mother. "Let's not go there again," Annette pleads. "Lets talk about the website. Let's talk about storytelling. Let's talk about now. Let's go forward."
Others Tagged With