Theresa Andersson: Hummingbird, Go!
[Basin Street]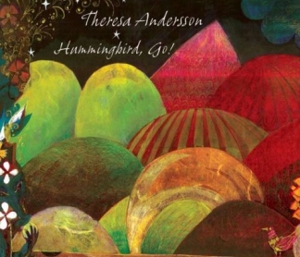 Multi-tasker makes good

Theresa Andersson has a throwback career trajectory—one that's actually allowed her to mature in a nurturing local-music scene. Since arriving in New Orleans in 1990 via Sweden, Theresa Andersson has evolved from almost literally playing second fiddle for Anders Osborne, to sit-ins with Crescent City staples The Radiators, to a handful of genre-dabbling albums featuring various backup-band lineups. During those years, she was the local who everybody in New Orleans wanted to get excited about. Sexy! Swedish! Bona-fide chops! But as far as forging bonds with audiences (other than rowdy, balding middle-aged white guys at Jazz Fest), nothing ever clicked. She was like that smart, sweet, pretty girl you knew in high school that, for some reason, never got asked to prom. Her new kitchen-recorded album Hummingbird, Go! offers an explanation: Turns out she was hanging with the wrong crowd, i.e., any crowd at all.

Flying solo now, with production guidance from fellow Swede Tobias Fröberg, she's reached a career peak with this unconventional, focused and utterly charming disc. Songs like the opener "Na Na Na" and "Hi-Low" are lush, tolerably whimsical meditations yielding the same kind of aesthetic pleasures that come from staring at a densely layered and carefully manicured garden. Performing these songs on stage, Andersson is a multi-tasking spectacle (watch her one-woman-band kitchen performance on her MySpace page, but, really, see her live). She juggles three to five instruments per song and builds multi-track vocal harmonies with the help of a two-tiered floor rack of pedals and blinking loop processors that looks like a NASA control panel. She works the knobs with her toes. it all comes together quite gracefully for a cathartic payoff. It's like her true spirit was held hostage for all those years, and Hummingbird, Go! is the escape hatch.
Others Tagged With