Q-Tip: The Renaissance
[Universal/Motown]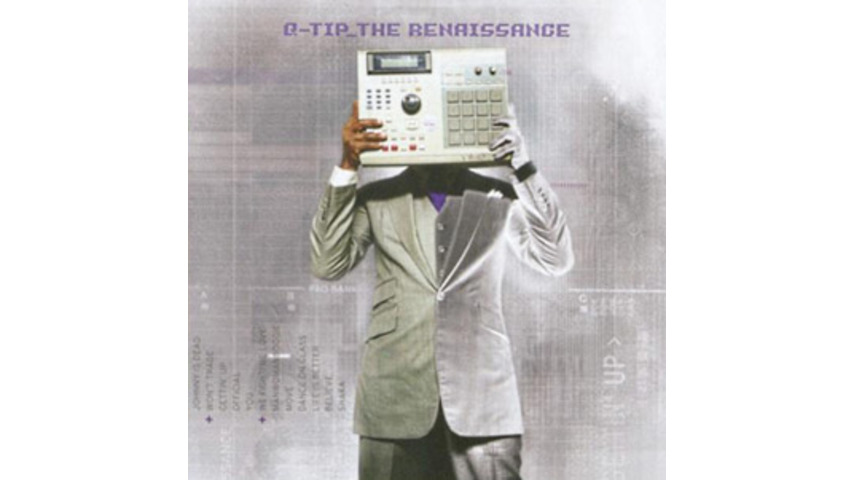 After nearly a decade, former Tribe mainman gets his long-awaited day in the sun
Back when he was rockin' the mic for A Tribe Called Quest, the man formerly known as Jonathan Davis (AKA: living hip-hop legend Q-Tip) was known for coming correct with a distinctively nasal message of positivity wrapped in the choicest rare grooves available, going against the then-prevalent Thug Life grain of bitches/blunts/bling. His songs moved both asses and minds simultaneously, pioneering a whole new school of alternative hip-hop in the process.
A decade after his group's demise, Q-Tip is finally issuing his second solo work; one planned for release between his 1999 debut Amplified and this one, 2002's Kamaal the Abstract, mysteriously never made it to store shelves and has become something of a latter-day underground legend as a result. Tragically, Q-Tip then proceeded to bounce around the rosters of five different labels, which effectively silenced him for most of the decade. The result is a new record that sounds as fresh and necessary now as his Tribe work did back in the day.
Kamaal is worth noting not only because it represents a missing link of sorts for Q-Tip fans but also because it provides something of a road map to what he presents here: a deli tray of highly personal, somewhat eccentric soul-man moves that draw from Stevie Wonder's '70s jazzbo exploits and Prince's more purple flights of fancy. (Which is to say, if you wonder where Kanye West got the idea to sing on his latest album, look no further than Kamaal for inspiration.) The Renaissance is the logical extension of this exploratory work, coupled with Q-Tip's need to, once and for all, step out from behind Tribe's long, dominant shadow, and in many respects (if not all), it succeeds wildly in both dimensions.
The Abstract Poetic builds several of these tracks on top of a live band—guitarist Kurt Rosenwinkle shines on the Pat Metheny-like "Johnny Is Dead" while keyboardist Robert Glasper provides the Prince-like underpinnings of the superbad/superweird "You." But Q-Tip doesn't neglect the cratediggers in his audience either, building funky tracks such as "Won't Trade" out of snippets from Ruby Andrews' underrated "You Made a Believer Out of Me" or "ManWomanBoogie" from Can's old-school bassline funk (an earlier version of "Shaka" even included a sample of president-elect Barack Obama's instantly-recognizable cadence). There are a couple of small missteps and interestingly they come when Q-Tip is in collaboration mode ("Life is Better"'s Norah Jones cameo comes off as Minnie Riperton-lite, while the D'Angelo joint "Believe" is really no more inspired for the pairing of the two), but otherwise Q-Tip's return to the spotlight is entirely a welcome one.
"The people at the label say they want something to repeat / but all my people really want something for the streets," sings Q-Tip at the beginning of "Dance on Glass." Don't call it a comeback; he's been here (if perhaps not heard) for years.
Listen to Q-Tip's "Dance on Glass" from The Renaissance:


Others Tagged With