The Flatlanders: Hills and Valleys
[New West]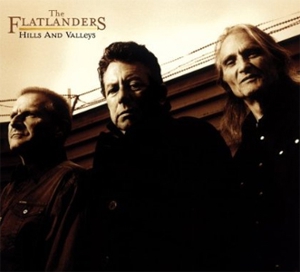 Americana role models create strongest post-reunion album to date
The Flatlanders are now more a band than a legend, to inversely paraphrase the title of their first CD. By the time More a Legend Than a Band came out in 1990, it was primarily a historic document, drawn from the 1972 sessions of one of Texas' earliest and short-lived alternative-country bands. But as the band members-Joe Ely, Butch Hancock and Jimmie Dale Gilmore-began to have successful solo careers as singer-songwriters, interest grew in their long-forgotten Flatlanders roots.
The primarily acoustic Hills and Valleys, produced by Lloyd Maines, is the Flatlanders' third and strongest album since reuniting in 1998 for The Horse Whisperer soundtrack. The three share writing credits on eight songs, and create vividly rendered tales about restless hearts, wide-open spaces and troubled times. They also have carefully crafted melodies, especially the mid-tempo compositions replete with folk-rock hooks. "Homeland Refugee," sung by Ely, updates Steinbeck and Woody Guthrie with hauntingly vivid detail; "Borderless Love" is both romantic and political. Hancock's "Thank God for the Road" showcases his characteristic inventive wordplay, always careful to be sincere and not merely clever. Although there are a couple filler songs sprinkled throughout, the Flatlanders are clearly no longer a mere legend. They're elders of Americana music. Role models, even.
Listen to The Flatlanders on MySpace.
Others Tagged With