House Review: "Wilson" (Episode 6.9)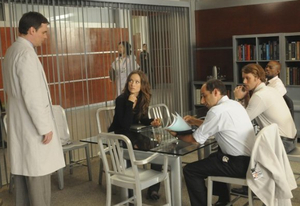 The aptly titled episode puts Wilson into the role of main character. Wilson must diagnose the obscure ailings of a patient, and the familiar rhythm and formulas of the episode center on him and his ability to solve the medical puzzle in place of House. Wilson even briefly heads up House's reassembled team (Foreman, Chase, Thirteen and Taub) in one scene.
The result is an episode in which the agile and gifted Robert Sean Leonard has the rare chance to shine. He is his typical submissive self, allowing himself to be coerced into giving up a piece of his liver for his dying patient. But he also embodies some of House's self-righteous anger when he secretly outbids Cuddy on a house she really wants to buy in order to move in with her new boyfriend Lucas. Though Wilson has kicked House out of his apartment — yet again — he avenges Cuddy for the pain she has inflicted on House.
House, meanwhile, continues his evolution into a healthier, more three-dimensionally emotional person when he admits to Wilson that Cuddy's rejection hurt him. His development continues when he admits that he doesn't want Wilson to donate his liver partly because he fears his abandonment if there are complications, and yet he unexpectedly appears in the theater of Wilson's surgery to support his sacrifice nonetheless.
For West Wing fans, Aaron Sorkin alum Joshua Malina guest stars as a morally weak-kneed cancer patient of Wilson's. The normally wholesome, earnest actor navigates the waters of an ethically ambiguous, ultimately unlikable character with unexpected aplomb. His surprising adeptness in this role is a joy to watch.
Overall, the gimmick of replacing House with Wilson was a calculated risk that resulted in a freshness to the episode and a seemingly reinvigorated Leonard in his more prominent role. Perhaps this opportunity to take on a new, more emotionally ambiguous personality in the episode breathed new life into Wilson. It was certainly a nice change for the series.
Others Tagged With