Iggy Pop: Roadkill Rising...The Bootleg Collection: 1977-2009
[Shout! Factory]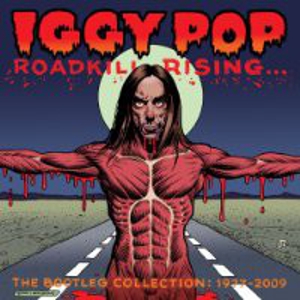 Iggy Pop has had a few retrospectives in his career, none of them especially persuasive. At a mere 17 tracks, the single-disc Nude & Rude in 1996 proved so cursory as to be insulting: No "TV Eye"? No "Your Pretty Face Is Going to Hell"? Seriously? Nine years later, A Million in Prizes more than doubled the tracklist, but it still sounded like a superficial dip into his rich catalog, with too much obligatory emphasis on his late-career duds. Despite so many excellent songs, Pop simply may not be a musician who lends himself to that sort of retrospective.
In fact, he is neither a singles artist nor an albums artist, although he's excelled in both formats. Instead, his most lasting contributions have been as a live act, with a larger-than-life stage persona that stopped just short of self-annihilation. From his early peanut-butter-and-cock days through his latter days as punk's leather-skinned éminence grise, Pop has sought and destroyed like the most volatile frontman in rock history.
Shout! Factory's new four-disc Roadkill Rising already has a leg up on previous career retrospectives, and not simply because it quadruples Nude & Rude and doubles A Million in Prizes. It gets Pop out of the studio, where he was never truly at home, and onto the stage, where all his animal urges exploded. This is Pop in his true element—onstage, half-naked, presumably with a foodstuff smeared across his person. He makes Jim Morrison look like Art Garfunkel.
Roadkill Rising covers 66 songs from throughout his 40-year (!) career, with each disc representing a different decade. It's unwieldy, sure, but the set has the breadth to dig deep into his catalog, which makes it no mere hits collection but something like a primary-source chronicle of his career. At a time when "Lust for Life" has been used to sell cruises, that's hugely refreshing.
Of course, the set starts strong, and of course it gets a bit spotty in the '90s and the '00s. Pop came along like a scourge in the late '60s, and that momentum carried him through the '70s and much of the '80s. He howls through his early Stooges material ("Raw Power," "Search and Destroy") and guts covers of the Kinks and Them; "Louie Louie" becomes just as subversively profane as the FBI always thought it was.
What's more impressive is his interaction with his audiences over the years. Pop's performances are communal; he wants his fans intimately involved with his visceral exorcisms. Those are, in fact, stage-diving fans singing with him on "My Idea of Fun." But it wasn't all abandon and anarchy; even Pop had rules of etiquette. When he wants to sing a quiet song like "One for My Baby (And One More for the Road)," you better shut up and let him sing. How his tirade against a group of disruptive fans in Detroit didn't end in fisticuffs is a minor miracle of restraint. Granted, he most likely chose that song to taunt the audience.
Perhaps the most surprising revelation on Roadkill Rising is that the material may go downhill, but Pop does not. "Skull Ring" will never be considered among his best songs, but this take, recorded in DC in 2007, actually surpasses the studio version, if only by sheer force of will. He has to work harder to put some of these songs across, but that at least means he doesn't descend into self-parody—at least not until the French-pop travesties from 2009's Préliminaires. Give him credit for stretching, but he's no Serge Gainsbourg.
Despite that odd finale, Roadkill Rising is Pop's best career retrospective to date, and quite possibly the best we can hope for. Together, these four discs portray him as an artist who never wavered in his belief in the stage as a place of ultimate freedom, where standard inhibitions and courtesies do not apply.
Others Tagged With