Stevie Nicks: In Your Dreams
[Reprise]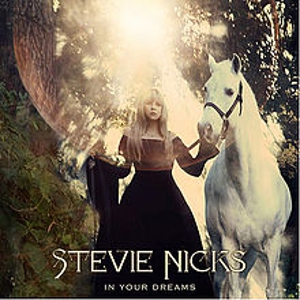 Amid the fingerpicked folk of "For What It's Worth," the most nostalgic, romantic track from Stevie Nicks' seventh studio album, America's most beloved and mysterious gypsy princess emotes, "I got to sing; I got to dance; I got to be a part of the great romance." No mystery there. As a former vocalist and songwriter for '70s legends Fleetwood Mac, Nicks did experience the ups and the downs, the fame and the decline, the mysticism and the harsh reality of the rock star life.
No matter what she does, Nicks will never escape the large-looming legacy of her former band, the monster collective that cranked out masterpieces like Rumours and Tusk. Not that she's avoiding the association—she did, after all, record with the band on their 2003 comeback, Say You Will, and participate in the sporadic tours that have taken place since. But she's never quite reached her former act's level of acclaim or commercial success, and she's certainly never crafted that one album that's come to define her as a solo artist. Her first attempt, 1981's Bella Donna, has come closest on all counts, sprouting an array of top-notch singles (like "Stop Draggin' My Heart Around" and the oft-referenced "Edge of Seventeen"), but even still, most of her best moments as a soloist bear The Mac's stylistic hallmarks.
Perhaps it should come as no shock then that the best track on In Your Dreams (her first album in a decade) sounds like a top-notch Rumours b-side. The dreamy, mystical "Annabel Lee" offers Nicks' catchiest melody in years, her precise vocals pulsing over a sturdy, John McVie-esque bass and a Lindsey Buckingham-influenced guitar sweep. It's when she strays from her former band's trademark stamps that she comes across as awkward.
You have to give the woman props for her vocal legacy, and I would never want to even approach disrespecting the talents of such a legend, but Nicks' voice is starting to sound more strained than stirring. Some of it boils down to poor arrangement decisions (lead single "Secret Love" should have been knocked down a couple keys), but part of the blame rests directly on Nicks' shoulders, as she too often goes for that nasally witchy woman vibe that distracts from her naturally wonderful, smoky pipes. Her influence has never been more prominent than it is today (female indie-rock frontwomen like Beach House's Victoria Legrand and Wye Oak's Jenn Wasner sound like they've worshipped many years at the altar of the Gold Dust Woman), but she's never sounded less like herself.
In Your Dreams is an album about exorcising the demons of the past and moving forward toward the beauty lingering in our imaginations. Too often, the flat production and boring arrangements render Nicks' powerful words moot. The title track is catchy and energetic, with big guitar strums crashing over a brisk country-rock churn, and "New Orleans" is a nice enough Mac-style ballad, climbing and descending through 12-string chords, fantasizing about dressing up in beads, feathers, and lace. But a more representative track is "Wide Sargasso Sea," a corny, overcooked tale of fading beauty, tarnished lust, and backfiring arson.
"In the smoke and the fire, they never found her," Nicks sings, surrounded by synth bleeps and blues-rock riffing. You could say the same thing of Nicks herself, who's swallowed up in the cheesy, overdone theatrics. In fact, it sort of sounds like an epitaph for this album of wasted opportunity.
Others Tagged With