Red Hot Chili Peppers: I'm With You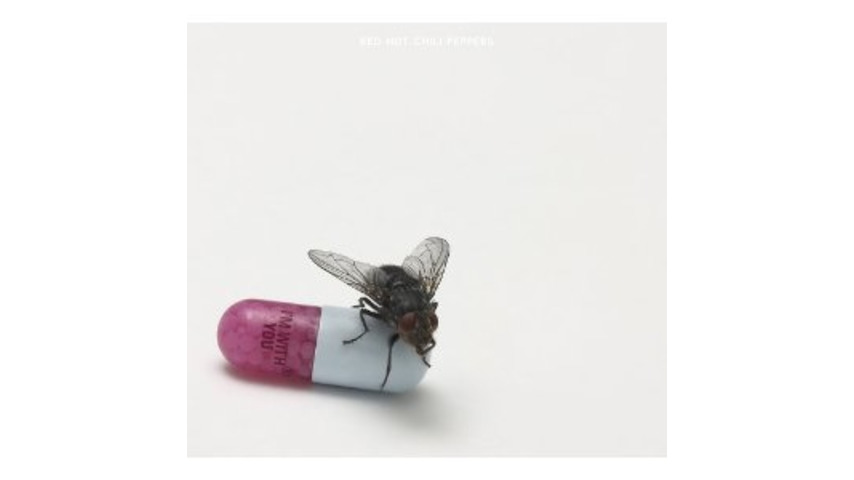 It was only a matter of time. John Frusciante—arguably the most versatile, talented guitarist in "mainstream" rock 'n' roll—left the Red Hot Chili Peppers in 2009 after 15 on-and-off years and five studio albums. For many fans and observers, the writing was basically plastered all over the wall: While his main act continued to sell out arenas and top the Billboard charts as funk-pop gods, Frusciante spent his non-Chili hours crafting homemade psychedelic solo albums and laying down session work for pal Omar Rodriguez-Lopez's experimental prog band The Mars Volta. While Red Hot Chili Peppers continued down their relatively conventional sonic path, crafting and re-adjusting the sound they blueprinted decades in the past, Frusciante longed to scratch weirder, wilder creative itches.
Plus, where the hell would they have gone after 2006's double-album opus Stadium Arcadium? Over the course of 28 densely-layered tracks, the Chili Peppers explored every single nook and cranny of their sound, from funk to balladry to intimate psychedelia to straight-up pop. And the MVP was undoubtedly Frusciante, whose monstrous mountains of effects pedals and colorful harmonies kept every inch listenable and most re-playable.
So of course it's heartbreaking to see the band's creative commander abandon ship, but it was probably the smartest move for all concerned parties. With Frusciante now free to indulge on his own path, the Chili Peppers arm themselves with guitarist Josh Klinghoffer, a former Frusciante collaborator and the band's touring guitarist/keyboardist during their Arcadium jaunt. Klinghoffer obviously had enormous shoes to fill on I'm With You, but as an established member of their inner circle, he already had a chemistry with his bandmates (vocalist Anthony Kiedis, bassist Flea and drummer Chad Smith). His challenge—and the band's—is to replace one of the world's most beloved guitarists in a way that is both exciting and un-detrimental to the band's remaining core strengths.
Opener "Monarchy of Roses" is a success on every count. Flea's propulsive disco bass is a full-on assault of funk, anchored by Smith's avalanche of toms and one of Kiedis' finest chorus melodies in years. Klinghoffer, meanwhile, wrangles his instrument through a sea of white noise and quiet texture, demonstrating his more subtle approach—one that colors the arrangements instead of powering them. In this new configuration, one thing becomes obvious in no time—Flea is now the band's main creative energy: a realization which is completely appropriate considering he's one of the greatest (if not the greatest) bassists on planet Earth.
During the band's post-Arcadium hiatus, Flea spent much of his free time studying music theory and composition at the University of Southern California. (First things first: Can you imagine walking in on your first day and sitting next to Flea? Especially if he was shirtless with a sock dangling in an inappropriate location?) At any rate, there is a more considered structure at work on many of these songs, particularly those on the album's second half (including the lounge-y "Meet Me at the Corner"), many of which feature Flea at the piano. But by no means have the Chili Peppers turned into pop classicists. The most breathtaking moments on I'm With You are steeped in rhythmic gymnastics, and most of them sprout from Flea's nimble fingers, whether he's playing melodically or breaking necks with his unstoppable groove.
As always, Anthony Kiedis rotates between drunk fratboy to enlightened rehab counselor to pseudo-beat poet. When he bothers to write melodies, they're typically memorable, but he's still a lousy rapper. As always, there are moments when you wish he'd just shut the hell up since he's distracting from an excellent groove. On the otherwise-great electro-rocker "Factory of Faith," he offers the world's sleaziest marriage proposal: "Be my wife / I think you're right that we should mate." (Oh, Kiedis, always a charmer.)
"Life and death" is supposed to be a major lyrical theme—which explains, of course, the blow-job references, the line "Cockblocking isn't allowed," and the invention of the word "Mozambique-y." Flea has cited a recent voyage to Africa as a major inspiration behind the album's knee-deep grooves. But adding half-there congas to the hypnotic, slightly jazz-fusion-ish "Ethiopa" isn't exactly a multi-cultural stance. While the band does expand its reach to an extent (the pianos, Klinghoffer's added texture), I'm With You still sounds very much like a Chili Peppers album. That means, of course, loads of filler (the emphatically bland "Goodbye Hooray," the passion-less piano pop of "Happiness Loves Company"), but it's slightly worrying that I'm With You has just as much as the twice-as-long Stadium Arcadium.
Ultimately, fans will buy this. Those who haven't run off after Fruscinate's exit will find five or six tracks to cherish and a few others worth an occasional revisit. Flea's bass playing alone is worth the price of admission (as it will always be), and there are enough great moments here to suggest I'm With You won't be the last we see of this formation.
On the heartwrenching ballad "Brendan's Death Song," a tribute to deceased friend/punk club owner Brendan Mullen, the foursome have crafted their finest non-funk track since the stark Frusciante comeback single "Scar Tissue." "Like I said, you know I'm almost dead / You know I'm almost gone," sings Kiedis—passionately—with his bandmates nervously building tension underneath.
All four members have referred to I'm With You as a creative rebirth. That might be a stretch. But judging by the flashes of promise, one might be waiting just around the corner.
Others Tagged With