Mastodon: The Hunter
[Reprise Records]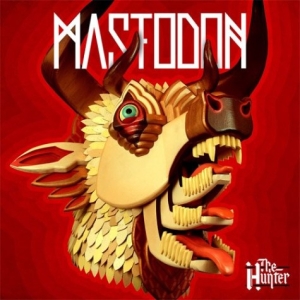 When I chatted recently with guitarist Bill Kelliher, the stoic Mastodon axeman talked…a lot, ranting about his hatred of touring their classic songs to death, jawing about his passion for old-school metal. But mostly he spoke about his desire to make The Hunter, his band's fifth studio album, a "go out and punch your mom record."
At first, I didn't even catch the reference. I understood the sentiment at face-value: After Mastodon's laborious 2009 epic, Crack the Skye—which saw the quartet slaving toward spacey concept-prog perfection with producer Brendan O'Brien—Kelliher and his bandmates wanted to do something more spontaneous, more immediate and varied. And, yes, something with so much metallic thrust that one could potentially punch their own mother out of pure excitement. But long-term fans might perk up their ears at Kelliher's quote and immediately recall the track "Mother Puncher" from their pulverizing 2002 debut, Remission. The song (and the album itself) are bloody, gnarly behemoths, lathered in harmonized guitar riffs, heart-stopping growls, and the deft, versatile pummel of drummer Brann Dailor. So is The Hunter a return to that mayhem? A demon-approved funhouse of terror and no-frills metal…punch?
Not exactly. Which is actually a relief. Mastodon's finest attribute (and they have a number of 'em) is that they are a living, breathing, evolving beast. Sure, Remission and their sophomore follow-up, 2004's even more killer Leviathan, were demented and snarling metal albums—but they were (and are) more fun and inventive than any metal releases in recent memory. The songs were full of quirks and left-field detours (like Brent Hinds' southern rock-leaning guitar solos), and even at their most terrifying they carried a sense of song structure that appealed to non-metal folks. Blood Mountain introduced more sonic colors and a more polished sound, and with Crack the Skye, they skyrocketed to a completely new planet, blending their fiery riffs with synth textures, relying on traditionally sung vocals in lieu of growls, leaning more toward late '70s prog than regular ol' metal. They've never made the same album twice, and luckily, that streak continues with The Hunter.
Sure, there's a bit more bile this time around; the riffs are crunchier (the hard-charging "Black Tongue" and "Curl of the Burl") and the production is less ornate than on Crack the Skye. But this is clearly not the same band who punched so many mothers back in the early 2000s. In some ways, this is the album that should have come before Skye chronologically—here, the band's raw metal power is crossbred with the weirdest, wildest ideas they've yet to conceive, and producer Mike Elizondo (yes, the same dude who worked on 50 Cent's "In Da Club" and a track by beat-boxing American Idol reject Blake Lewis) soaks up all the messy disparate-ness like a squeegee.
The Mastodon of 2002 would have scoffed at the very idea of "Creature Lives": a hilarious, lighter-waving arena-styled epic crafted mainly by Dailor. Here, the percussionist sings a slow, triumphant tale about a mythical beast, his choral-like vocal soaring over a bed of tom-tom fills and searing classic rock guitar. Elsewhere, the band indulges their proggier tendencies, stretching out on fierce workouts like "Octopus Has No Friends" and "Thickening." The guitars are still layered and technical, Dailor still spraying whiplash drum fills like it's his last day on Earth, but there's a windows-down rush to even the spaciest exploits—a quality that was mainly absent from Skye's brooding one-track mind.
Something tells me Mastodon will never stop evolving. And even if they do, they'll probably still kick ass. The Hunter, their finest album yet, is proof enough. The Creature Lives, indeed.
Others Tagged With