Kurt Vile: So Outta Reach
[Matador Records]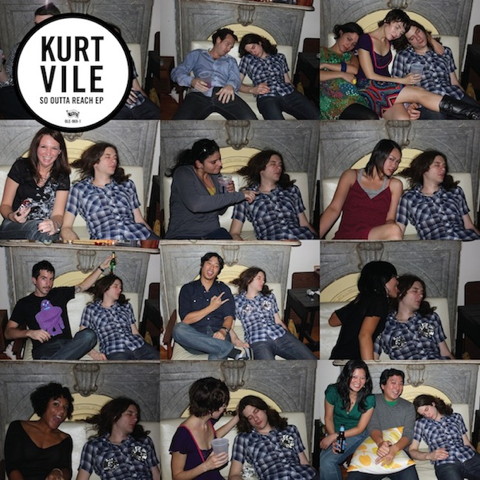 "When your ax is acting up/ Throw some delay on it, turn it up," Vile sings on this six-song EP's almost-title track, "(so outta reach)." Not bad advice, really. Especially for someone like Vile, whose music has a muzzy, lived-in feel whether he's layering vintage synthesizers in his bedroom or recording acoustic guitars in the studio with John Agnello, as he did on his most recent full-length for Matador, Smoke Ring for My Halo.
So Outta Reach came mostly from the same sessions, so these tunes have a similar vibe, with just as much of an acoustic leaning as the album, perhaps even more so. In fact, the cover of Springsteen's Born in the U.S.A. track "Downbound Train" is the EP's only full-on rocker, and it's a good one. Vile owns it, drenching the song in his signature psychedelic, fuzz-box guitars and tossed-off, sing-speak vocals.
Much has been made of Vile's classic-rock leanings and influences, mostly because he once titled a song "Classic Rock in Spring" and name-dropped Bob Seger. Covering Bruce Springsteen probably won't curb all the Tom Petty talk. But the commonalities have more to do with the casual masculinity in Vile's songs—that same rugged quality that allowed Springsteen to drop to his knees, hang his head and cry on "Downbound Train" without sounding like a crybaby. If Vile's contemporaries are skinny jeans, he's the Boss's frayed-at-the-butt work jeans.
It makes sense, though, that these songs were released as a companion piece to Smoke Ring (arguably his best record to date). They're not throwaways, but the entire EP isn't essential. The Deerhunter-evoking "It's Alright" is so easy-going it becomes slumbrous. Others feel a bit like retreads from the album. Melodically, "The Creature" is strikingly similar to Smoke Ring leadoff track "Baby's Arms," but the lyrics aren't as memorable. Still, it's worth a few listens for Vile's sparkling guitar work.
"Life's a Beach" and "(so outta reach)" are essentially the same song with different production choices, but it has some of the EP's best, most playful lyrics, like those ax instructions and this gem: "I make a living too much/ I think I'll try and die a little."
So, there's no need to purchase the deluxe edition of Smoke Ring for My Halo just for these six songs, but fans will likely enjoy digitally cherry-picking a few tracks.
Others Tagged With