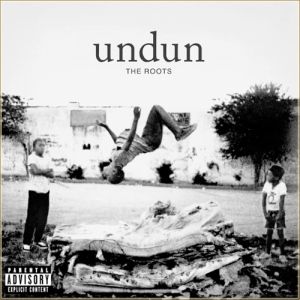 The Roots have always had this knack for finding a balance between necessary creative exploration and accessibility among even the most casual fans of hip-hop, of being able to bring joy and light in one breath and cerebral political discourse in the next, human darkness in the one after that. One minute, they could be covering Run-D.M.C. or Stevie Wonder's seasonal hits with Jimmy Fallon on a Macy's Thanksgiving Day Parade float, the next they could be preparing a crescendoing four-movement avant-garde suite building upon Sufjan Stevens' "Redford (For Yia-Yia and Pappou)."
And given the context of this album, and the focus The Roots have had on collaboration as of late, the building around a years-old Sufjan tune doesn't seem all that surprising. undun, ?uestlove and co.'s 13th album, expands on the group's ambition and hunger for experimentation for their first real hip-hop "concept album" a la Prince Paul and Dan the Automator. A short album at under 40 minutes, it tells the story of a short life, that of the fictional Redford Stephens (1974-1999)—named for the Sufjan song—and his 25 years on this earth. The verses follow Stephens' inner monologue through the years as he becomes "undun," falling into a life of crime, but, as ?uesto explains, is neither hero nor villain nor victim.
The hook of the lean, two-and-a-half-minute "Sleep," the first track after the introduction, sounds as though it's being crooned down a hallway (a lovely guest spot from Aaron Livingston) amid the bouncing woodblock clicks and clacks that make up the beat, the perfect background to Black Thought's pacing-insomniac flow. "Oh, there I go, from a man to a memory," ends his verse, sorted with thinking-out-loud pauses to reflect this character's inner monologue. "Damn, I wonder if my fame will remember me." "Tip the Scale" is the reinforcement of Stephens' mission statement, a reminder by The Roots that although the subject of this portrait is living a life of crime, he's not evil, just a product of circumstance "trying to tip the scale my way." Bolstered by ?uestlove's backbeat and the usual jazz-influenced soundscape, there is evidence of The Roots' usual social commentary in phrases like "soldiers on the street with eighth-grade diplomas."
"Make My," featuring Big K.R.I.T., is the first single, and the mission statement. The hook goes down smooth, the thesis clear, bookended by Big K.R.I.T's music video imagery and Black Thought's working of Stephens' inner monologue. The cultural references are a bit too familiar ("fading back to black," "if there's a Heaven/I can't find a stairway"), but don't feel gimmicky or pigeonholed. And fans, ultimately, will dig the lyrics: only Black Thought would rhyme "fits of panic" with "dead man's pedantic" and "matter of semantics," and he does so amid ?uesto's foregrounded backbeat and some interesting, woozy bass noodling on the instrumental breaks.
Big K.R.I.T.'s lush party imagery gets expanded upon in the buoyant, funky, party-friendly "Kool On" with its R&B "whoa-ohs" in the hook and nimble guitar riffing. Regular Roots collaborators Greg Porn and Truck North enter with dazzling pictures of the good life lived by shady people—any high school English teacher looking for a good "Show, Don't Tell" example for their bored students could probably find one here. "Now class, who can relate Porn's line, 'Fuck a genie and three wishes / I just want a bottle, a place to write my novel.' to the larger themes found in the works of Ernest Hemingway and Christopher Wallace?" And ultimately, it sounds like the sort of track that was fun to put together, and on an album with some pretty heavy themes centering on a character who ends up dead at 25, sometimes, you just need that.
"Lighthouse" is another standout, lifted by Dice Raw's almost-pleading chorus and ?uestlove's undercurrents, a resonant, nautical-reference-packed conversation between Redford and himself, in which he talks himself out of suicide. "Your body's part of the Maritime museum" is a surprisingly affecting line.
The album presumably ends with the final thoughts of Redford Stephens, set to the four progressing movements based around Sufjan Stevens' "Redford." The first movement is just Stevens himself performing an instrumental version of the track on a piano before the band builds bold, chaotic structures upon it, each movement gaining more urgency like the last rapid-firing of synapses before the mind fades to the eternal test-pattern. A string quartet brings warmth and mourning to "Possibility" before the last gasp of "Will to Power," where avant-garde pianist D.D. Jackson and ?uestlove take Stevens' gentle, sentimental thru-line and invert and stomp it with a ballsy thrashing and pounding of an interpretation. The last movement, "Finality," is a dirge of strings, a dissonant death-rattle piano clash, and then nothing, just a good few moments of silence to take in Redford's story. undun is a brilliant reminder of the power of the emcee as storyteller, the possibility of 40 minutes of music lending itself to a thoughtful character and plot. And this album will last a whole lot longer than a viral video of The Roots covering "Lyin' Ass Bitch" on Fallon for Michele Bachmann.
Others Tagged With