Paul McCartney: Kisses on the Bottom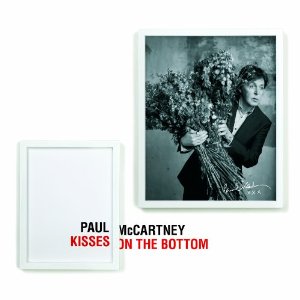 Neil Young once said if you live long enough, you'll be so far behind the times that eventually things will come around and you'll be on the cutting edge again. He could have been talking about his pal Paul McCartney. After enduring years of critical indifference and releasing album after album of music that many considered lame or irrelevant, Sir Paul has become fashionable again. His songs have been widely featured in recent films and critical re-evaluations of his work both as a solo artist and with his group Wings have been kind and deferential. Yet, at the risk of sounding heretical, it must be admitted that even though McCartney is a great artist, he's produced lots of work that simply isn't very good.
So, when it was announced recently that a besotted, love-struck McCartney was recording an album of standards to celebrate his third marriage, the world at large could be forgiven for not paying much attention. After all, hadn't Rod Stewart recently recorded several mediocre albums that covered the same territory? It sounded like the last gasp of a desperate artist whose creativity had run dry, and I felt sorry for McCartney and wished he'd simply retire or content himself with performing his greatest hits show that he's been successfully touring the world with in the last few years. Suffice it to say, when a copy of Kisses on the Bottom arrived for review, I had my knives already sharpened. Yet, halfway through "I'm Gonna Sit Right Down and Write Myself a Letter" the first song on the album, a huge change came over me. Whether it was hearing the warm and seemingly effortless empathy between McCartney's voice and Diana Krall's band as he glides and croons over the lyrics, or the easy self-confidence he communicates in every phrase, I was immediately hooked. Kisses on the Bottom is easily the most solid and engaging piece of work McCartney has recorded in many years.
Not since Run Devil Run—a collection of rock and roll standards—came out in 1999, has McCartney sounded so at ease and completely in control of his music.
As one of the greatest songwriters of the last century, he certainly has nothing to prove to anyone, but at the same time any new song that an artist of McCartney's caliber writes is inevitably compared to everything else in his catalog. Singing standards must free him from such comparisons and the performances on both Run Devil Run and Kisses on the Bottom benefit from the completely relaxed and intimate way that McCartney and the band approached them. Whether he's vamping his way through delightful versions of "It's Only a Paper Moon" and "The Glory of Love" or delivering a gorgeous vocal on "Bye, Bye, Blackbird," the songs on this record are completely heartfelt and capture a Paul McCartney who is more relaxed, assured and confident than he has ever sounded before. None of the strain or desperate attempts at sounding relevant that have marred some of his previous solo efforts can be heard anywhere on Kisses on the Bottom. This sense of ease and having a good time playing old favorites must have rubbed off on the other musicians McCartney brought along on the project. Aside from Diana Krall, who sounds much more at ease than ever, Eric Clapton turns in some of his best acoustic work in years with performances that are both warm and convincing.
The two originals "My Valentine" and "Only Our Hearts" that McCartney included on this album fit in seamlessly with the Tin Pan Alley classics that surround them. "My Valentine" is an especially good track that features one of the best vocals Paul has ever recorded. "Only Our Hearts" is a little more tentative, but the song—with a harmonica solo provided by Stevie Wonder—would still rank as one of the better tracks on any of McCartney's albums of the last decade or so.
More than anything else, this new album provides a showcase for Paul the singer. And what a singer he is! At the age of 69, Paul McCartney has never sounded more subtle, warm and comfortable voicing a lyric as he does here. What a surprise! Kisses on the Bottom is a winner from beginning to end.
Others Tagged With