Ruthie Foster: Let It Burn
[Blue Corn Music]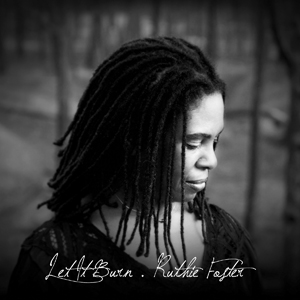 When you call Grammy-winning producer John Chelew, the man behind John Hiatt's career-resurrecting Bring The Family, you've got to want to be real. Thankfully, Ruthie Foster—also a Grammy nominee for the blues—knows no other way. Their collaboration brings a soul-expanding take on Foster's plain dirt voice, which mixes her Texas folk/blues with gospel, Muscle Shoals-feeling soul, Memphis grooves and hints of New Orleans funk, California singer/songwriter aesthetics and the Mississippi's humid rootsiness.
Equally at home with classic gospel featuring the Blind Boys of Alabama on "The Titanic" as she is on the minimalist blues rock of The Black Keys' "Everlasting Light" or her own grown-up love advice "Aim For the Heart," Foster understands vocals that start from the soul unify genres and create a repertoire that's seamlessly evocative. Indeed, she elicits a tortured noir sensuality out of Johnny Cash's fevered "Ring of Fire" and offers a raw want in Adele's "Set Fire To the Rain," honoring the well-known originals as she makes each song uniquely her own.
In part, it's the transparency of her performance: committed and vulnerable, she holds nothing back, drawing on jazz as much as the blues. Indeed for the follow-up to her acclaimed The Truth According To Ruthie Foster, she even surrenders her guitar to focus on singing this eclectic collection of songs.
Drawing on the complexities of getting by, Los Lobos' "This Time" offers a weary urgency and William Bell's "You Don't Miss Your Water"—cast as a duet with the song's writer—reflects on the "not knowing what you've got 'til its gone" reality of the most essential things in life.
It seems there's s an almost activist theme beneath the surface. The dusky-voiced songwriter embraces Pete Seeger's "If I Had A Hammer," with two guitars tangling and a strong tinge of James Rivers' sax for insistence, then there's a dignity to David Crosby's "Long Time Gone" that speaks to the state of affairs far beyond romance.
Perhaps enlisting the Meters rhythm section of bassist George Porter, Jr. and drummer Russell Batiste and Hammond B3 wizard Ike Stubblefield raised the stakes. Maybe having a survey course of American music allowed Foster to throw her voice wide open. For whatever reason, a woman who's hovered on the brink of the purist Bonnie Raitt/Tracy Chapman range truly comes into her own here. Not just as a stylist, mind you, but as a woman who can create singular musical patchwork, cross-pollinating and matching what she sees beyond genre lines.
Others Tagged With