Nanci Griffith: Intersection
[Thirty Tigers]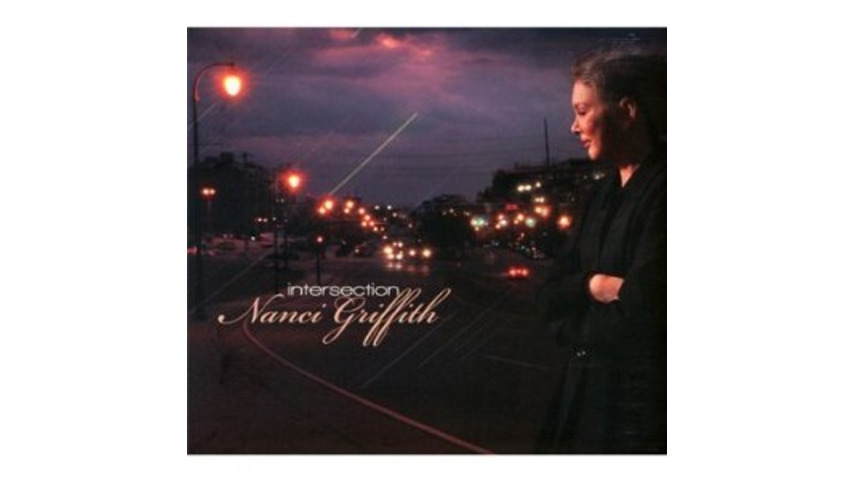 "I'm still gone and it's all the same/ I'm taking notes and naming names…" snarls Nanci Griffith on the churlish, Pogues-evoking-the-Everlys "Hell No, I'm Not Alright" from Intersections, a more aggressive, full-frontal reckoning from the woman who was once the sugary-voiced sweetheart of Lone Star coffeehouses. If the little dresses and anklets were charming once upon a time, on Griffith's 20th album, the fairytale is over.
Instead, she's recorded a loose song cycle reflecting the corrosive nature of relationships, the loneliness one feels when it's evident doubts and questions outstrip desired resolutions. Working with her lean road band of Pete Kennedy on all things stringed; Maura Kennedy on vocals, acoustic guitar and tambourine; and longtime compadre Pat McInerney on percussion and vocals, Griffith jettisons prettiness for the full force of reality coming down.
Opening with a few plucked acoustic guitar notes and her more expected choir-girl-after- a-pack-of-cigarettes voice, "Bethlehem Steel" paints a picture of a hooker growing old, walking the streets in front of the failed steel mill. Knowing the inevitable is what it is, to the point of making an uneasy peace with the cop who hassles her and knowing "Robert DeNiro will never run naked again/ in the streets of Bethlehem," Griffith delivers a metaphor and an elegy for the state of the American way of life as known.
There are touches of the expected folkabilly—Mark Seliger's loose, almost Glen Campbell-feeling "I Ain't Never Goin' Back" and the late Blaze Foley's mournful "If I Could Only Fly," featuring Last Train Home's Eric Brace and Peter Cooper on lost prairie lonesome vocals—and jubilant country—Loretta Lynn's holler euphoria on "High On A Mountain Top"—that defined Griffith's early career. Not quite innocent, but still willing, these reflect the bookish charmer of "Love at the Five & Dime."
But mostly she's reaching into the dark places, teasing pain from the wreckage and holding it up for all to see. "Bed Seed" settles the scores of fate and genetics: a girl who couldn't measure up lashes out for the love she desired and never got from the father she adored and who gave as good as he could.
A military drum roll and a chorus of broken-voiced solidarity rise from Griffith's hardship anthem "Come On Up, Missisippi," while the halting title track speaks of crossroads between how hard life is and how to make peace with what is. What is isn't always easy: "Sometimes making the best is doing the worst to yourself," she sings, but moving on is sometimes all there is.
Where she goes from here is hard to say. But standing at an Intersection, Griffith takes off the gloves and throws down her truth.
Others Tagged With