Ladyhawke: Anxiety
[Island]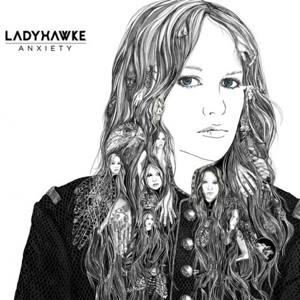 A hopefully brief lull in the action.
But for a simple accident of human history, Ladyhawke's debut record could have been one of 1984's most ubiquitous Top Forty smashes. Instead, it simply but zealously wormed its way into the hearts of 2008's more exploratory indie rockers. Still, cuts like "My Delirium," or "Another Runaway" paired a smoky-eyed, love-burned delivery with pulsing synths, immaculately placed guitar and an ear for constant hooks, and suggested that, perhaps with time, the charm and skill of Pip Brown would win out in the larger game.
Unfortunately her sophomore album may not advance the plot as much as her initial admirers might have hoped. The problem with Anxiety is that it features some of the same trappings as her earlier work without the same strength of songcraft. While tracks like "Sunday Drive" or "Black White & Blue" have their moments, the songs here lack some of the naïve joy of their predecessors. Some of the '80s kitsch has been replaced with go-go '60s kitsch, and the former suits her much better. The tones are sludgier, the vocal lines feel more jaded, and at times it's all just a bit too mechanical. While Anxiety is not a trainwreck, it's a missed opportunity given the strength of her foundation.
Others Tagged With