Thao & The Get Down Stay Down: We The Common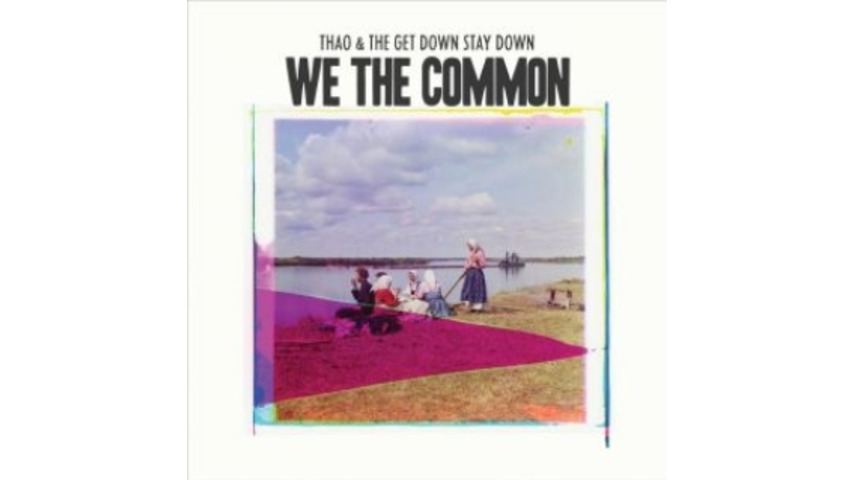 The other day my dad asked me what Thao Nguyen was like. Despite the cynically accepted perjorative definition, I felt the most fitting word was "cute." Thao and her backing band The Get Down Stay Down are cute in the complimentary sense—their music is sweet pop that's easy to swallow with just enough weirdness to demand an initial chew.
We The Common is also cute. It's a rollicking, exciting and inspiring tussle in a corner of Thao's cheerful quilt of a discography. We is happy hour on the Friday ending a crummy week. We is a new pair of wool socks during the dead of winter. We is the fresh stick of gum you open before boarding the flight to a much-awaited vacation. We is a fleet of cupcakes—pre-sugar-rush-turned-glutton-Regretsville.
Fellow delightful oddball Joanna Newsom joins Thao on "Kindness Be Conceived," and it's just about the most adorable picnic ever. "Every Body" radiates quirky sex appeal (quirky like, perhaps an attractive person who is clumsy or an attractive person who is inexplicably always equipped with Warheads or sneaks LOTR jargon into a conversation about film noir… not "quirky sex") with a hard jangle pop edge. But then again, you could have predicted an immensely good time with this album from the first folky, catchy chorus in the title track opening.
And then there is "Holy Roller." That banjo plays madly deceptive, hand-jiving between country and the Mulan soundtrack, and it rules. The song details a frustrated hunt, an annoying final decision or goal. It bursts and tumbles and sways in a bright, polished two and a half minutes. It harnesses hope to hint future—perhaps not immediate—success.
We The Common is a good time. It's a completely painless, mood-lifting listen. I'm no doctor (and apparently my journalism degree doesn't mean much anyway) but given the gray February reality outside your window today, I heartily recommend a dose or two of this album for a boost. I dare you to not let it help.
Others Tagged With