Laura Marling: Once I Was An Eagle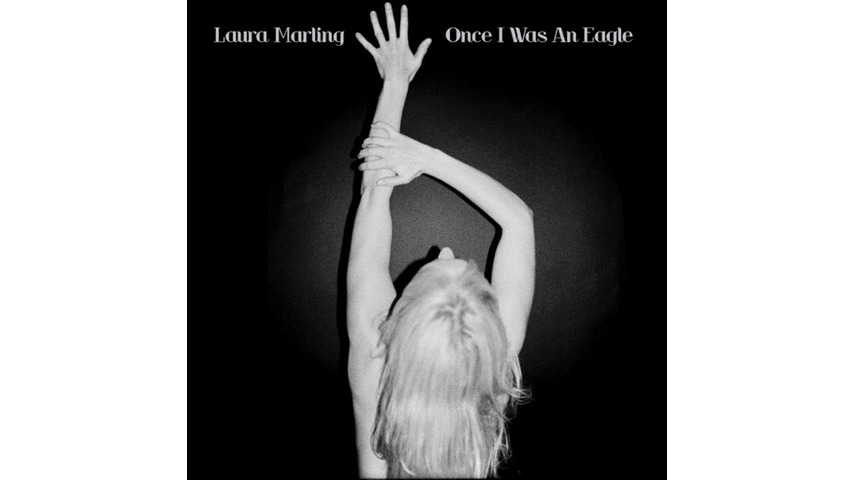 In an age when single song downloads have become the norm and attention spans seem to be shrinking, concept albums—which generally tell a single overarching story and, therefore, work best when presented as a whole—have become increasingly less feasible. Laura Marling's latest album, Once I Was An Eagle, the fourth in her young but impressive career, bucks the trend and succeeds wildly because of it.
It's an ambitious album—and not just because it requires listeners to set aside more than an hour of their time to fully appreciate its individual pieces. The album was reportedly recorded in a total of 10 days, with Marling's vocals and acoustic guitar parts recorded live in one day, in a single take. Those details become all the more jaw-dropping with each listen, as the album reveals more of its intricacies the more one unpacks it.
To top it off, the concept at the center of Once I Was An Eagle is among the weightiest Marling could have chosen: the timeless conflict between love and logic. It's a theme that Marling is particularly well-suited to explore. On the surface, she is the perfect standard bearer for cold, hard-hearted logic. Labels such as "wise beyond her years" and comparisons to Joni Mitchell, Bob Dylan and Sandy Denny have after all followed the 23-year-old British musician around since she began releasing sober, highly literate albums of folk rock in 2008. Marling has also held honesty in her own songwriting at arm's length up to this point in her career, preferring to express herself through obtuse metaphors, symbols and references to classical mythology. However, on closer listen, Marling's tumultuous lyrics—in which uncontrollable beasts, storms and lustful passions frequently reign—suggest a woman who perhaps struggles to balance her own internal demons more than most.
In Once I Was An Eagle, Marling allows her self-imposed barriers to come down ever so slightly. The result is not only her most honest and personal album to date but also her most affecting.
The album tackles the central head-versus-heart conundrum by chronicling one woman's journey from the end of one destructive relationship to dealing with the emotional repercussions of that experience and finally learning how to love again.
It kicks off with an ambitious four-song cycle, detailing the downward spiral of that initial relationship. Over the gentle strum of an acoustic guitar and the vaguely Middle Eastern patter of hand drums, the songs reflect the transformation of Marling's character as she morphs from a helpless prisoner of love ("Take the Night Off") into a strong but cynical woman capable of walking away from an unhealthy relationship ("Breathe"). The songs mirror the protagonist's changing mindset, shifting into new forms, while swirling around the same repeated ascending guitar chord progression.
The highlight of the sequence is unsurprisingly the song for which the album is named. "Once I Was An Eagle" is Marling at her fiercely independent, world-weary height. "When we were in love, if we were," she scoffs, "I was an eagle, and you were a dove." Throwing off the chains of love, she scornfully declares a new creed: "Every little girl is so naïve…I will not be a victim of romance. I will not be a victim of circumstance."
She emerges from the bruising relationship a hardened, unfeeling seductress in "Master Hunter." "I've cured my skin. Now nothing gets in," she snarls. In a clever twist on Dylan's famous lyric, she snaps, "You want a woman who can call your name? It ain't me babe." The haunting "Little Love Caster" reveals the unforeseen consequences of having closed herself off so completely. Spooky Spanish guitar trills and the ghostly howl of wind heighten Marling's distanced vocals as she laments that she is no longer able to let anyone in ("I can't seem to say I'd like you to stay"). "Devil's Resting Place" follows, bringing the darkness of the album's first half to its climactic breaking point with a heart-pounding cacophony of tribal drums.
A brief, sepia-toned interlude signals a major tonal shift in the album's notably more upbeat second half. The change reflects the protagonist's upward journey back toward love. Where chilly British folk-rock dominated the earlier songs, major keys, soulful Hammond organs and even a little bossa-nova populate the remainder.
"Undine" opens the second half with the sprightly Appalachian blues of dueling fingerpicked guitars. It's vintage Laura Marling, with the singer referencing obscure myths about German water spirits to poetically illustrate her protagonist's desire to recapture her innocence. In the sun-dappled "Pray For Me," Marling wrestles with her remaining fears as she begins falling in love with a new man. "I cannot love, I want to be alone," she cries in desperation before realizing, "That's not me for my trying. That's the devil and his lying." She finally exorcizes the last of her demons in "Love Be Brave," a song that, while vaguely reminiscent of The La's "There She Goes," signals the completion of Marling's transformation.
The album closes on a hopeful note of resolution. Naivety, Marling concludes, is not the villain but rather the vehicle that has allowed her to find love and happiness in the next chapter of her life. "You weren't my curse," she declares triumphantly, "But thank you, naivety, for failing me again. He was my next verse."
Once I Was An Eagle is a remarkable feat of personal reflection that reveals more of its intricacies with every listen. Ambitious recording schedules, weighty themes and personal comforts brushed aside, Laura Marling has once again proven that no matter how high she sets the bar for herself, she will have no problem reaching it with incredible results.
Others Tagged With