The Uncluded: Hokey Fright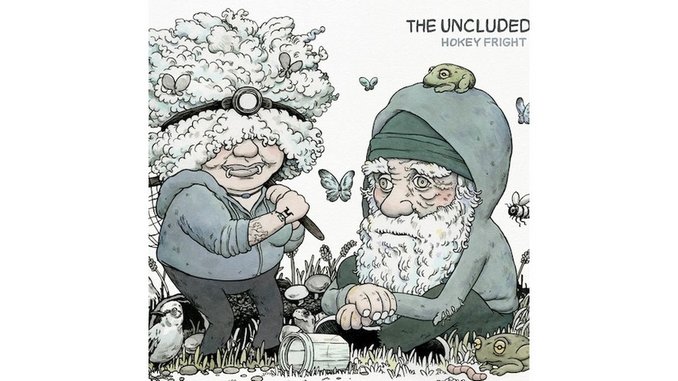 The first thing that comes to mind upon hearing "Kryptonite," opening track of The Uncluded's inaugural album Hokey Fright, is that perhaps you're listening to two songs at once. At first it's all Kimya Dawson's guitar strumming and sweetly melancholy singing, but a few moments in, as Aesop Rock's baritone talks over and along with her, discordant and out of place, it sounds for all the world like he's singing along and maybe the lyrics have been changed without anyone telling him.
It's unnerving at first, but also kind of addictive, setting the tone for the rest of the album.
The project is named for a term from developmentally disabled adult author Michael Bernard Loggins' dictionary of made-up words Imaginationally, and I'm not sure how the ex-Moldy Peach and Juno-soundtrack-penning folk songstress and hyper-intellectual hip-hop artist came together—they did appear on each other's last albums—but the blending of their styles creates an alchemy that is intensely personal and oddly alluring. Throughout the best of the album's 16 tracks they bob and weave their own styles together. Rock's rapid-fire delivery of pop culture metaphors and deft storytelling threads through Dawson's quirky tales of heartache and pain. This is not a lighthearted record, though it is in places funny and childlike, and while there is always a sense of hope and light at the end of the tunnel, the prevalent overtone is of a pair of artists using their collaboration as a form of musical therapy.
Almost every song provides a vignette of pain and redemption, both visceral and analytic, from the anthemic "Delicate Cycle" to the terse and haunting "Boomerang." There are lighter-hearted moments: "Superheroes" has the duo simply naming sandwiches, and "WYHUOM (Why'd You Hang Up On Me)" is three minutes and 15 seconds of sparsely danceable noodling, but this isn't—nor is it meant to be—an album to rock out to at the beach. This is music to listen to—each track has inflections and layers of meaning that can't possibly be absorbed in one sitting—and is the sort of album that creates its own introverted atmosphere.
Dawson and Rock appear to realize this, and it creates a sense of unabashed vulnerability. While Dawson has always had her heart on her sleeve, it's interesting to see Rock, whose albums have always been deeply story- and theme-driven but never seemed quite personal, reveal himself in the same way. A recent interview mentioned that they had both been through a great deal of loss over the past couple of years, and this is painfully visible on Hokey Fright. These are artists coming together to heal, and using each other's talents to help complete that process. As they say in "Organs," "There will always be a need for the pieces you are made of, you may one day need a few pieces yourself."
By the 15th track, Hokey Fright does start to seem a little long in the tooth. The songs are still good, excellent even, and the duo have certainly hit their stride as far as melding their sounds into a cohesive signature, but, to be honest, emotional exhaustion from the sheer volume of intense symbolism starts to wear on you. Luckily, the last track takes this into account.
"Tits Up" is full-on old school hip-hop bombast over a vintage video game beat, energetic enough to reinvigorate and get your head bobbing. It's the perfect closer, with Rock and Dawson trading verses, acknowledging that they've made an album sure to "make us permanent fixtures on the self-help shelf of your record collection" but also displaying the George Costanza self-awareness that it's always best to leave 'em on a high note.
Others Tagged With