Sean Saves the World Review: "Pilot" (Episode 1.01)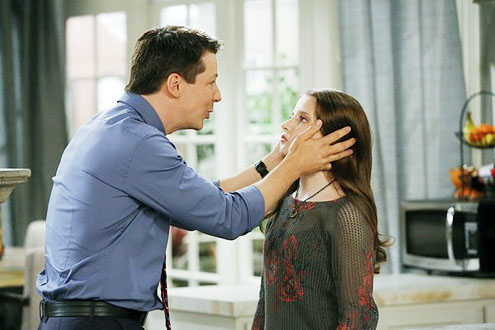 Last year at the TCA press tour, NBC entertainment chairman Robert Greenblatt announced that the network would be heading in a different direction. Sure, NBC's shows like 30 Rock, The Office, Parks and Recreation and Community were beloved by its fans and adored by critics, creating some of the best comedies of the past decade, but they just didn't have the ratings. Greenblatt stated that NBC would be going broader with its comedies to get that bigger audience, which is why last year we got Go On, Animal Hospital, The New Normal and Guys With Kids.
All of these failed, even though they featured such broad comedy favorites as babies, former TV stars and monkey assistants, yet this year NBC doesn't abandon their failing plan. Instead it's diving back in headfirst with the most abysmal example of this change in Sean Saves the World, depressing evidence of NBC's hesitation to move into the modern-day comedy that it helped create.
Sean Hayes plays Sean, a gay single father trying to balance his job and spending time with his daughter. And boy is he having trouble! Also, from what I can tell, the series will not be dealing with Sean saving the world, since he's working for an online retail store. Unless the show is hiding that Sean is some sort of superhero, which would be great, because then this show would be completely different and that's exactly what it needs to be.
Maybe the biggest problem with Sean Saves the World is that Hayes is cranked up too high, maybe a smidge below Jack on Will & Grace. He's so high-energy, which is a stark contrast to the rest of the cast, who all seem to have taken a class in delivery from Aubrey Plaza. That's not a knock on them, since most of them are dealing with either work or having a father like Sean Hayes, so that makes sense.
There is a great supporting cast, with Echo Kellum, Tom Lennon and Vik Sahay all being as funny as they possibly can with this material, but they all deserve better. If you're not laughing though, don't worry because the laugh-track is turned up so you know exactly when you should be laughing. For some reason this season, new shows are using laugh-tracks to a deafening point, making laughs seem more like a demand than a suggestion.
Sean Saves the World was created by Victor Fresco, who does have a promising resume, with shows such as Better Off Ted, My Name Is Earl and Andy Richter Controls the Universe under his belt, but you could never tell this was from a person who had done inventive things with the typical comedy before.
NBC is trying so desperately to relive the "Must See TV" days of the '80s, '90s and early 2000s. Instead of creating something along the lines of Seinfeld, Friends or even Will & Grace, it has made a show on par with its failed Thursday-night shows like Jesse, Stark Raving Mad or Hope & Gloria. Remember those shows? Of course not, because they were awful, and that's what NBC has created here: a sad attempt to recreate the glory days, instead of looking forward. NBC has become TV's Gatsby, living a delusion that can't possibly work out.
Others Tagged With