Battlefield V Confirmed, Live Reveal Stream Coming Next Week
Image via Electronic Arts
Games
News
Battlefield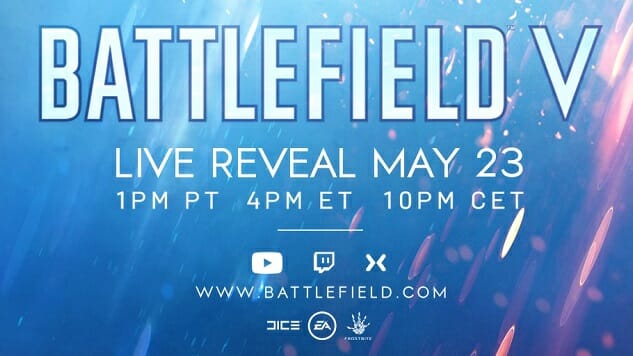 Battlefield V will be the latest entry in the Battlefield franchise, according to Electronic Arts. A live reveal of the game will happen via stream next week on Wednesday, May 23. The stream will be available on YouTube, Twitch and Mixer, and hosted by none other than The Daily Show's Trevor Noah.
#ad The rumors are true (rumors that I started, but still…) I will be hosting the @Battlefield Live Reveal on Wed, May 23rd. Catch it streaming live on the #Battlefield YouTube. V EXCITING! pic.twitter.com/7B3fpTpQ6x

— Trevor Noah (@Trevornoah) May 16, 2018
Odd naming conventions aside, this should be welcome news for fans of Battlefield. What we know so far is that Battlefield V will take place in a new setting, apart from the World War I landscape of Battlefield 1. During next week's stream, EA and developer DICE promise to show off multiplayer, new modes and the return of War Stories, the story mode campaign that put players in the role of several protagonists of different nationalities. Players will also get a chance to hear more from the DICE team members as they go in-depth with the new game.
Players uncovered the date for the stream a while ago in a Battlefield 1 Easter egg. The Fort Vaux map, which is a part of the They Shall Not Pass expansion, included an inaccessible door in a basement. Some crafty players were able to determine that messing with the basement's signs and switches unlocked the door. Inside, players found a painting of a white horse and dripping pipe. The pipe was later discovered to be morse code for a web address, which revealed the date of next week's stream. Apparently, hard work and dedication pay off.