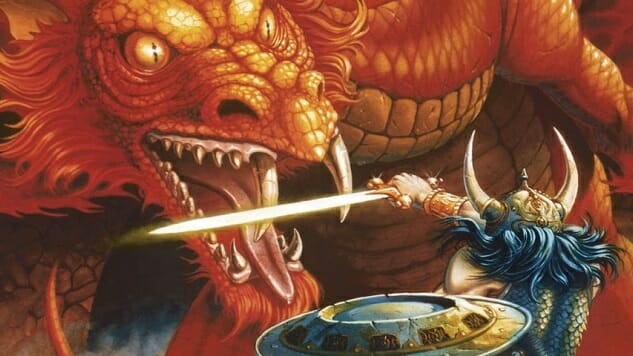 Dungeons & Dragons Art & Arcana: A Visual History doesn't exactly roll off the tongue, but it isn't necessarily supposed to. Presented as a summary of the history of the tabletop role-playing game Dungeons & Dragons, Visual History does all of the things that you might expect it to. It patiently walks readers through the creation, rise, fall, and warbling up-and-down that the game has experienced in the 40 plus years since it was originally released.
In being exactly what you might think, the book sits in a strange place. I'm a fairly knowledgeable person about the history of tabletop gaming. I have taught this topic at the college level, I do a long-running YouTube show on isometric D&D games, and I've been actually playing the games off-and-on for more than a decade. Because I care about these games, I want to know a little bit about them, and there was very little for me to learn in Art & Arcana. For obvious reasons, the four authors of the book are not breaking new ground in the historical summary for a wide audience, and so I patiently read my way through the book nodding my head and generally saying "yep."
So for people like me, this book doesn't have a whole lot to offer. For the most part it is going to be a retread of things you already know, and the information that you might learn from this book is mostly general knowledge about Dungeons & Dragons.
That said, the book relies pretty heavily on information from correspondence and interviews, so while you might know things like, say, the general narrative about the wide array of products that diluted the D&D brand during the 1990s, you probably have not seen the context that this book provides. From the angle of a kind of intellectual completionist, it's pretty neat.
Beyond questions of information, the "visual history" part really does make this a great resource for the visual tone of D&D down through the years. Original ads, comparisons of early art in the game with the comics they were copied from, and the iterations of various iconic paintings litter the book. Alongside them, you get ads and general design changes, all of which speak to changing cultural standards around D&D and the various moves that the game made to respond to those standards.
So, with all of that said, I think this book is probably for two kinds of people.
The first kind of person is someone who wants a coffee table book that expresses that they are a fan of nerd things. Someone can sit down, flip through some pictures, and maybe it can even start a conversation about the good old days. If you're looking for your cocktail anecdote about D&D history to impress some people at work, this dang thing is chock full of them and it's worth the investment.
The second person this is for is someone who is just getting into D&D (or getting back into the game if they haven't played in a long time.) This person might genuinely enjoy learning about things like Eberron or Planescape, and they will probably really like the visual histories of various monsters that are included in the book. This is the kind of book that is great for showing trajectory, and that can be really excited for someone who is excited to know what happened in this big, free-wheeling game.
It is an excellent book for people who want to learn more about the world of Dungeons & Dragons, and my only real complaint is that it tends to shrink away from criticism of Wizards of the Coast or decisions made in the past by Dungeons & Dragons team members. The acquisition of TSR by Wizards of the Coast in the 1990s, and then the acquisition of Wizards by Hasbro later, is depicted as an unalloyed good that only allowed D&D to get better. That might be the case, but I'd like to see the argument play out instead of simply getting asserted. At the same time, I completely understand why this is not staged in the book.
Overall, if you're looking for a holiday gift, this is a pretty good thing to get someone who enjoys Dungeons & Dragons in a cultural or general sense, but it might not be super interesting for serious fans of the game.
---
Cameron Kunzelman tweets at @ckunzelman and writes about games at thiscageisworms.com. His latest game, Epanalepsis, is available on Steam.