Mutant Football League: Dynasty Edition Blitzes Its Way into Stores This Fall
Blood, guts and touchdowns
Images via Digital Dreams Entertainment
Games
News
Mutant Football League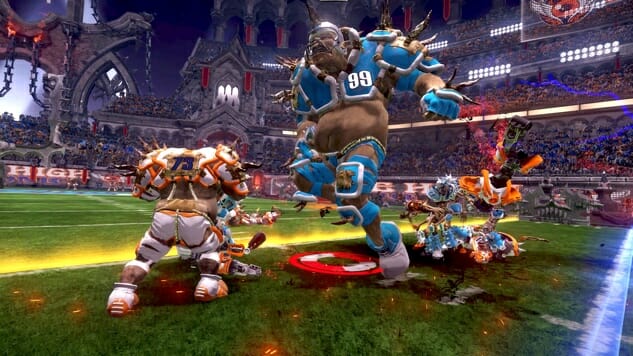 Digital Dreams Entertainment's Mutant Football League launched in January for the PlayStation 4 and Xbox One, and is set to release again for the same consoles, plus the Nintendo Switch, with the added bonus of new teams, new content and a retail release, via the forthcoming Mutant Football League: Dynasty Edition. Mutant Football League started as a Kickstarter project in 2013, with a Steam release following in November of 2017, and its release on PlayStation 4 and Xbox One in January. The title is a spiritual successor to the Sega Genesis arcade sports title Mutant League Football.
The brutally violent and absurdly comedic Mutant Football League is getting loads of new content in the upcoming release of Mutant League Football: Dynasty Edition. The biggest and most wanted edition is the inclusion of a meaty single-player mode and Digital Dreams has answered with the inclusion of a Dynasty Mode. The mode tasks the player with becoming the coach and GM of their preferred Mutant League team, taking a group of green rookies and turning them into blood-soaked all-stars through multiple Mayhem Bowl wins over numerous seasons. The mode aims for density with multiple seasons of play, player trades, cumulative player experience (XP), managing salaries, free agent signings and crafting custom playbooks. Besides the Dynasty mode, the Dynasty Edition also boasts the inclusion of two new species (werewolves and hell-spawned demons), six new teams (two of them being the Purple Mutant Eaters and Hexxon Oilers), more grim-dark stadiums full of vile, ruthless fans and deadly traps, and the inclusion of several new Dirty Tricks. The videogame's core multiplayer pillars remain the same with two- and four-player play—the four-player play being offline only, and the two-player play available as both an on- and offline feature. Multiple play modes offer both serious and more arcade-friendly parameters, while the post-play mayhem (stomping rival players into gory bits after the whistle blows) and Dirty Tricks (bribing refs, using bombs, shotguns, chainsaws and so on) have been revamped and further balanced.
Michael Mendheim, creative director at Digital Dreams, said in a statement, "With the Dynasty Edition, old and new players alike can really build onto the core game to make their own unique experience. The only predictable element across the board is broken bones and fun."
Mutant Football League: Dynasty Edition will be available at retailers for the Nintendo Switch, Xbox One and Playstation 4 on Sept. 18 for $29.99. Until then, check out a trailer for the core Mutant Football League videogame below.