Disneyland's New Nighttime Spectacular Wondrous Journeys Is a Century-Spanning Triumph
Photos courtesy of Disney
Travel
Features
Disney
Apparently, after decades of ignoring them, I am now a huge fan of Disney's nighttime shows. (Sorry: nighttime spectaculars.) And all it took was a single Wondrous Journeys.
That's the name of the new show that opened at Disneyland last Friday as part of Disney100, which celebrates the centennial of the company founded by Walt Disney and his brother Roy in 1923. Disney100 launched at Disneyland Resort in California with a new ride, a variety of new treats and merchandise, and two new nighttime spectaculars: the water-and-light show World of Color—One at Disney California Adventure, and Wondrous Journeys at Disneyland. Both are technologically impressive spectacles that sift through Disney history to tell stories of adversity, loss, and triumph. Wondrous Journeys is the richer, more nuanced, and more narratively satisfying of the two, though, crafting a coherent storyline out of scenes and characters from all 61 feature films made by Walt Disney Animation Studios. Wondrous Journeys does with Disney animated features what mashup artist Gregg Gillis does with pop songs in his Girl Talk project: it takes recognizable bits and pieces of beloved classics and uses them to build a new work that stands on its own.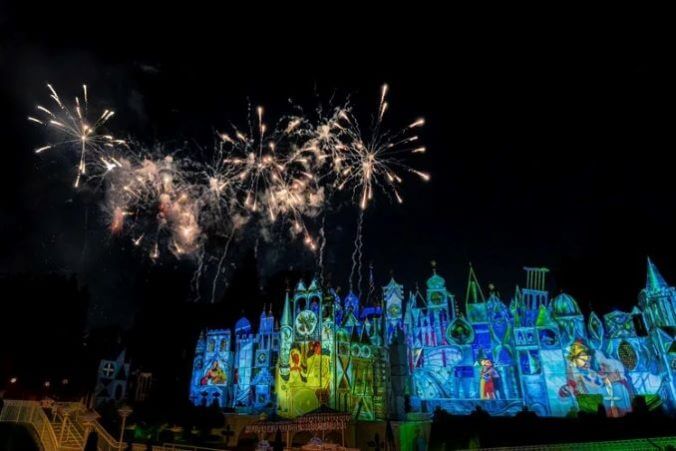 If you haven't seen one of Disney's nighttime spectaculars lately, they're far more complicated than the fireworks shows you might remember. Disney has pioneered projection technology for years, initially using Sleeping Beauty's Castle as the canvas for its shows, before branching out to other surfaces and mediums throughout Disneyland. Wondrous Journeys is their most sprawling show yet. In addition to the castle, it's also projected onto the It's a Small World show building and the buildings on Main Street U.S.A., as well as onto water screens in the Rivers of America. Although all four locations tell the same story with the same soundtrack, their visuals aren't always the same, so you might see something at It's a Small World that you won't see at Rivers of America. I watched from the center of Main Street U.S.A., where I could see both the castle and the projections on the storefronts around me. I'm not sure how different an experience it is at It's a Small World or the Rivers of America, but I can say that being surrounded by these projections while also watching the castle made this an overwhelming experience, in the best possible sense.
Wondrous Journeys starts in the only way that it could: with a mouse. A black-and-white sketch of Mickey Mouse dances on the show's four main canvases while the original song "It's Wondrous" plays, before quickly blossoming into similar sketches of Snow White, Bambi, and other characters from Disney's earliest features. Color washes in and the decades flip by, with scenes from every feature along the way. Songs from the movies merge with the original theme song, building up to a beautiful medley of "I Want" songs from Beauty and the Beast, Hercules, Moana, and The Hunchback of Notre Dame. The time between eras is elided, as thematically sympathetic scenes from movies made decades apart mingle on the Main Street walls together. As our various Disney heroes start to be overcome by doubt and fear a life-sized Baymax flies over the castle, but that isn't enough to inspire them; a flood of apocalyptic images follow, from the shuddering mill of "The Old Mill," to a despondent Mirabel from Encanto crying out that she'll never be good enough. At that point Sleeping Beauty's Castle seems to crumble, its facade blown away and its towers barely connected to the skeletal building that remains. It's the visual highlight of the show, and this whole section's tale of failure and resignation is unexpectedly powerful. Of course this low point doesn't last long; various scenes of characters supporting each other and trying to boost each other up assert the importance of friendship and togetherness, and after recovering from that lowest ebb of depression Disney's roster of heroes goes on to overcome adversity. It's a basic story, but told beautifully through animation and music, and bolstered by the decades of love and nostalgia these movies have accrued. Oh, and there are a lot of fireworks throughout.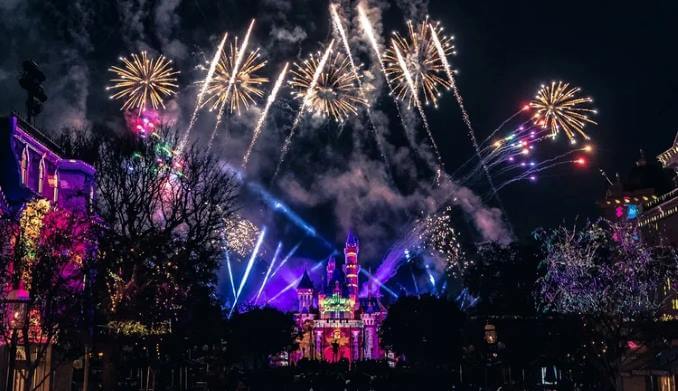 I won't pretend that I can compare Wondrous Journeys to other nighttime spectaculars. Historically I've avoided them and took advantage of the shorter ride lines while everybody else was crowded into the central hub to watch the fireworks. I'm surprised at how well-crafted Wondrous Journeys is, though—how it's not just a reference-filled nostalgia-fest but an actual cohesive story with its own powerful emotional throughline. It's also a glorious tribute to Disney's century-old commitment to animation, from the universally acknowledged masterworks, to the flops and critical failures that still mean something to the people who love them. (Nobody likes to hear that the Disney features of their youth are the "bad" ones, even if it's true. I say this as an unflagging defender of The Fox and the Hound.)
I'm mostly surprised at how deeply this show touched me. I'm already more prone to cry at animation than live action, but I expected this to be a glorified fireworks show and not something that would almost move me to tears. It was all so overwhelming, though—the music, the images, the way they surrounded me on Main Street, the story they told. The memories of seeing so many of these movies for the first time as a child and thinking about the passage of time since, and the loss and grief and despair that become a major part of life but (if you're lucky) are just story beats in movies when you're a child. Wondrous Journeys doesn't just splash some Disney characters on the castle and ask "remember this?" It honors Disney's history by reminding us how it feels to see these movies for the first time, while also showing how their power only grows and changes throughout our lives. Wondrous Journeys makes Disney's greatest body of work new again while deepening its emotional impact, and I can't wait to watch it again.
---
Senior editor Garrett Martin writes about videogames, comedy, travel, theme parks, wrestling, and anything else that gets in his way. He's on Twitter @grmartin.