Damien Jurado
The Family Guy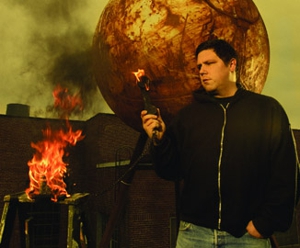 "Who the hell wants to hear about me?" Damien Jurado quips. "My life's boring. If I write about me, what am I going to write about? I work at a preschool, I live in Shoreline—that's not exciting."
With Jurado, what you see is what you—unapologetically—get. But amidst a pop culture of junkies addicted to a diet of empty entertainment, this very lack of pretense makes Jurado's music and delivery refreshingly straightforward. And though his story isn't exactly a VH1 Behind the Music mini-series, it's still worth being told—whether he thinks so or not.
I ?rst met Jurado at a party in 1991; we discovered an affnity for the same punk band. In the days before mass-produced mall punk, encountering someone belonging to your secret tribe was rare, and immediate kinships resulted. During our conversation, Jurado told me he was the vocalist for local hardcore band Human Struggle. He'd recently experienced a Christian conversion, but faith and punk rock mix about as well as oil and vinegar. Consequently, Human Struggle was short-lived. The next time we met he was in a new out?t, The Guilty, with David Bazan of future Pedro the Lion fame. The Guilty played a ferocious, pro-Christian, speed punk/thrash hybrid.
After meeting at a few Guilty shows, Jurado and I became roommates with seven other bachelors in a rundown old house almost directly under Interstate-5 and a stone's throw away from the University of Washington campus. Our hovel was affectionately dubbed "The House-o-Funk"—not so much for our shared love of James Brown as the collective lack of housecleaning abilities and the odor emanating from its walls.
Nearly all the household members were incestuously involved in one another's bands; rehearsals took place in the living room surrounded by a land?ll-like mess of ratty furniture, half-functional musical equipment and a ?oor littered with empty beverage containers. Finding local venues to host shows for unknown bands was di?cult, so we created our own scene. We'd invite our friends over—cramming 50-plus sweaty bodies into the living room—and convert the place into a club, cranking the amps and rocking out until entirely unreasonable hours of the morning.
The Guilty eventually changed its name to Coolidge, and shelved the fast-and-loud delivery for something more amiable. Before long, though, the band threw in the towel. During this time, Jurado dabbled with the house's shared acoustic guitar and began developing into a proli?c songwriter. Shifting musical gears—from some of the most abrasive, tinnitus-inducing punk to quiet neo-folk—seemed effortless for him. Despite his somewhat amateurish guitar playing, he had an uncanny sense of melody. And even though his lyrical subjects were frequently silly, Jurado summoned such an emotional delivery that his songs took on an air of profundity.
As the rest of the housemates soldiered on in dead-end jobs and the obscurity of their respective independent bands, Jurado was the ?rst to break the slacker mold. He married his high-school sweetheart, got a steady job, and began enjoying a new level of success after playing a show on short notice with fellow singer/songwriter Jeremy Enigk, whom he'd known since his hardcore days, back when Enigk was with Sunny Day Real Estate. The audience, which included Jonathan Poneman, co-owner of Sub Pop Records, was blown away that night. Jurado soon had a one-off deal for a seven-inch single, which did well, and Sub Pop offcially added him to the roster. In the following years, four full-lengths and two EPs bore the label's moniker.
Jurado's ?rst few releases demonstrate his lighter side, with two songs about motorbikes and trampolines. Though the LP debut, Waters Ave. S., partially retained that lightheartedness, he was moving his songwriting toward a detached voyeurism. Gone were the days of introspection and preaching: The subsequent releases plunged into a world of strangers' mishaps and failed relationships. Such sober themes permeate the folky Rehearsals for Departure and the more experimental Ghost of David.
Though Sub Pop offered more exposure, in 2002 Jurado moved to the small, Bloomington, Ind.-based indie, Secretly Canadian, where he's since cranked out the Big Let Down/Make Up Your Mind EP, the haunting Where Shall You Take Me? LP and the more recent, stripped-down Just in Time for Something EP. And just when you thought you were caught up with all his releases, On My Way to Absence hits shelves April 5, delving into even darker territory with what Jurado describes as "a tribute to jealousy."
On his albums, Jurado is notably ambivalent toward confessionalism, but his lyrical style wasn't always that way. "There was a lot of me that was coming through the music [in the Guilty and Coolidge days], and that started to bum me out," explains Jurado "Even now, fellow singer/songwriters that I know, that are writing mellow music—I just wish more people would take the focus off themselves and turn it to something else. They should turn it to the outside instead of the inside. Cause the inside's just …what the hell is that? Who cares? Go outside of your world a little bit, buddy."
To illustrate his detached approach, Jurado tells a story about a director's commentary on the DVD House of Sand and Fog. "[In it] the director was asking [Ben] Kingsley about certain scenes. He said 'I was moved, I was bawling throughout a particular scene on the set. How do you do it?' and Kingsley said 'it's not me, it's the character—I have to be the character, I cannot draw my own personal experiences into this.' And I thought 'gosh, that's exactly how I feel about songwriting'. I can't let my own personal life go into it because it becomes muddled and I'm not speaking for the other person."
Instead of merely exploring the feelings of the songs' subjects, Jurado creates a cinematic, sweeping glance of a scene. Once you've entered the song, you can almost smell the stale cigarette smoke, taste the cheap whiskey, feel the washed-out hue of a ?ickering ?uorescent light and hear the lonesome train whistle in the background. Jurado's songs own a sense of place that creates a backdrop the emotional content can actually stick to.
Clearly those seeking therapeutic music for personal ailments aren't necessarily going to receive an aural backrub from Jurado's approach. And the more one enters his personal world, the more apparent it becomes that he doesn't readily conform to his surroundings.
In politically liberal Seattle—particularly among his peers in the music community—the right-leaning musician sticks out because of his worldview. But he believes entertainment and activism should remain separate. "Like Conor Oberst of Bright Eyes—I think he's a phenomenal singer/songwriter and artist," Jurado says. "He's a very talented guy. But as soon as he opens his mouth about politics, it turns me off. I don't care. Can you imagine if you went to a baseball game and before Randy Johnson throws his ?rst pitch for the game, he wants to talk to everyone about the election? No one cares. They came to watch a sports game. There's a time and a place for politics, and I don't feel that the public arena in music is the place for it. [It] doesn't change anybody's mind. A Slayer song never made me want to go sacri?ce my family with a hammer. And a Bruce Springsteen song never made me want to vote for Kerry."
Jurado says he's disappointed fans who hoped to either phil-osophize about political theory or personally connect based on the content of his songs. "But they never had a connection with me anyways. The songs aren't about me," claims Jurado. "I'm just the messenger. That would be like blaming the postman. If you are a pen pal with your friend, and they're across the country sending you all these letters, and you have your own views and then you ?nd out your friend is a conservative fascist, do you hate your postman? That's the way I feel. … I'm just delivering the shit."
Though Jurado doesn't feel the need to personally involve himself with his audience, he does respect them. Though he hates to tour. "I do it as a 'thank you' to the people that bought the record," he says. "I don't want to insult anyone's intelligence. I think it's great that they're there and that they've bought the records. But when I see a touring band, I think to myself, 'God, they were just in their van for hours and they're playing to 10 people.' If that's what you want to do, dude, go right ahead. You chose this life." But Jurado's disdain for road life is because he's a devoted family man. Journalists frequently ask him, 'How's the tour going?' "And I'll say, 'You know, whatever, I'm about to have a nervous breakdown,' and they'll ask 'Why?'. 'Because touring is horrible.' And they don't understand. … I'm away from my wife and son."
Jurado's aloofness shouldn't be misconstrued as cockiness but rather genuine surprise that he actually has listeners in the ?rst place. "I don't go to singer/songwriter shows anymore because they're boring!" laughs Jurado. "I think that every show I play. 'Why are you staring at me?' I don't care if you're Conor Oberst or Nick Drake. Boring. Who wants to stand there? Not me."
Others Tagged With