Barry Hannah
Airships [Grove/Atlantic]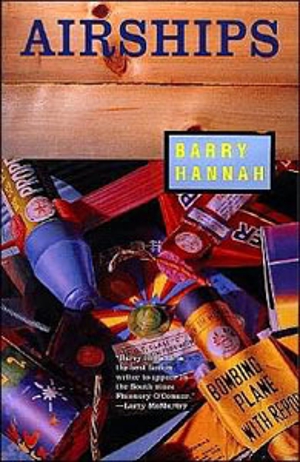 High over the earth, in style
Over the years, I've heard many Southern writers of my generation talk about Barry Hannah's 1978 short-story collection Airships in terms that mirror the way it struck me—as a great upheaval of our literary expectations, a liberating force. Reading it was such sheer fun that it made you want to have a go at writing fiction yourself, especially with the boundaries suddenly expanded. For many of us, the book has long since hardwired itself into our concept of the possibilities of language.
So much of Airships' impact is in its style. Hannah's language is audacious, bracing and insistent, often at the ragged brink of control. Words flash in ways no one had thought of before. Not ever.
Raymond Chandler—who knew more than a little about the subject—saw style as more than gloss and show. It is, Chandler claimed, deeply related to a writer's truest substance, "a product of the quality of his emotion and perception." Which is exactly why the explosion of language in Airships is not just fireworks, though there is plenty of dazzle to be enjoyed. Strings of words pop and crackle as if they were an entire pack of Black Cats set alight. And sometimes sentences detonate in larger ways, like the satisfying, whomping spout of yellow flame that comes from a dangerous overloading of White Rain in your tater gun.
But underneath the flash is a deeply Southern sensibility that's also bitterly and hilariously critical of its fundamental culture and its too-frequently deluded inhabitants. Hannah can enlighten or eviscerate in one or two little strokes of grammar. In one story, a Confederate in Pennsylvania sums up the lost feeling of many soldiers when they went from repelling an invasion to committing one: "We're just bandits and maniacal." In another story, a 70-year-old man falls off of a party boat into the Hudson River and swims back to the city. His reaction to survival is this: "I'm horny and vindictive. Does the fire never stop?" Later in the book, a man is described as "an intellectual in real estate." Try honing your contempt so keen and precise as those five words.
The stories are often brief outbursts only a few pages long, the characters grotesque and romantic, with all their epic and pathetic desires and prejudices on vivid display. Though the style is in-your-face aggressive, sadness and pain and comedy are the dominant moods.
What Airships did for a whole generation was slap us in the face with its compelling voices and the notion that, yes, there are ways of being a Southern writer whereby one might joyously claim the freedom to take dead mules and busted up chiffarobes a little less seriously than had been the custom.
Others Tagged With