Lambchop: OH (ohio)
[Merge]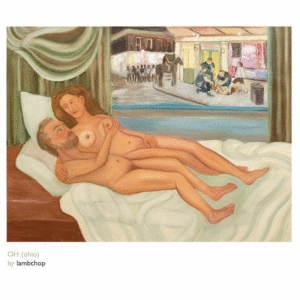 Eleven albums in, "Nashville's
most *%$#'d up country band" 
remains as indefinable as ever
I've long since given up attempting to label Lambchop; the exercise in futility hurts my head, and given that my ears are attached to that extremity, I need them focused on the task at hand. Is Lambchop alt.country? If sonic elements like steel guitars, nods to prime 
Burrito Brothers (tell me that "Close Up"—a kissing cousin to "Hot Burrito No. 1"—doesn't grab you by the lapels of your Nudie jacket) or the occasional Countrypolitan string flourish strike you as such, sure. Maybe blue-eyed soul? Considering that songs such as "A Hold of You" could be Barry White fronting the Muscle Shoals house band with Al Green standing by in the green room, why not? Maybe indie-—hey, they are on Merge. Whatever: just
listen to the damn disc. Kurt Wagner has kept Lambchop's lineup constantly rotating since he began in 1994—and its typical dozen-person formation instantly qualifies as the quietest ensemble ever heard—and he still comes on like the Bukowski of Music Row, but when he busts out a line like "You're busting my chops" (as he punningly does on the title track) you just cherish the man, and his work, for the illogical, indescribable blips that they are.

Listen to Lambchop's "Slipped Dissolved and Loosed" from OH (ohio):