Robyn Hitchcock: Goodnight Oslo
[Yep Roc]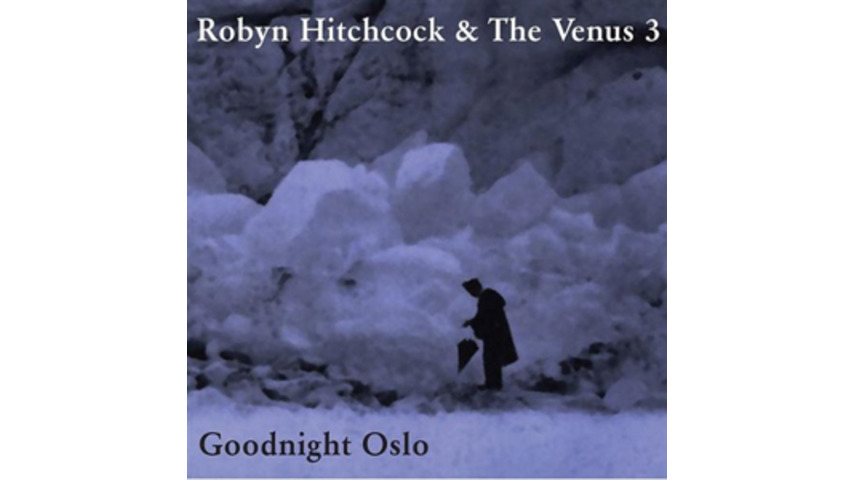 Eccentric English singer-songwriter adds to his hit-or-miss catalog
As no fewer than three collections of Robyn Hitchcock reissues and rarities have been released since his last studio album (2006's Ole! Tarantula), it appears that it's now time to re-evaluate the famously eccentric singer-songwriter's work. But listening to those retrospectives doesn't provide as much perspective as one would hope, as what is most striking is how little Hitchcock has changed over the years, from his salad days at the helm of the Soft Boys through 28 years of solo albums. That's both a strength and a weakness, of course, as his output has been consistently excellent but seldom exceptional, staying close to the John Lennon and Bob Dylan foundations upon which he has built his famous fixations with sex, food, death, and bugs. With his 16th solo album, he's not so much competing against himself as he is against our expectations that he's doing something that's worth our continued attention.
His second album with the Venus 3 (R.E.M.'s Peter Buck on guitar, the Young Fresh Fellows' Scott McCaughley on bass and Ministry's Bill Rieflin on drums) Goodnight Oslo is more or less exactly what Hitchcock has been doing for the past 30 years. There are songs lined with gorgeously chiming electric guitars and sighing multi-part harmonies ("Your Head Here," "I'm Falling"). There are rumbling country-folk shuffles ("Hurry for the Sky") and wistfully swaying Beach Boys-styled anthems ("Saturday Groovers"). There are songs that mention empress bees, Norwegian speed and question the nature of identity. Throughout, the playing is spirited and the arrangements are imaginative, loaded with greasy horns and crashing snares, unexpected melodic turns and odd lyrical asides. But, as usual with Hitchcock, the total is less than the sum of the parts.
Hitchcock's idiosyncrasies are on full display, whether he's playfully toying with subject-verb agreement on the bluesy "What You Is" or running off a list of anti-depressant medications over a '50s pop groove in "TLC." As always, his quirks seem entirely authentic, but they aren't quite enough to save the series of mediocrities that derail the album at its midpoint. "We're up to our necks in love / so rad," he sings on the giddily folksy "Up to Our Nex," eventually repeating the lyrical couplet but replacing "so rad" with "blame dad." The following "Intricate Thing" is no better, allowing Hitchcock to wonder aloud about the ups and downs of relationships, from cuddling on the couch to hiring lawyers, leaving him to conclude vaguely that "love between a woman and man is an intricate thing." Profound.
Neil Young, Beck, David Bowie: there's no shortage of artists who have been as frustrating as they have been fascinating, where every album represents a pull of a lever that will reveal a collection of who knows what. Hitchcock has exactly the opposite problem, with every album split into a handful of outstanding tracks, a bunch of simply decent ones, and a few that would have been better left in the vault. Goodnight Oslo is no exception, a release whose five best songs compare favorably to any in his catalog and whose other five make your finger itchy for the "skip" button. Ultimately, that split ensures that Hitchcock remains relevant enough that you can't take him for granted, but his consistent inconsistency keeps him just short of being so vital that you can't wait for the next spate of reissues and compilations.
Listen to Robyn Hitchcock's Goodnight Oslo on YepRoc.com.

Others Tagged With