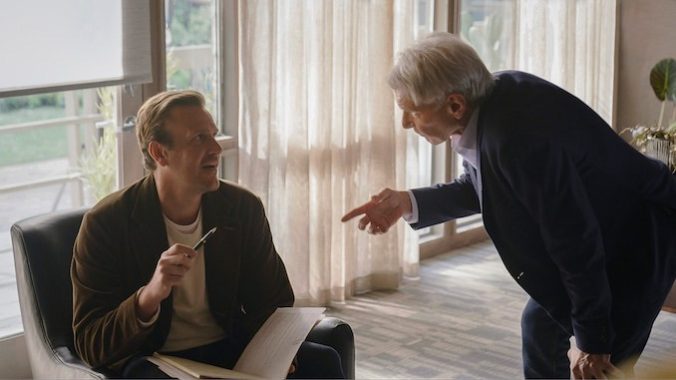 When Apple TV+ launched in late 2019, it did so with a major advantage and a major disadvantage. On the positive side, it had brand recognition and could easily offer its service for free to those who bought new Apple devices (a deal that is, as far as we know, still going on). On the other hand, Apple TV+ didn't have much of a library. Unlike Netflix, Hulu, and especially IP-branded streamers like HBO Max and Paramount+, Apple TV+ came out of the gate without a history of productions under its belt. Everything it produced or co-produced for its new streaming service was and is fresh. That's risky at a time when many viewers are interested in rewatching old favorites.
But Apple TV+'s library is steadily growing, and the streaming service even has an Emmy-winning comedy (Ted Lasso) under its belt. The early criticism that plagued a lot of its shows—that for all of their beauty, they didn't have a lot of substance—is giving way to praise for series with compelling narratives. They're not all great, but at this rate, we'll soon be able to forget The Mosquito Coast ever existed. And for Apple TV+'s low monthly fee (currently $4.99), it's worth jumping in for the very best shows, including the aforementioned break-out juggernaut Ted Lasso, the murder mystery The Afterparty, and the sci-fi thriller Severance.
Below, we've ranked 26 notable originals, minus the documentaries and more kid-oriented programming (like Helpsters and Ghostwriter, which we weren't thrilled with anyway), but we did keep Snoopy because Snoopy is a national treasure and his series on Apple TV+ are genuinely very good.

26. The Morning Show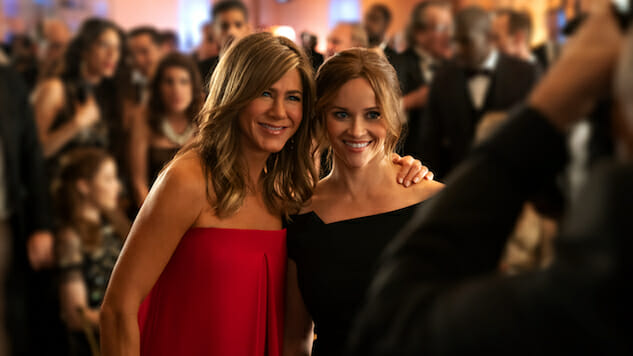 The most damning thing I can say about The Morning Show, the star-studded drama that was part of Apple TV+'s big launch, is that it's fine. Reminiscent of Studio 60 on the Sunset Strip with its frenetic take on putting on live television, the show is like an old-school network drama—which again is perfectly fine, but not exactly what one would hope for when discussing the crown jewel of the streaming launch.
But let's back up. Clearly inspired by Matt Lauer's firing and allegations of sexual misconduct (which broke in November of 2017), The Morning Show follows popular morning show co-hosts Alex (Jennifer Aniston) and Mitch (Steve Carell). They've worked together for 15 years amid declining ratings for their network UBA. As the show begins, Mitch is fired for his behavior and, with only a few hours notice, Alex must go on air and address the situation. "You are part of this family and we will get through this together," she says at the top of the hour. Meanwhile, feisty whippersnapper Bradley Jackson (Reese Witherspoon) is biding her time as a reporter for a conservative local affiliate in West Virginia. Her job prospects are stagnated by her uncontrollable temper, but Bradley's career begins to change when one of her politically-tinged outbursts is videotaped and goes viral.
The Morning Show is chock-full of big names and they all do a fine job. It's great to have Aniston back on a TV series. Billy Crudup oozes smarm as UBA news division president Cory Ellison. The real problem is that, so far, I don't have a clear idea of who these characters really are. They do a lot of telling us who they are without really showing us. The writing fails to make anyone distinct. The Morning Show is a fine drama. But when launching a streaming platform you expect people to pay for, you need more than fine. You need to break the mold and give us a TV show we didn't even know we needed but cannot live without. The Morning Show is not that. [Full Review] —Amy Amatangelo
---
25. Truth Be Told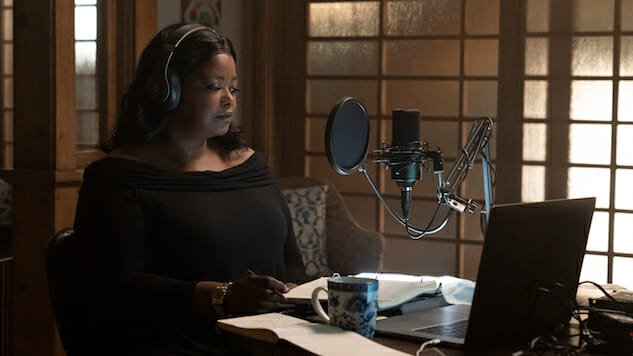 Truth Be Told, based on Kathleen Barber's novel Are You Sleeping, is a fine if uneven murder mystery. Octavia Spencer stars as journalist-turned-podcaster Poppy Parnell, who is reopening a case from 19 years ago to investigate whether a boy was sent to jail for a murder he did not commit. Poppy has a personal connection to the case, because her reporting at the time helped paint the teenage suspect, Warren Cave (a fantastic Aaron Paul), as a psychopath who should be tried as an adult. Cave was then sentenced to life in prison for stabbing his neighbor, Chuck Buhrman, to death on Halloween night. But from the start the circumstances were strange; how did Chuck's wife and twin daughters (Lizzy Caplan) sleep through the attack, and why did one of the daughters later change her statement in order to implicate Warren, who had previously been a friend?
The detective work here is really the thing, as they begin to unravel the past (some flashbacks from which we are privy to whereas Poppy is not, in rather random ways), and as Poppy works through her guilt. Did she help put the wrong man in prison when he was just a child? As a black woman, can she defend a man who is now part of the Aryan Brotherhood? Will her guilt end up making things right, or causing more harm? These worthy explorations are when Spencer is given the opportunity to shine, but there's not yet enough of it.
Though the first season is only eight episodes, each of which hovers around 40 minutes, the pacing is incredibly scattershot. There is so much to unpack with the twins (one of whom briefly sports an English accent!), Warren, and the two families caught up in this crime, but then we shift to Poppy's family and it feels like jumping to a different show. The same is true after we've spent time in their world with their histories, and then come back to the crime. Good detective shows always pepper in a little bit of the investigator's personal life alongside the crime being solved, and on paper Truth Be Told does exactly that, but currently it's too disjointed as it adds in a variety of twists and reveals that aren't given enough buildup or explanation to really land. It's the same feeling one has watching the Apple TV+ series The Morning Show, which also boasts an outstanding cast and a great premise. It's interesting, but it drags; it's enjoyable while you watch, but you don't rush to return to it. It's just fine—but it's not essential TV that you need to pay for a streaming platform to enjoy. [ Full Review ] —Allison Keene
---
24. Defending Jacob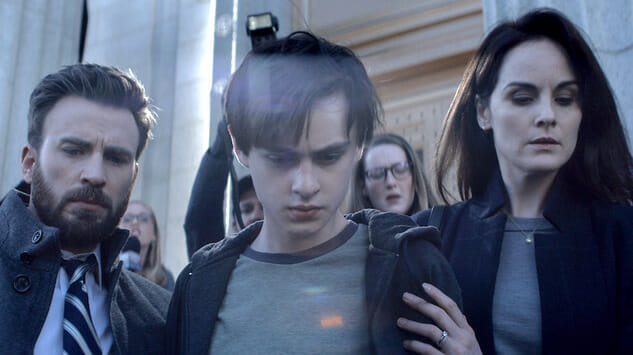 Defending Jacob is an eight-episode series based on the 2012 novel of the same name by William Landay. Assistant District Attorney Andy Barber (Chris Evans) and his wife Laurie (Michelle Dockery) are living a lovely upper middle-class life in the wealthy suburb of Newton, Massachusetts when a classmate of their son is found murdered in a nearby park. Their shock and grief are compounded when their 14-year-old son Jacob (Jaeden Martell) is arrested for murder.
The show flits back and forth between the events unfolding before and right after the murder, and Barber being interrogated on the stand 10 months later by his former colleague/frenemy Neal Logiudice (Pablo Schreiber). "I was protecting him from his own stupidity. I was being a father," he bellows.
Clues are dropped along the way. "I know you think you know Jacob but you don't," Jacob's classmate Derek tells Andy. Various red herring suspects pop up over the course of the episodes, but none compelling enough to truly pique your curiosity. That's really too bad, because Evans and Dockery are fantastic. Dockery, in particular, is captivating as the mom who wants to believe her son is innocent but begins to second guess every single parenting decision she's ever made.
"But what if … I just didn't look closely enough?" she wonders. Evans, blessedly not trying to lean in to his native Massachusetts accent, tracks as the father who thinks this is a problem he can solve with dogged determination and righteous indignation.
The novel was a gripping, stay-up-way-too-late-to-read page turner. The series, not so much. Even though the eight-episode length is much shorter than most TV shows, it's probably still two episodes too long. Director Morten Tyldum (The Imitation Game) has an eye for gorgeous aerial shots. The show looks amazing. I had full-on kitchen envy during every single scene that takes place in the Barber home. But it's also languid. The camera follows Laurie for too long on her morning jog, and is extremely fond of gazing on Evans' furrowed brow (aren't we all to be honest?). But the pacing takes away any urgency that is inherent in the storyline. The shocking reveals are way too drawn out. The result is a murder mystery you can put down. [Full Review] —Amy Amatangelo
---
23. Mr. Corman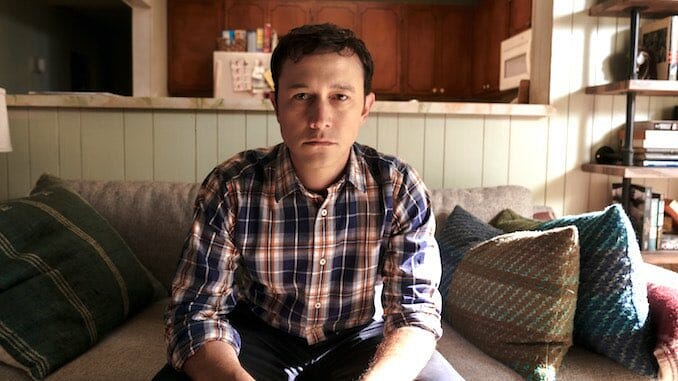 The logline of Mr. Corman reads like the logline of modern life for just about every millennial: Anxiety-ridden, the titular Mr. Corman questions what he's doing with his life and whether he's a good person that deserves good things. Who can't relate?
Josh Corman (Joseph Gordon-Levitt) is a fifth grade teacher and a failed musician who is still reeling from a recent breakup, and his anxieties about the world and his life translate into behavior that feels destructive, though not on purpose. He has tense relationships with his family, his friends, and even random women he meets out at bars, and is prone to making a crass statement without thinking about its impact. Josh is the type of person who bites into a string cheese instead of pulling it apart piece by piece, and it's a great metaphor for his blunt demeanor. He doesn't seem to savor anything anymore, and as people in his life ask him to show up in various ways in their life, he constantly disappoints them.
An A24 production, the 10-episode series is upfront about its darker themes, and forces its audience to ride along as the main character begins to spiral. Occasionally, the hyper-focus on pessimism gives way to unnatural dialogue, which tries too hard to prove everyone's anxieties are lurking underneath. At the same time, there are quite a few affecting sequences that bring us into Josh's mind, and we feel the claustrophobia of anxiety closing in on him. Mr. Corman is a very internal show; we're there through Josh's highs and lows, we witness his calculated moves alongside his accidental mishaps, and we are even treated to the musical theater productions that flash across his brain during various minute interactions.
Despite its foibles and pacing issues, Mr. Corman is painfully relatable to anyone who has ever looked around at their life and wondered how they got there. It's quite the opposite of its fellow AppleTV+ show Ted Lasso, but it's still a character study that's worth firing up. [Full Review] —Radhika Menon
---
22. Servant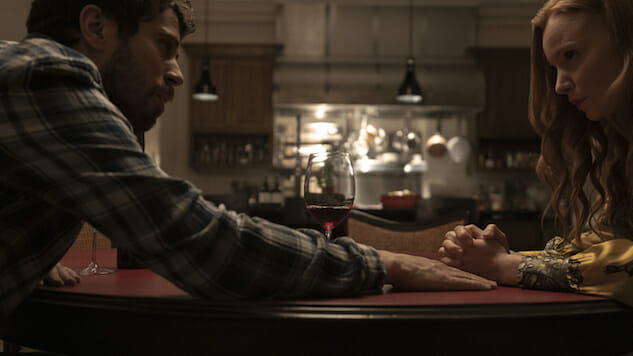 What if the terrifying denizens of the infant Uncanny Valley were put to good use for once? What if Twilight's bug-eyed Renesmee and American Sniper's stiff plastic baby were intentional aesthetic choices meant to inspire anxiety? Servant, the gripping Apple TV+ series from writer/creator Tony Basgallop and pilot/penultimate episode director M. Night Shyamalan, is all about the horror of inviting a new presence into your house, be it Cronenberg baby anxiety or the equally ancient fear of a younger woman from outside the fold.
When Philadelphia parents Sean (Toby Kebbell) and Dorothy Turner (Lauren Ambrose) hire a weird nanny, Leanne (Nell Tiger Free), it never seems fine. Things are never normal. There is a ghost in the house. That's because Leanne has been hired to take care of a reborn doll. These hyper-realistic dolls, morphed and sculpted uniquely to match a real baby, can serve a variety of purposes. The Turners' helps them cope with the loss of their child, Jericho, at thirteen weeks. Reality is simulated for therapeutic purposes. Until it's not. The first episode ends with a very real cry from a very real baby and uh, where did HE come from?
Servant isn't scary, really, but its mysteries make for an enthralling nightmare. If you were dreaming about it, it'd reflect the opening titles. A long slow walk down a hallway leads to a closed door, which opens just enough to get a glimpse of what might be a baby and then—oops! You woke up. You're not sure what was wrong with that last look, but you can't shake it all morning. Servant is like that. Its horror references are child-based, relationship-heavy, and demonic. But it's not just the spooky baby stuff. Sean's a chef, so Shyamalan and company also throw in a hefty amount of food porn for those longing to see haute cuisine for nothing more than fancy animals tearing apart less fancy animals. If Hannibal made horror food the height of bloody elegance, Servant rips it down to its fleshy ferality.
As things begin to get weird—with the first uneven glimpses of Leanne's strangeness coming in fits and spurts—Sean keeps acquiring physical maladies of increasing severity while he and Dorothy see their tense relationship, strangely, soften. It's unhealthy, whatever this is, but pressing on it only makes it worse. Over eight of its half-hour episodes, various metaphors rise and fall (sometimes working wonders, other times distracting from the well-crafted genre flavor), but the main idea of watching a couple suffer for taking the easy way out of death, trauma, guilt, and loss is never lost in this still mostly fun fairy tale. Servant is an unfocused yet ultimately creepy good time with enough character and charm to keep its hazy nightmare from lulling you to sleep. [Full Review] —Jacob Oller
---
21. Foundation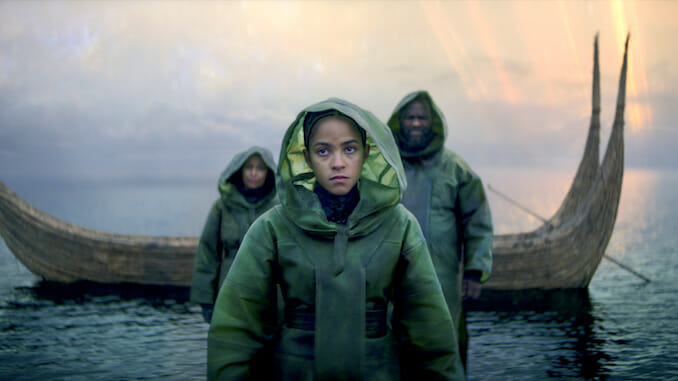 As the long-awaited adaptation of Isaac Asmiov's iconic series, Foundation takes on massive responsibilities: respect the expansive and iconic source material; impress longtime fans of novels; and somehow take an epic series and condense it into digestible television. Published first as a collection of short stories before eventually growing into a seven-book series, Foundation is as sprawling as the vast universe it explores. David S. Goyer, one of those longtime Asimov fans himself, knew the risks he was taking by attempting such a project. After a four-year journey through a pandemic-stilted production, Goyer, along with Robyn Asimov (who serves as an executive producer), has brought Foundation to life on a breathtaking scale.
With vibrant costuming and stunning visual effects, Foundation is a gorgeous and entrancing series. Following multiple timelines and taking place on various planets and spaceships, each of the many settings is impeccably designed. Somewhat predictably for the genre, class and wealth are important themes in Foundation and decadent, unique costumes act as clear indicators of a character's status.
As with many science fiction tales, Foundation centers on hope and humanity's ceaseless fight to survive. Faced with a mathematically proven demise, believers are still trying anything they can to ensure the success of future generations. Even as Foundation stumbles throughout its execution, it still maintains a grip on the unconditional hope of its characters. But with an inconsistent timeline and innumerable technicalities, this epic series may take more than mathematical prophecies to grip viewers. [Full Review] —Kristen Reid
---
20. The Essex Serpent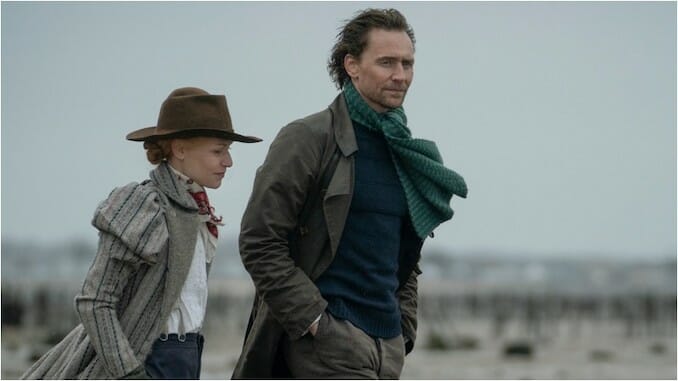 The obvious reason to check out The Essex Serpent, the new limited series based on the 2016 novel of the same name, is Tom Hiddleston. More specifically, it is Tom Hiddleston's excellent scarves and cute sweaters. But there's more to the show than a hunky British actor dressed for cool temperatures. Set in Victorian England, the series spends most of its time in a tiny waterfront village plagued by rumored sightings of a mysterious and deadly serpent. Hiddleston portrays the local vicar, a skeptic who denies any such serpent exists beyond a carving in a church pew. When Claire Danes' Cora, a wealthy widow and woman of science, learns of the mythical beast, she becomes enamored by the story and sets out from London with her young son to investigate it for herself. This inevitably puts her on a collision course with Hiddleston's vicar, sparking a unique conflict driven by science, love, faith, and superstition. — Kaitlin Thomas
---
19. Shining Girls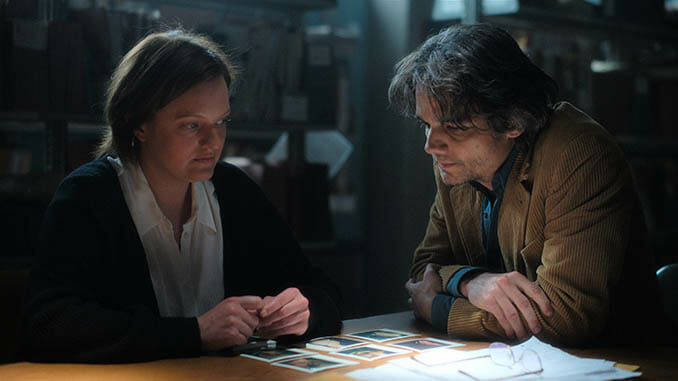 Apple TV+ has had its share of highs and lows, but the streaming service's mind-bending thriller Shining Girls is an intriguing addition to its lineup. Well acted and beautifully filmed, the series is based on Lauren Beukes' best-selling novel of the same name and stars Emmy Award winner Elisabeth Moss as Kirby Mazrachi, a promising journalist whose career is cut short after a brutal attack leaves her with lingering trauma. But the show quickly separates itself from the traditional crime dramas and serial killer-themed shows we've become accustomed to seeing by engaging time travel as a means of exploring trauma and agency. Now, I can't say that it always works—the show could explain things more (and better)— but the performances at the show's center are enough to make you want to stick around long enough to find out just what the hell is going on. [Full Review] —Kaitlin Thomas
---
18. The Snoopy Show and Snoopy in Space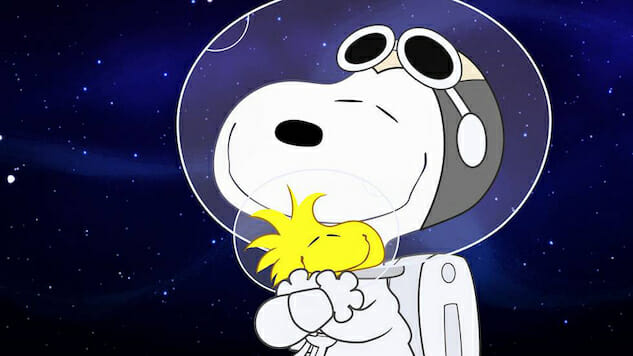 Apple TV+ continues to expand its Snoopy-related programming, and we are here for it. Everybody's favorite pup takes center stage in the animated series The Snoopy Show , where each of the six episodes features three, seven-minute stories about Snoopy and his best friend Woodstock. Of course the rest of the Peanuts gang will be along for the ride including Charlie Brown, Lucy, Linus, Franklin, Schroeder, and Peppermint Patty. Even though these episodes are created long after the beloved specials of our childhood, the spirit, voices, and the music of The Snoopy Show remains very true to those classics. We're so glad Charlie Brown doesn't have a normal dog like everyone else.
I'm also happy to report that Snoopy in Space, which finds Snoopy traveling to the International Space Station to fulfill his dream of becoming a NASA astronaut, is true to the property we all know in love. There's the beleaguered Charlie Brown ("Why can't I have a normal dog?" he wonders). There's the ever-bossy Lucy. There's know-it-all Peppermint Patty and her sidekick Marcie. There's the ever-observant and wise Franklin. The gang is all here and, good grief, it's terrific.—Amy Amatangelo
---
17. Losing Alice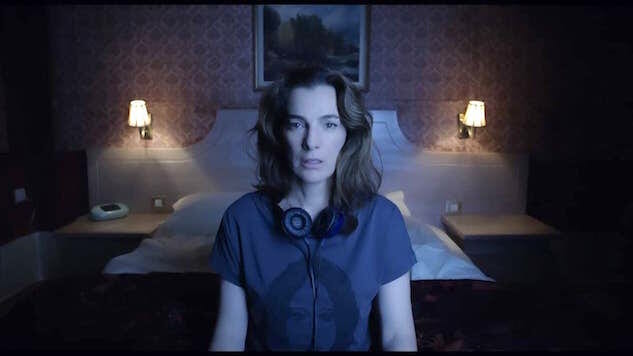 This Israeli series is a psychological thriller akin to classics films Single White Female—or even campier flicks like The Hand That Rocks The Cradle—except with the special twist that the woman at the center of it all is fully aware that she's being manipulated. The question, really, is why is she letting this happen? Is it her quest for fame? Boredom? Jealousy of a younger woman's freedom, of not being tied down to a husband and kids? The answer is kind of up to the audience to decide as they watch the titular Alice (Ayelet Zurer), a director who once made highly regarded avant garde films and now is relegated to silly commercials, agree to direct her actor husband (Gal Toren's David) in a tantalizing and dangerous film that co-stars its free-spirited writer, Sophie (Lihi Kornowski). In doing so, Alice becomes obsessed with the plot and her new collaborator's script and personal life—and if the truth is stranger than fiction. — Whitney Friedlander
---
16. Shrinking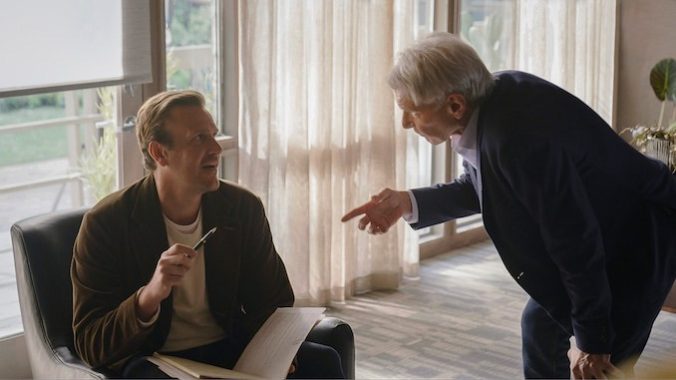 For avid fans of the sitcoms Scrubs, Cougar Town, and most recently, Ted Lasso, Bill Lawrence's name will be familiar. And his latest series, the 10-part Apple TV+ comedy Shrinking (co-created with Ted Lasso fan-favorite Brett Goldstein and comedy veteran Jason Segel), has every chance of blossoming into another crowd-pleasing success: it's unapologetically witty, charmingly heartfelt, and features a set of quirky characters that are irresistibly likable. The plot follows Jimmy (Jason Segel), a therapist and a single father who's been grieving his late wife for over a year. His apathetic mood has leaked into his professional life, turning him into a passive counselor without much progression to show for when it comes to his patients. Then one day, Jimmy snaps and loses his cool in an unprofessional outburst, but… it works. From that moment, he tells each one of his patients what he thinks their problems are and what they should do to get out of their own way, to varied success.
What Shrinking does right from the start is be upfront about every character's emotional baggage. Jimmy grieves, Gaby (Jessica Williams) has marital issues, and Paul (Harrison Ford) struggles to open up about his Parkinson's diagnosis. They might be shrinks, but they're also human beings dealing with the same personal problems as any of us (which they often ignore just like their patients do). Shrinking revels in the type of humor that's uncomfortably honest and filled to the brim with sarcasm. But it never goes too far to feel insensitive or insulting. That's a fine line, incredibly hard to walk, but the show does it with inherent confidence—even if the downside of that approach is that some jokes become cringey in various situations. But if you grow fond of these characters as fast as I did, you can easily pardon their occasionally embarrassing behavior. And undoubtedly, the cast does a tremendous job of making us fall in love with these flawed goofballs. The well-balanced dose of sarcastic and contagious humor (rooted in pain and heartache) is the kind of prescribed laughter we need to heal our souls after a long and hard day. —Akos Peterbencze [Full Review]
---
15. Mythic Quest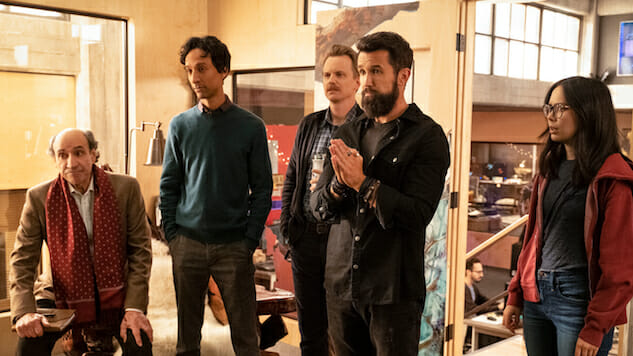 In the somewhat-Purgatorial, somewhat-Hellish realm that is pandemic television, Mythic Quest somehow thrives. The videogame workplace comedy (which has a niche audience, to say the least) originally landed on Apple TV+ about a month before the world shut down, a faint artifact of the forgettable February 2020. And Mythic Quest could have faded away after that. But somehow, perhaps thanks to the genius of creators McElhenney, Megan Ganz, and Charlie Day, Mythic Quest has gone on to often strike a brilliant, lighthearted balance of pandemic living with humor.
While McElhenney blesses the screen as the stand-offish Ian, Charlotte Nicdao's Poppy emerges as the show's true star. She is furiously flawed—a stubborn workaholic with no social life but a knack for designing games—but a perfect foil to Ian's charismatic ego. The two share a friendship with off-the-charts chemistry, hurling insults that sound like compliments and compliments that sound like insults at each other with such ease.
Despite these successes, there is a major flaw. The first season of Mythic Quest introduced a minor problem that's spiraled into something unavoidable: the game concept is thoroughly dull. Like the aggressively masculine promotional material, the Mythic Quest imagery bores more than it invigorates. Still, Mythic Quest is more than its occasionally hilarious, occasionally odd sense of humor. Like workplace comedies The Office or Parks and Recreation, it embraces interpersonal professional relationships, but the series never crosses the line. The relationships are flawed, as capitalism drives these characters to overwork their creative selves, so they end up treating each other with little respect. Though there are touching moments where these folks shine, they are never forcibly lovable. And yet, the future of Mythic Quest is ripe with opportunities—led by the excellent McElhenney and Nicdao, [Full Review] —Fletcher Peters
---
14. Home Before Dark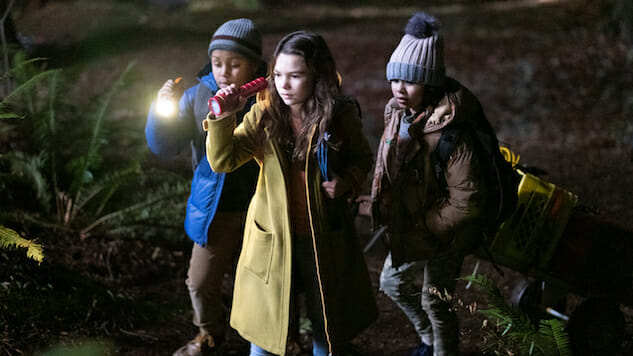 Given how unkindly television and film routinely treat female journalists, it's possible that Hilde Lisko, star Brooklynn Prince's resolute lead in the series Home Before Dark might be just the kind of female journalist hero that we need right now. Inspired by award-winning crime reporter Hilde Lysiak, the character has an almost supernatural memory for detail, knows how to build up a rapport with local law enforcement (and decipher which ones she can trust), and isn't afraid to stand up to established community leaders who may be hiding the truth.
She's also 9.
Set amid a damp and murky small-town logging community that seems specially made to delight the likes of Special Agent Dale Cooper, Home Before Dark follows the Lisko family as they move to dad Matt's (Jim Sturgess) childhood home from Brooklyn after he loses his newspaper job. This sets off a chain of events that has Hilde on the case of a potential massive cover-up of a child abduction in the 1980s that envelopes everyone from the sheriff and mayor to Hilde's grandfather, dad, and school principal.
I appreciate that there is an effort, both by Prince and the writers, to make sure that Hilde is more than just some one-dimensional cute or precocious brat, and that there seems to be some serious fire in her veins when police officers initially dismiss her with a pat on the head. And do I indeed want to see—and do I want mine and other kids to see—an intrepid female reporter on the case? Yep. Do I wish that there were more adult versions of her on screen? Of course. But do I also wish the particulars of the job were handled more responsibly, especially in the era of fake news, and certainly if kids were going to watch? Uh huh. [Full Review] —Whitney Friedlander
---
13. Physical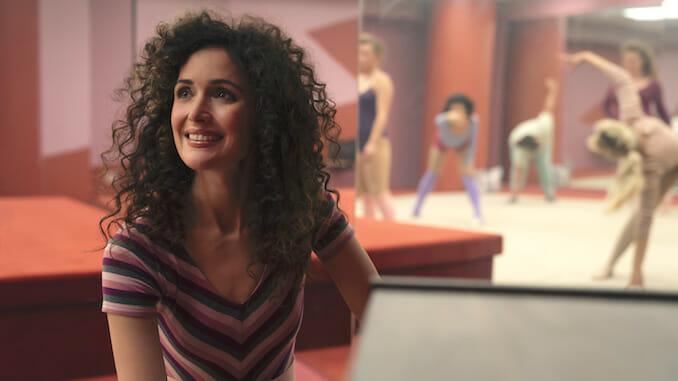 Created and executive produced by Annie Weisman, Physical is set in the early 1980s against a sun-drenched San Diego backdrop. It stars Rose Byrne as Sheila Rubin, an unhappy housewife quietly struggling with her self-image and her inability to assert herself in nearly every aspect of her life. This includes her marriage to Danny (Rory Scovel), whose liberal ideals seem to stop at the front door.
Sheila single-handedly runs the Rubin household while raising a 4-year-old daughter (who mostly exists to scream a lot) and also managing Danny's political campaign. It's meant to be frustrating to watch, and it succeeds. But Sheila's story becomes even more complicated once you learn of her deep self-hatred and how that has shaped her self-image for decades. Everything begins to change, though, once Sheila finds a renewed sense of purpose in aerobics, the latest exercise fad sweeping the country. But while Sheila finds strength and confidence through aerobics, and purpose via her burgeoning business venture in the present day, it hasn't changed much else—yet—with Sheila trading one problem for another.
There are times when Sheila and her selfishness risk toppling the carefully-constructed narrative about women's empowerment that the show is building. But Physical is also well made, frequently compelling, and features episodes that come in at under 30 minutes. It may even fill some of the void left by the cancellation of Netflix's GLOW. [Full Review] —Kaitlin Thomas
---
12. Bad Sisters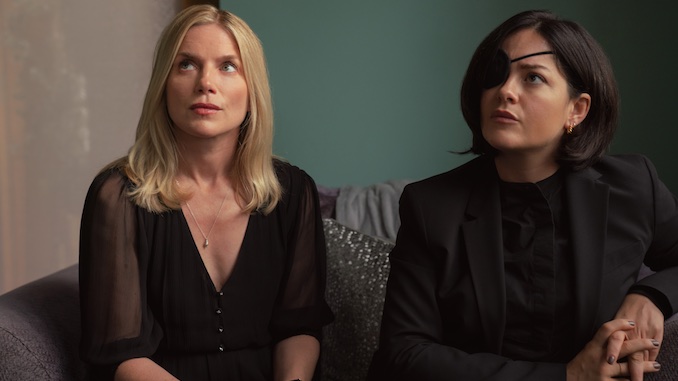 Mixing a mystery and thriller with humor—and doing it well—is no small feat. But Sharon Horgan's Bad Sisters (based on the 2012 Flemish series Clan) manages it with aplomb. And unlike Hulu's cozy murder show, Only Murders in the Building, Bad Sisters doesn't have us hunting for the killer so much as hoping whoever it was gets away with it. This hourlong series is set in Dublin, where four charismatic and tightly-knit sisters lament that their fifth sister, Grace (Anne-Marie Duff), has had the life sucked out of her by her miserable husband, John Paul (Claes Bang). But each of the Garvey sisters have a bone to pick with John Paul personally, too. Bad Sisters opens with John Paul's funeral, and we are quickly made to assume the sisters (minus Grace) are responsible. But the truth is not quite so cut and dry; the series flips back and forth between the present and six months prior, when the plan was first hatched. What begins as an idea that one sister has slowly grows into a group effort, as the women individually come to the end of their ropes with their twisted brother-in-law. So, which one is ultimately responsible? For now, it's enough to appreciate the winning strangeness of how a show about murder can fill us with such unbridled glee. —Allison Keene [Full Review]
---
11. Black Bird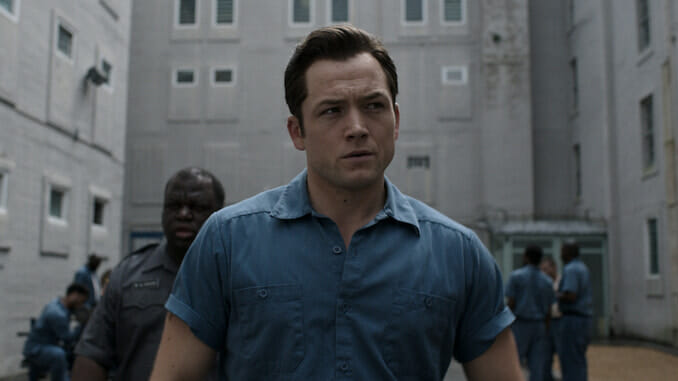 A former high school football star and son of a decorated police officer, Jimmy Keene is sentenced to 10 years in a minimum security prison for dealing drugs when he's given an offer he can't refuse. If he agrees to enter a maximum security prison for the criminally insane and gets vital information from a suspected serial killer, he can have his sentence erased. The influence of series developer Dennis Lehane's previous work, most notably Mystic River and Gone Baby Gone, can clearly be felt in Black Bird, which is also carried by memorable performances from Paul Walter Hauser and Taron Egerton. Hauser is mesmerizingly disturbing while Egerton turns in an equally masterful performance as a drug dealer-turned-hero. —Terry Terrones [Full Review]
---
10. Severance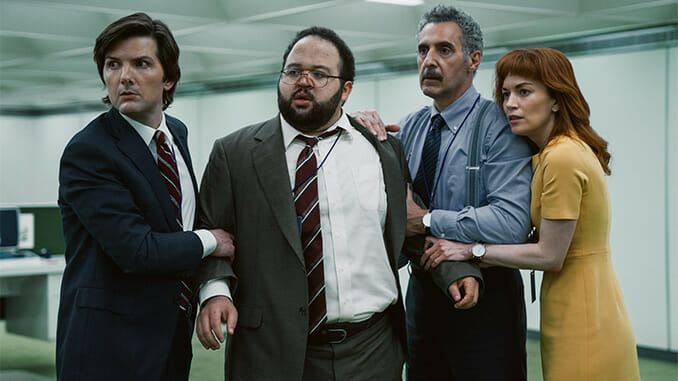 In Severance, a group of people working for an evil company (Lumon Industries) have opted to go through the title procedure, severance, in order to mentally separate their work selves from their "real" selves. This involves needles going into brains, and the net effect is that it creates worker drones who literally only have the barest consciousness while at work. The minute they step out of the elevator to go home, they snap back to the real world, with everything that happened in the past nine hours totally forgotten.
If you don't think about it for more than two minutes, this might seem like an attractive idea. You—the "you" who lives outside work—get to just cut out the entire shitty workday, along with whatever stress and disappointment comes from it, and your entire life is now just the good parts. When you think about it for that third minute, though, the full horror dawns: You also create a secondary "you" living in a godforsaken work zoo, never sleeping, never going outside, literally living an entire life of stepping on and off elevators and sitting at a desk, ad nauseam, until the day your "outie" self decides to retire, at which point you just die.
We watch as main character Mark (Adam Scott) marches through a series of blindingly white corridors, and is joined in his office by Irving (the always excellent John Turturro) and Dylan (Zach Cherry). But the real force behind the story comes from Helly (Brit Lower), a new employee with a mysterious background, and Petey (Yul Vazquez), Mark's former co-worker who is attempting to bridge the divide between the innies and outies and uncover just what the hell Lumon Industries is up to. For now, Severance is dedicated to keeping that other side a mystery. [Full Review] —Shane Ryan
---
9. Pachinko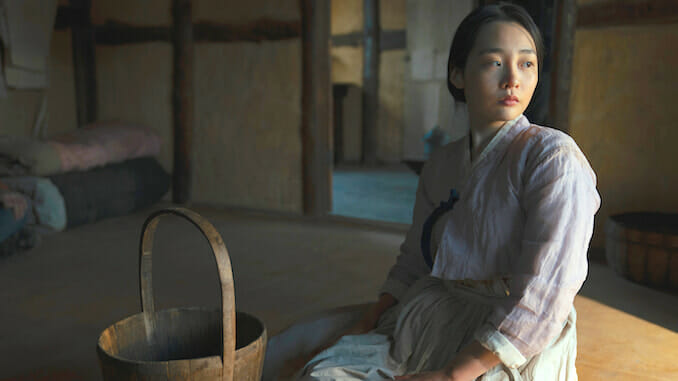 Apple TV+ has been on a hot streak, and with its new trilingual epic, Pachinko, it hit the jackpot. Pachinko takes place over three distinct periods in Korean history through the eyes of Sonja. Over the course of Sonja's childhood (Jeon Yu-na), adolescence (Kim Min-ha), and senior years (Academy Award winner Youn Yuh-Jung), the show reveals the hardships Koreans had while under Japanese rule. But before you start thinking this show is only interested in history, there's an intriguing romance with a man connected to Japanese gangsters (Lee Min-ho) and an immigration story complete with heartbreak and longing. Although the series explores a very specific time period in the lives of a Korean family, the themes are universal to anyone connected to a diaspora or who has suffered unjust treatment. And, by the end of the first season, Pachinko has laid the groundwork for even more riveting stories from Sonja and her extended family. —Max Covill [Full Review]
---
8. Slow Horses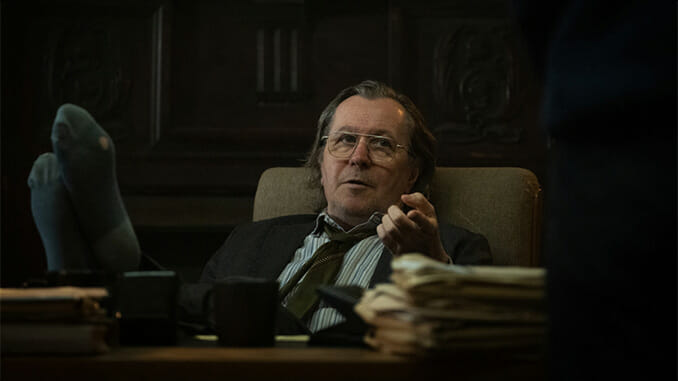 The "Slow Horses" of MI5 are the exiles, the screw-ups, the has-beens who are no longer wanted where the action is hottest. Their leader is Jackson Lamb, the slovenly, cynical, occasionally cruel boss who seems to be the very definition of washed up. But through the brilliant performance of Gary Oldman, we learn that there's more to him than meets the eye, waiting to be drawn out by the right circumstances. He is the centerpiece of this superb spy drama, and around him, the likes of Jack Lowden and Kristin Scott Thomas make up a cast with no weak spots. In its many strengths, Slow Horses joins a very short list of recent TV series from the espionage genre which rise to the level of greatness. Even more impressive, it does so through the strength of wounded people. Humanity beats within them, from Lamb down to Cartwright and all their semi-miserable colleagues. This show manages the incredible task of being a human redemption story, a genuinely funny comedy, and above all, a terrific spy tale. Apple TV+ has a hit on its hands, and unlike the sad, exiled souls of Slough House, you won't have to look very hard to see its merits. [Full Review] —Shane Ryan
---
7. The Afterparty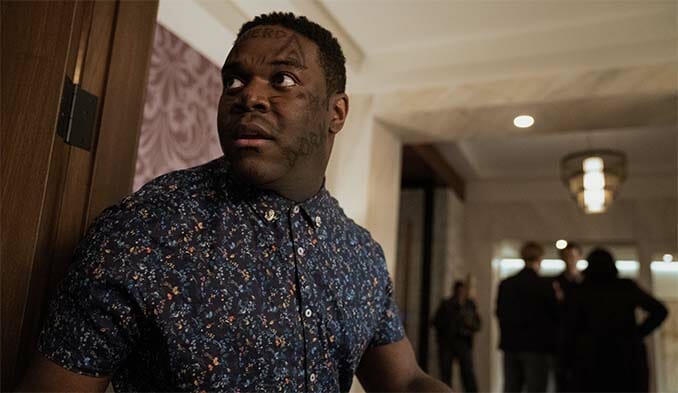 If I can only use one word to describe Christopher Miller's genre-defying murder mystery The Afterparty, it's "super-freaking-fun." The eight-episode first season follows the investigation of a high-profile murder that occurs at a high school reunion afterparty. Each episode is a retelling of the night's events as viewed through the lens of a different popular film genre that corresponds to the perspective and personality of the person being interrogated. The result is a series that both operates within and pokes fun at the tropes of not just the formulaic murder mystery, but also romantic comedies, psychological thrillers, musicals, and high school movies. It's not a terribly deep show, but with a cast filled with actors and actresses who are often the funniest and best parts of every project they're in, it's an exceptionally good time from start to finish. [Full Review] —Kaitlin Thomas
---
6. Schmigadoon!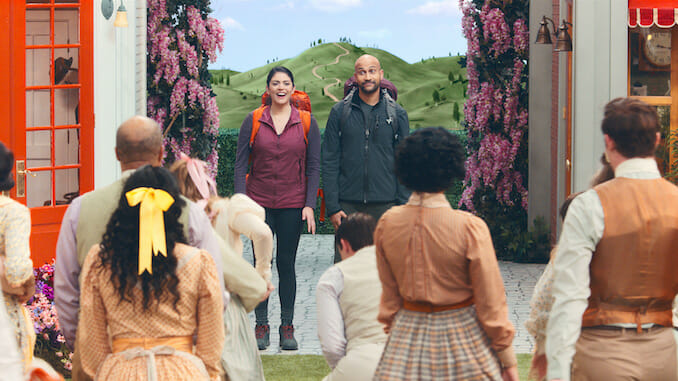 In this six-episode series from executive producer Lorne Michaels, Melissa (Cecily Strong) and Josh (Keegan-Michael Key) are two New York doctors who embark on a camping trip designed to bring them closer together. They get lost along the way and find themselves stranded in the town of Schmigadoon! Despite their continued efforts, they are unable to leave until they find true love. Turns out, that means that Melissa and Josh aren't as in love as they (particularly Melissa) thought they were.
The series manages to be simultaneously an adoring homage to the genre and a spot-on satire of it; every trope is lovingly upended, every plot difficulty laid bare. (Let's be honest, women didn't fare too well in the classic musicals. I mean there is a "what can you do but love him?" song about an abusive husband in Carousel.) Melissa explains the reproductive system in a little ditty that's very similar to "Do-Re-Mi" from The Sound of Music. "Why are they laughing? Nothing even remotely funny just happened?" Josh wonders at the end of one number. There's references to "color-blind casting" and at the start of a dream ballet, Melissa exclaims, "We're not having a dream ballet. They're annoying and stupid and slow everything down." Will you enjoy the show if you've never seen a musical and have no context for what's being spoofed? Maybe. But this truly is a series for Broadway fans. [Full Review ] —Amy Amatangelo
---
5. Dickinson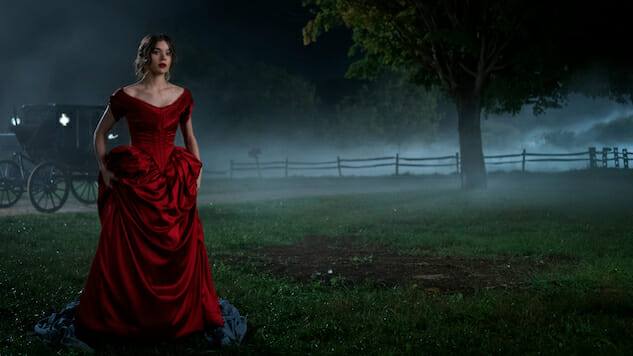 Despite all the mystery surrounding her long, hermetic life, it's hard to imagine that the real Emily Dickinson (she of the poetic syntax so wildly removed from the style of her time that it wasn't until 1955 that publishers stopped editing all her linguistic ecstasies into comparatively dull normalcy), wouldn't get a kick out of Dickinson, Alena Smith and Hailee Steinfeld's lovingly weird imagining of the poet's young adulthood. Dickinson is so fun and so strange and so tireless in handing out little moments of character development, with wildly original mood setting, you could watch thousands of hours of television and still not think to expect, of course, the Dickinson who scrawled out "Wild nights – Wild nights!" and left behind thousands of scraps of genius in a locked chest would dig it.
To be clear, this is not me saying that rapturous anachronisms of Dickinson will be to everyone's taste. Would Emily's parents, in reality or as played here by Toby Huss and Jane Krakowski, be into it? Nah. Emily's peers? Sue (Ella Hunt)—yes. George (Samuel Farnsworth)—yes. Everyone else—it depends. You? Who's to say! Death showing up in the guise of Wiz Khalifa in a black silk top hat inside a ghostly black carriage to take Emily (Steinfeld) away from the funeral of her bosom friend/true love Sue's last remaining sister (as Billie Eilish's "bury a friend" pulses underneath the dialogue almost too quiet to hear) will read to many as try-hard poptimist-adjacent gimmick, and it feels likely that Apple is trying to buy the affections of a Gen Z audience through clout rather than substance. But.
But with such gorgeous cinematography, costuming, and metatextual design, and with every actor putting in such fun, charming, deeply specific (read: often deeply odd) performances—and with Smith and Steinfeld, especially, so blazingly self-confident in their vision—Dickinson is one of Apple TV+'s brightest shows. I genuinely want to be shut up in the prose of its walls, for as long as Emily will have me. [Full Review] —Alexis Gunderson
---
4. For All Mankind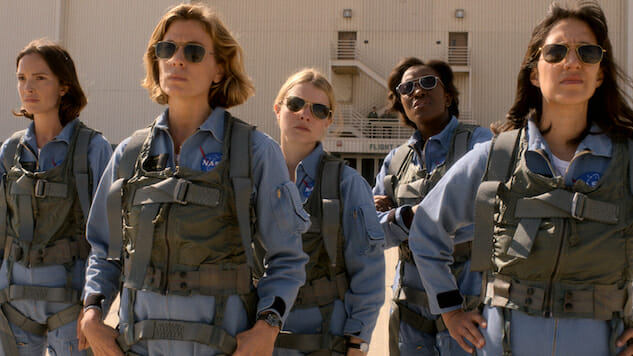 America has never lost gracefully. Exploring alternate histories where America loses usually involves the country's moral stance defeated by a great political evil. The Nazis win World War 2; the British suppress the revolution. But what if the loss was more complicated than that? More ideologically gray. Less focused on Superman's truth and justice, and more on his American Way. Apple TV+ asks this question with alt-history For All Mankind's opening, where the Soviet Union stuns a watching world by beating the U.S. to the moon, and answers it with an enthralling drama dedicated to the flawed pursuit of greatness.
It's certainly appropriate for a show about the best pilots in the world to have a great pilot episode, but its early success is matched by a show where politics and science branch in ways pleasing for space junkies and astro-nots alike. The sprawling sociopolitical butterfly effects—like how the Nixon administration reacts to, and is affected by, losing the first leg of the space race—are just one of the pleasures to be found in Ronald D. Moore, Matt Wolpert, and Ben Nedivi's creation. After seeing eight episodes of the ten-episode season, For All Mankind has already set itself apart as the must-see show of Apple TV+.
NASA, pushed as much by a president needing a political victory as by their own wounded pride, shoots for sci-fi. And the writing is smart. Potentially saccharine rah-rah patriotism is undermined by dashed hopes and a permeating need for American exceptionalism that is, in this version of events, proven untrue. Instead, the series works towards a new national culture in its large scale and quiet, workhorse dignities in its small scale. America gets back to its scrappy roots through its space program.
Those scrappy (bordering on irresponsible) elements—government employees doing their best at the behest of their overlords—see a powerhouse turn underdog. Nothing's more humanizing than trying to break ground with equipment from the lowest bidder. Avoiding the truly sappy by showing the scars left by the program (the fuck-ups, the deaths, the near-misses, the battered relationships) earns the show its most moving moments. Rather than pure golden glow, For All Mankind leaves you smiling and ugly crying at the same time, amazed that humanity has achieved so much despite all its stupid pettiness. Unlike the space program it follows, For All Mankind pursues greatness, succeeds, and plants an Apple flag for the world to see. [Full Review] —Jacob Oller
---
3. Trying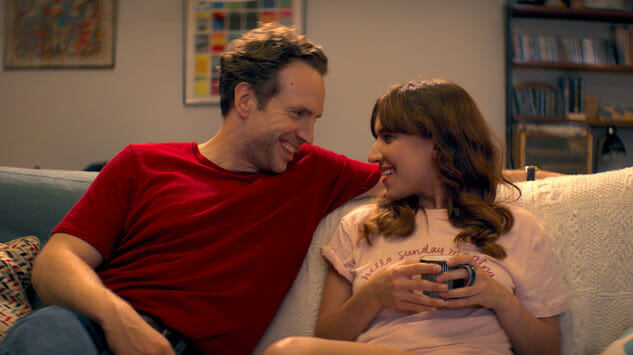 In Trying, thirtysomething couple Nikki (Esther Smith) and Jason (Rafe Spall) have been together for three years. The series' title refers to their continued attempts to have a baby. They monitor Nikki's ovulations cycles (the series kicks off with them having sex on a bus so they don't miss Nikki's ovulation window. Not a great way to start, but definitely a way to get the viewer's attention) and try IVF where they are unceremoniously informed that the chances of conceiving with Nikki's eggs is very unlikely given her sub-par fertility numbers. "Are you sure? I definitely feel higher than that," Nikki says.
Nikki and Jason thus embark on a journey to adopt a child, where they are faced with one of society's most perplexing double standards. Anyone who can get pregnant can have a baby. There are no screenings. No home visits. No forms to fill out. No one assesses your health or your habits. No classes you have to take. You just … have a baby. But the adoption process is long and arduous. They have regular visits from Penny (Imelda Staunton), the case worker assigned to assess them and issue a report. They have meet-ups with other prospective adoptive parents. They go to workshops where they are lectured on things like "oppositional defiant disorder" and "object permanence." And, in one of the most heartbreaking scenes, have to go in front of a panel to defend that they are worthy of adopting a child.
Written by Andy Wolton and directed by Jim O'Hanlon, each episode ends with a lovely montage that checks in on all the characters the viewer has seen over the last half-hour. The way it's structured reinforces how much we as humans have in common. How love and friendship sustain us.
The episodes go by far too quickly, but end in a place where you can easily envision a long run. We are only at the beginning of Nikki and Jason's journey. I can't wait to watch them keep trying. [Full Review] —Amy Amatangelo
---
2. Little America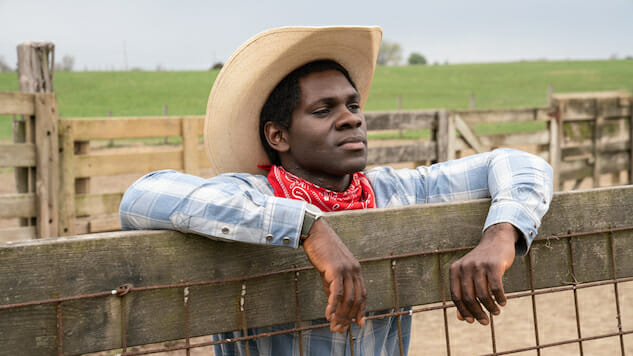 Boasting a robustly talented set of executive producers, including Kumail Nanjiani and Emily V. Gordon, Apple TV+'s anthology series Little America may be one of its best to date. Over the course of eight half-hour episodes, Little America explores immigrant stories inspired by real events that are unique and full of heart. Though each story is incredibly different in terms of time and place, the series is united by a gorgeous, cinematic style and a theme of finding one's home—
With each episode telling a complete vignette, Little America is worth savoring instead of bingeing. The segments end with a picture and a micro epilogue regarding the real person at the heart of the story, putting a point on the fact that these experiences are happening all around us every day. There's no agenda beyond a hopeful note for a country deeply divided and fueled by vitriol to be reminded of these very grounded, human stories— ones that should unite us in the varied and often beautiful tapestry of American life. [Full Review] —Allison Keene
---
1. Ted Lasso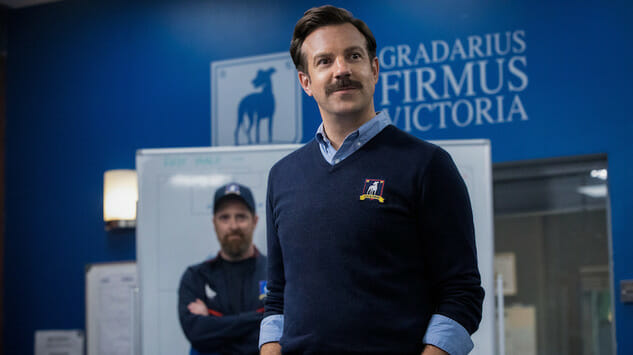 Almost a decade ago, NBC Sports released a very funny sketch starring Jason Sudeikis as an American football coach named Ted Lasso who manages to get hired as the manager of Tottenham, one of the top soccer clubs in England's Premier League, which is one of the best leagues in the world. The comedy is the culture clash—a shouting alpha male with a southern accent trying to figure out a totally unfamiliar sport in a strange place, too stubborn to adapt and bringing all the wrong lessons over from America. As soccer becomes more familiar in the U.S., that sketch becomes increasingly quaint, since even your average deep-south gridiron jock knows more and more all the time about the world's most popular sport. Which makes the premise of Ted Lasso the current TV show questionable; can you really translate a premise that's thin in the first place, and extend it to multiple seasons even as soccer becomes less and less exotic to us all the time?
Wisely, creators Sudeikis and Bill Lawrence didn't really try. Now focused on AFC Richmond, a middling English soccer club facing relegation, the success of the show begins and ends with Sudeikis (whose Lasso is almost pathologically nice as a coach and motivator rather than tactical genius), but the rest of the cast is also superb. In short, I found it genuinely moving more than it was uproarious, although the climactic scene in the final episode of the first season might be one of the greatest athletic set pieces in comedy history, and will make any sports fan bust a gut. There's also something very timely about the fact that the competitive drama here isn't about winning a glorious championship, but about avoiding the shame of relegation. And yet, when faced with the unofficial AFC Richmond credo, "it's the hope that kills you," Lasso disagrees. "It's the lack of hope that comes and gets you," he tells his team, and whether or not that's strictly correct is irrelevant. What actually matters is, do you believe? [Full Review] —Shane Ryan
---
For all the latest TV news, reviews, lists and features, follow @Paste_TV.