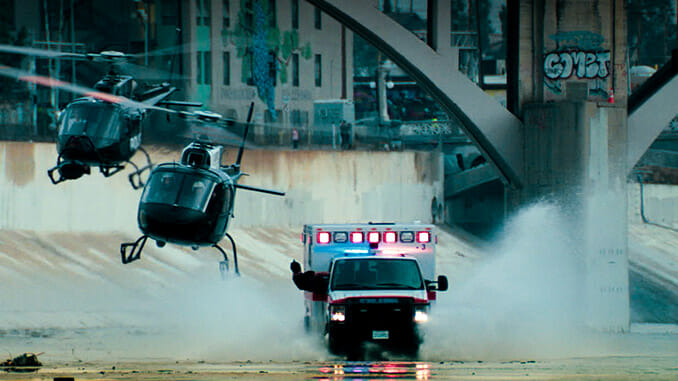 The best movies on Amazon Prime are certainly out there, but finding them can sometimes feel like panning for gold in an endless sea of silt. Amazon Prime Video is a streaming treasure trove teeming with some of the most esoteric and wonderful underseen movies of the past 80 years, though good selections can feel nearly impossible to cull from the sometimes overwhelming glut of weirdly terrible movies buried in the streamer's nether regions. Sure, Amazon has that weird horror movie, or that great film noir, but how in the world are you and your grandmother supposed to know that? Coupled with the counter-intuitive, migraine-inducing browsing, and the service's penchant for dropping a title unexpectedly only for it to reappear under a different link just as unexpectedly, it makes sense that Amazon's best film offerings are a little tricky to nail down.
Who can keep track of any of this stuff?
Well, we can. Or, at least, we try. While Amazon Prime's movie library comes and goes every month (sometimes churning through dozens of titles), we at Paste have curated our Best Movies on Amazon list with that difficulty in mind. We'll be updating this list every week of 2023 to make sure it's as fresh and accurate as possible, highlighting both Amazon originals and gems buried deep in its content mine. Ranging from the Small Axe series to incredible anime and horror movies, our picks have got your back, no matter the genre you're after.
Here are the 50 best movies on Amazon Prime right now:
---
1. One Night in MiamiYear: 2021
Director: Regina King
Stars: Kingsley Ben-Adir, Eli Goree, Aldis Hodge, Leslie Odom Jr
Rating: R
Runtime: 114 minutes


A barebones summary of One Night in Miami sounds like a dude's delight movie: Four men out on the town, no attachments to keep them in line, and a limit to their evening revelry that extends skyward. But the four men are Sam Cooke, Cassius Clay, Jim Brown, and most of all Malcolm X; the town is actually the Magic City; and the specific evening is February 25, 1964, when heavyweight boxing champion Sonny Liston crossed gloves with Clay and lost his title in an upset. Subjects crossing the characters' lips include, of course, boxing, and women, and rowdiness, but they're joined by other, more important subjects like Black American identity, American identity, and how the two interact with one another. But that doesn't rob One Night in Miami of the "delight" clause, thanks in no small part to crackling performances by a cast comprising a cadre of exceptional young actors (Eli Goree, Leslie Odom Jr., Aldis Hodge, Kingsley Ben-Adir), and directed with cool confidence by Regina King in her feature debut. Her adaptation of Kemp Powers' stage play is a historical document written to presuppose what conversations these fellows might've had in private and away from prying ears, a compelling fiction rooted in reality. It's also thoroughly entertaining, witty, and exuberant. This isn't a film about meaningless carousing. It's about conversations that actually matter. —Andy Crump
---
2. Licorice PizzaRelease Date: November 26, 2021
Director: Paul Thomas Anderson
Stars: Alana Haim, Cooper Hoffman, Sean Penn, Tom Waits, Bradley Cooper, Benny Safdie
Rating: R
Runtime: 133 minutes


Licorice Pizza is writer/director Paul Thomas Anderson's second ode to Los Angeles in the early 1970s: A city freshly under the oppressive shadow of the Manson Family murders and the tail end of the Vietnam War. But while in his first tribute, Inherent Vice, the inquisitive counter-culture affiliate Doc Sportello (Joaquin Phoenix) earnestly engages with his surroundings and follows the threads of societal paranoia all the way to vampiric drug smuggling operations and FBI conspiracies, Licorice Pizza's protagonist, 25-year-old Alana Kane (Alana Haim), refuses to follow any such thread. A bored, directionless photographer's assistant, Alana nonchalantly rejects any easy plot-point that might help us get a grasp on her character. What are her ambitions? She doesn't know, she tells successful 15-year-old actor Gary Valentine (Cooper Hoffman, son of Philip Seymour Hoffman) over dinner at a restaurant called Tail o' the Cock. What interests and excites her? It's hard to say. When Gary first approaches Alana while she's working picture-day at his high school, it's hard to imagine that Licorice Pizza isn't going to follow the playful design of a sunny Southern California love story. Alana is instantly strange and striking, and—when Anderson introduces her in a languid dolly-shot with a mini-skirt, kitten-heels, slumped shoulders and a gloriously pissed expression—we are compelled to fall in love with her, just like Gary does, at first sight. Of course, Anderson quickly rejects the notion that Licorice Pizza is going to be a straightforward romance. Anderson knows that this ambling, disjointed structure reflects what it's like to be young, awkward and in love. Each shot, filled with dreamy pastels, glows with a youthful nostalgia. Anderson and cinematographer Michael Bauman balance out this haziness with a unique control of the camera, implementing long takes, slow dollies, and contemplative pans galore. What is it that Alana gets from being friends with someone ten years younger than her? And why does Gary always return to Alana even when she tries her best to put him down? Like gleefully gliding through the streets of L.A. in the midst of a city-wide crisis, it's a madness you can only truly understand when you're living it.—Aurora Amidon
---
3. Kung Fu HustleYear: 2005
Director: Stephen Chow
Stars: Stephen Chow, Feng Xiao Gang, Wah Yuen, Danny Chan
Rating: R
Runtime: 98 minutes


Stephen Chow is probably the biggest name in martial arts comedy since the days of Sammo Hung, and Kung Fu Hustle will likely remain one of his most well-regarded films—both as director and performer. Gleefully kooky, the film combines occasional song and dance with expectedly extremely exaggerated kung fu parody in telling the tale of a young man who ends up overthrowing a large criminal organization, the "Deadly Axe Gang." This is nothing complex–rather, Kung Fu Hustle is unadulterated absurdity: The action has no basis in reality, reveling in Looney Tunes physics, while characters are broad pastiches and/or references to famous actors from the genre's history. With gags teetering decidedly on the juvenile (or inscrutable, for Americans at least) side, the film is a testament to Chow's style–entertain first, make sense later. That's what he does, and he does it better than anyone else. —Jim Vorel
---
4. Shaun of the DeadYear: 2004
Director: Edgar Wright
Stars: Simon Pegg, Nick Frost, Kate Ashfield, Lucy Davis, Dylan Moran, Bill Nighy, Penelope Wilton
Rating: R
Runtime: 97 minutes


Together, 28 Days Later and Shaun of the Dead established precedents for the "modern" zombie film that have more or less continued to this day. The former made "zombies" scary again, and the latter showed that the cultural zeitgeist of zombiedom (which was picking up around this point) could be mined for huge laughs as well. Most importantly, the two types of films could exist side by side. Shaun of the Dead makes a wry, totally valid criticism of modern, digital, white-collar life through its wonderful build-up and tracking shots, which show slacker Shaun wandering his neighborhood failing to even realize that a zombie apocalypse has happened. Once he and his oaf of a friend finally realize what's happening and take up arms to protect their friends and loved ones, the film becomes a fast-paced, funny and surprisingly emotional action-comedy. Few horror comedies have actually combined the elements of humor and serious horror the way this one does in certain scenes–just go back and watch the part where David is dragged through the window of The Winchester by zombies and literally torn to pieces. It's a film that works on so many levels, and manages to be uproariously funny while still being quite faithful to the fidelity of Romero-style zombies. Much in the same way as Zombieland (a definite spiritual successor), it shows that whether the zombies are "scary" is ultimately a matter of how everyone reacts to them. Shaun of the Dead was so momentous that it's next to impossible to make a zombie comedy at this point without being accused of ripping it off–take Fido, a film that seems based entirely on the "domesticated zombie" gag at the end of this film. —Jim Vorel
---
5. RoboCopYear: 1987
Director: Paul Verhoeven
Stars: Peter Weller, Nancy Allen, Ronny Cox
Rating: R
Runtime: 103 minutes


Throughout the late-1970s and indulgent '80s, "industry" went pejorative and Corporate America bleached white all but the most functional of blue collars. Broadly speaking, of course: Manufacturing was booming, but the homegrown "Big Three" automobile companies in Detroit—facing astronomical gas prices via the growth of OPEC, as well as increasing foreign competition and the decentralization of their labor force—resorted to drastic cost-cutting measures, investing in automation (which of course put thousands of people out of work, closing a number of plants) and moving facilities to "low-wage" countries (further decimating all hope for a secure assembly line job in the area). The impact of such a massive tectonic shift in the very foundation of the auto industry pushed aftershocks felt, of course, throughout the Rust Belt and the Midwest—but for Detroit, whose essence seemed composed almost wholly of exhaust fumes, the change left the city in an ever-present state of decay. And so, though it was filmed in Pittsburgh and around Texas, Detroit is the only logical city for a Robocop to inhabit. A practically peerless, putrid, brash concoction of social consciousness, ultra-violence and existential curiosity, Paul Verhoeven's first Hollywood feature made its tenor clear: A new industrial revolution must take place not within the ranks of the unions or inside board rooms, but within the self. By 1987, much of the city was already in complete disarray, the closing of Michigan Central Station—and the admission that Detroit was no longer a vital hub of commerce—barely a year away, but its role as poster child for the Downfall of Western Civilization had yet to gain any real traction. Verhoeven screamed this notion alive. He made Detroit's decay tactile, visceral and immeasurably loud, limning it in ideas about the limits of human identity and the hilarity of consumer culture. As Verhoeven passed a Christ-like cyborg—a true melding of man and savior—through the crumbling post-apocalyptic fringes of a part of the world that once held so much prosperity and hope, he wasn't pointing to the hellscape of future Detroit as the battlefield over which the working class will fight against the greedy 1%, but instead to the robot cop, to Murphy (Peter Weller), as the battlefield unto himself. How can any of us save a place like Detroit? In Robocop, it's a deeply personal matter. —Dom Sinacola
---
6. The Wolf of Wall StreetYear: 2013
Director: Martin Scorsese
Stars: Leonardo DiCaprio, Jonah Hill, Margot Robbie, Matthew McConaughey, Kyle Chandler, Rob Reiner, Jon Favreau, Jean Dujardin, Jon Bernthal
Rating: R
Runtime: 180 minutes


The decade's been both kind and not so kind to good ol' Marty, ten years of bad takes questioning his credentials for directing Silence, for denying Marvel movies the honorific of "cinema," for forcing audiences to showers en masse following screenings of The Wolf of Wall Street. And yet it's impossible to keep him down; he's immune to controversy and he thrives on lively debate, which is why, at 70 years old, his chronicle of the life, times and crimes of Jordan Belfort (Leonardo DiCaprio)—a stock broker and inveterate fraudster who bilked over 1,000 schlemiels, suckers and saps out of billions (and got off easy)—feels like something an artist half his age directed. The Wolf of Wall Street is a pissed off film. It's also a horny, pervy, brutal, an impeccably made and fundamentally hideous film. At every passing image, Scorsese's white-hot rage burns around the edges of the frame. The director has his own beefs and conflicts with his Christian faith, but here his presence is felt as a furious deity sitting in judgment on the fun Belfort has screwing over his clients, two-timing his first wife, jerking around his second wife and doing more blow in three hours than Scorsese himself did in the 1970s and '80s. The easy knock to make against this movie is that it endorses the finance bro culture it navigates over the course of its running time, because at no point does Scorsese impose manufactured morality on what happens in front of us; instead he plays the hits as Belfort wrote them, showing the audience exactly what Belfort did while running his company, Stratton Oakmont, and while running around on his spouses. That the film ultimately ends with Belfort out on the prowl again is the ultimate indictment: Being rich allowed this man to get away with financial murder, because being rich, in the end, makes everything better. "Being rich makes everything better," for some, is the movie's embraced philosophy, but The Wolf of Wall Street doesn't appreciate displays of wealth unhinged. It reviles them. Scorsese puts energy into the film, a spring in its every greedy step; one could call such debauchery without consequences a "good time." But The Wolf of Wall Street doesn't care about that kind of time as much as it cares about hanging Belfort out to dry. —Andy Crump
---
7. Downhill RacerYear: 1969
Director: Michael Ritchie
Stars: Robert Redford, Gene Hackman, Camilla Sparv
Rating: PG
Runtime: 102 minutes


With Downhill Racer Michael Ritchie did for sports films what Two-Lane Blacktop did for road films. He created an existentialist sports film that is as tense as it is harrowing, and brought the genre into the realm of the bleak. Unlike many other films of its ilk, Downhill Racer subverts many of the tropes we're so used to seeing in most commercial entertainment. The romance is empty, there are no heroes to root for, and the protagonist we do have certainly has the drive for greatness, but at no point does he inspire us. Instead, Robert Redford's David Chappellet has much subdued anger, jealousy and fear. When he succeeds it feels hollow, for both the audience and the character. At times the film is quite nihilistic, despite the poetic and transcendental beauty of the setting and cinematography. Redford gives one of his most understated performances here; his range of emotions is much more subtle, yet in his subtlety we notice all the rage, fear and ambition that make up Redford's brilliant turn. The supporting cast is equally nuanced. It's the little things that create this film's powerful atmosphere, and as a result the action sequences are all the more gripping. —Nelson Maddaloni
---
8. Inside ManYear: 2006
Director: Spike Lee
Stars: Denzel Washington, Clive Owen, Jodie Foster, Willem Dafoe, Chiwetel Ejiofor
Rating: R
Runtime: 129 minutes


Many may forget how masterful Lee can be when it comes to constructing prime entertainment with a solid structure and intense build-up. Aside from some commentary on post-9/11 New York, Inside Man endeavors to be little more than an ultimately engaging heist movie. Clive Owen and Denzel Washington share some nice chemistry as the sleek bank robber with an ingenious secret plan (Owen) and the world-weary cop (Washington) tasked to stop him, while the film's non-linear structure methodically leads us to its clever climactic twist. Produced by Brian Grazer, this big budget genre exploit feels like a gun-for-hire job for Lee, but it's nonetheless a fun cinematic lark with signs of serious underpinnings.—Oktay Ege Kozak
---
9. Manchester by the SeaYear: 2016
Director: Kenneth Lonergan
Stars: Casey Affleck, Michelle Williams, Kyle Chandler
Rating: R
Runtime: 137 minutes


Loss and grief—and the messy, indirect ways people cope with the emotional fallout—were the dramatic linchpins of writer-director Kenneth Lonergan's first two films, You Can Count on Me and Margaret. And so it is again with Manchester by the Sea, a commanding, absorbing work in which the sum of its impact may be greater than any individual scenes. As opposed to the intimate, short-story quality of You Can Count on Me, Manchester by the Sea bears the same sprawling ambition as Margaret, Lonergan draping the proceedings in a tragic grandeur that sometimes rubs against the film's inherently hushed modesty. Casey Affleck as Lee Chandler is quietly magnetic as a man who can't express himself at a time when he really needs to step up and be the patriarchal figure. Lucas Hedges and Kyle Chandler are also both quite good, their characters buried deep in the man's-man culture of the East Coast communities in which the film is set. But especially terrific is Michelle Williams as Lee's ex-wife, who has played haunted wives before, in Brokeback Mountain and Shutter Island. Here, though, she really pierces the heart: Her character never stopped loving Lee, but her brain told her she had to if she was ever going to move on with her life. In this film, she's actually one of the lucky ones. Tragedies drop like bombs in Manchester By the Sea, and the ripple effects spread out in all directions. The movie's ending isn't exactly happy, but after all the Chandlers have gone through, just the possibility of acceptance can feel like a hard-earned victory. —Tim Grierson
---
10. You Were Never Really HereYear: 2018
Director: Lynne Ramsay
Stars: Joaquin Phoenix, Ekaterina Samsonov, John Doman, Judith Roberts, Alex Manette, Alessandro Nivola
Rating: R
Runtime: 89 minutes


Lynne Ramsay has a reputation for being uncompromising. In industry patois, that means she has a reputation for being "difficult." Frankly, the word that best describes her is "unrelenting." Filmmakers as in charge of their aesthetic as Ramsay are rare. Rarer still are filmmakers who wield so much control without leaving a trace of ego on the screen. If you've seen any of the three films she made between 1999 and 2011 (Ratcatcher, Morvern Callar, We Need to Talk About Kevin), then you've seen her dogged loyalty to her vision in action, whether that vision is haunting, horrific or just plain bizarre. She's as forceful as she is delicate. Her fourth film, You Were Never Really Here—haunting, horrific and bizarre all at once—is arguably her masterpiece, a film that treads the line delineating violence from tenderness in her body of work. Calling it a revenge movie doesn't do it justice. It's more like a sustained scream. You Were Never Really Here's title is constructed of layers, the first outlining the composure of her protagonist, Joe (Joaquin Phoenix, acting behind a beard that'd make the Robertson clan jealous), a military veteran and former federal agent as blistering in his savagery as in his self-regard. Joe lives his life flitting between past and present, hallucination and reality. Even when he physically occupies a space, he's confined in his head, reliving horrors encountered in combat, in the field and in his childhood on a non-stop, simultaneous loop. Each of her previous movies captures human collapse in slow motion. You Were Never Really Here is a breakdown shot in hyperdrive, lean, economic, utterly ruthless and made with fiery craftsmanship. Let this be the language we use to characterize her reputation as one of the best filmmakers working today. —Andy Crump
---
11. MemoriesYear: 1995
Director: Koji Morimoto, Tensai Okamura, Katsuhiro Otomo
Stars: Tsutomu Isobe, Hideyuki Hori, Yuu Hayashi
Rating: NR
Runtime: 113 minutes


After wrapping production on Akira in 1988, Katsuhiro Otomo returned in 1995 to helm his third anthology collection of short films, titled Memories. Initially scripted around the theme of the collection's namesake, the anthology eventually yielded a series of three shorts, each directed by one of three of the most acclaimed directors working at the time, Otomo included. The collection's first segment, "Magnetic Rose," is unanimously praised as the anthology's best and for good reason. Directed by Koji Morimoto and scripted by Satoshi Kon, "Magnetic Rose" is emblematic of the themes of perception, identity and uncertainty, which exemplify Kon's work at its best, depicting the terrifying story of a deep space salvage cruise's ensnarement in the siren wiles of an aristocratic opera singer. The anthology's other two installments, Tensai Okamura's "Stink Bomb" and Otomo's "Cannon Fodder," are worth the price of admission as well, the former a crassly comedic take on an extinction-level crisis and the latter a wartime parable animated with a intriguing Terry Gilliam-esque art style in one long take. Whatever your palate as anime film-goer, Memories is not to be missed.
---
12. The Big SickYear: 2017
Director: Michael Showalter
Stars: Kumail Nanjiani, Zoe Kazan, Holly Hunter
Rating: R
Runtime: 120 minutes


The Big Sick can sometimes be awfully conventional, but among its key assets is its radiant view of its characters. Based on the first year in the relationship of married screenwriters Kumail Nanjiani and Emily V. Gordon, this indie rom-com has a mildly risky structure and some trenchant observations about the culture clashes that go on in immigrant families living in America. But what cuts deepest is just how profoundly lovable these people are. That's not the same as being cutesy: Rather, The Big Sick is defiantly generous, understanding that people are horribly flawed but also capable of immeasurable graciousness when the situation requires. So even when the film stumbles, these characters hold you up. Nanjiani plays a lightly fictionalized version of his younger self, a struggling Chicago stand-up who is having as much success in his career as he in his dating life. Born into a Pakistani family who moved to the United States when he was a boy, he's a dutiful son, despite lying about being a practicing Muslim and politely deflecting the attempts of his parents (Anupam Kher, Zenobia Shroff) to set him up in an arranged marriage. That's when he meets Emily (Zoe Kazan), an American grad student with whom he's instantly smitten. She swears she doesn't want a relationship, but soon they fall for one another—even though Kumail knows it can't work out. What's most radical about The Big Sick is its optimistic insistence that a little niceness can make all the difference. —Tim Grierson
---
13. HellraiserYear: 1987
Director: Clive Barker
Stars: Andrew Robinson, Clare Higgins, Ashley Laurence
Rating: R
Runtime: 93 minutes


The head villain/eventual hero (there's a sickening number of terrible Hellraiser sequels) behind Clive Barker's Hellraiser franchise is the Cenobite Pinhead, sent from the pits of his own personal hell dimension to drag you down into the depths with him. Where he tortures you. For eternity. All because you opened a fancy Rubik's Cube. Pinhead has zero remorse, looking you dead in the eye as he delivers a deadpan promise to "tear your soul apart." Oh yeah, and the Cenobites are indestructible. Personally, it turned me off to puzzle boxes forever. As in his fiction, Barker's obsessions with the duality of pain and pleasure are on full display in Hellraiser, an icky story of sick hate and sicker love. —Rachel Haas
---
14. The ApartmentYear: 1960
Director: Billy Wilder
Stars: Jack Lemmon, Shirley MacLaine, Fred MacMurray
Rating: NR
Runtime: 125 minutes


Filmmaker Billy Wilder had perhaps one of the greatest, most diverse track records in film history from 1944 to 1960. In this period, he tackled an Oscar-winning drama about alcoholism (The Lost Weekend), two well-regarded film noirs (Double Indemnity, Sunset Boulevard), a war drama (Stalag 17), two light-hearted rom-coms (Sabrina, Seven Year Itch) a gripping murder-mystery (Witness for the Prosecution) and perhaps the funniest American movie of all time (Some Like It Hot). Yet, of all these golden credits, one Wilder's most beloved and memorable achievements was 1960's The Apartment. Jack Lemmon plays C.C. Baxter, an ambitious office worker who, desperate to climb the corporate ladder, allows his bosses to use his apartment to carry on discreet affairs with their mistresses. Things get complicated, however, when he discovers that his office crush, quirky elevator operator Fran Kubelik (Shirley MacLaine), is one of his bosses' mistresses. While it actually gets quite dark at times, The Apartment strikes a perfect balance between laugh-out-loud comedy and emotionally honest drama. Following the career highlight that was his drag-heavy performance in Some Like It Hot, Lemmon here proves that he can play the low-key, straight man with equal dexterity. Likewise, MacLaine's charming portrayal as the damaged, yet lovable Kubelik would provide the model for manic pixie dream girls for years to come. —Mark Rozeman
---
15. Small Axe: Alex WheatleYear: 2020
Director: Steve McQueen
Stars: Sheyi Cole, Robbie Gee, Johann Myers
Rating: NR
Runtime: 65 minutes


Alex Wheatle is a coming of age story based on the early life of the eponymous award-winning YA author and is the penultimate film of McQueen's Small Axe collection. Set in the '70s and early '80s, we follow Alex from his childhood in an orphanage of Dickensian cruelty to his Brixton youth, where he connects with his Blackness, to his being nurtured by a paternalistic Rastafarian cellmate in prison. Alex Wheatle is accomplished and devastating, with dynamic cinematography, a phenomenal soundtrack and a heartbreaking central debut performance from Sheyi Cole. In many ways, it feels like a melding of the other four Small Axe films: The systemic racism of Mangrove, the musical escapism of Lover's Rock, the daddy issues of Red, White & Blue and the childhood cruelty of Education. But in its thematic overlapping, Alex Wheatle undermines its own significance. It doesn't have the distinct identity of the other films and, while it's always a pleasure to watch filmmaking at McQueen's level, it doesn't leave a lasting impression.—Leila Latif
---
16. The GeneralYear: 1926
Directors: Buster Keaton and Clyde Bruckham
Stars: Joseph Keaton, Marion Mack, Glen Cavender
Rating: NR
Runtime: 79 minutes


When Yankee spies steal his locomotive and kidnap his girlfriend, a Southern railroad engineer ("The Great Stone Face" Buster Keaton) is forced to pursue his two beloveds across enemy lines. While a few Charlie Chaplin pictures give it a run for its money, The General is arguably the finest silent comedy ever made—if not the finest comedy ever made. At the pinnacle of Buster Keaton's renowned career, the film didn't receive critical or box-office success when released, but it has aged tremendously. It's a spectacle of story, mishmashing romance, adventure, action (chases, fires, explosions) and comedy into a seamless silent masterpiece. —David Roark
---
17. The NorthmanRelease Date: April 22, 2022
Director: Robert Eggers
Stars: Alexander Skarsgård, Nicole Kidman, Claes Bang, Anya Taylor-Joy, Ethan Hawke, Willem Dafoe, Björk
Rating: R
Runtime: 140 minutes


Forged in flame and fury, Robert Eggers' The Northman is an exquisite tale of violent vengeance that takes no prisoners. Co-written by Eggers and Icelandic poet Sjón (who also recently co-wrote A24's Icelandic creature feature Lamb), the film is ever-arresting and steeped in the director's long-standing penchant for period accuracy. Visually stunning and painstakingly choreographed, The Northman perfectly measures up to its epic expectations. The legend chronicled in The Northman feels totally fresh, and at the same time quite familiar. King Aurvandill (Ethan Hawke) is slain by his brother Fjölnir (Claes Bang), who in turn takes the deceased ruler's throne and Queen Gudrún (Nicole Kidman) for his own. Before succumbing to fratricide, Aurvandill names his young son Amleth (Oscar Novak) as his successor, making him an immediate next target for his uncle's blade. Narrowly evading capture, Amleth rows a wooden boat over the choppy waters of coastal Ireland, tearfully chanting his new life's mission: "I will avenge you, father. I will save you, mother. I will kill you, Fjölnir." Years later, Amleth (played by a muscular yet uniquely unassuming Alexander Skarsgård) has distinguished himself as a ruthless warrior among a clan of Viking berserkers, donning bear pelts and pillaging a series of villages in a furious stupor. The Northman is an accessible, captivating Viking epic teeming with the discordant, tandem force of human brutality and fated connection. Nevertheless, it's worth mentioning that the film feels noticeably less Eggers-like in execution compared to his preceding works. It boasts a much bigger ensemble, seemingly at the expense of fewer unbroken takes and less atmospheric dread. In the same vein, it eschews the filmmaker's interest in New England folktales, though The Northman does incorporate Eggers' fascination with forestry and ocean tides. However, The Northman melds the best of Eggers' established style—impressive performances, precise historical touchstones, hypnotizing folklore—with the newfound promise of rousing, extended action sequences. The result is consistently entertaining, often shocking and imbued with a scholarly focus. It would be totally unsurprising if this were deemed by audiences as Eggers' definitive opus. For those already enamored with the director's previous efforts, The Northman might not feel as revelatory as The Witch or as dynamic at The Lighthouse. What the film lacks in Eggers' filmic ideals, though, it more than makes up for in its untouchable status as a fast-paced yet fastidious Viking revenge tale. The Northman is totally unrivaled by existing epics—and perhaps even by those that are undoubtedly still to come, likely inspired by the scrupulous vision of a filmmaker in his prime.—Natalia Keogan
---
18. CandymanYear: 2021
Director: Nia DaCosta
Stars: Yahya Abdul-Mateen II, Teyonah Parris, Colman Domingo, Tony Todd, Vanessa Estelle Williams
Rating: R
Runtime: 91 minutes


The problem with writing about Candyman is that you will inevitably have to write "Candyman" five times. What if my monitor suddenly craps out, leaving me to see a paranormal entity rocking a full-length shearling behind my dark reflection? Unlike many of the white Chicagoans in writer/director Nia DaCosta's slasher sequel, I'm not foolish enough to tempt the Bloody Mary of the Near North Side. I am, however, still drawn to her update of the legend, which manages to pick up the original film's pieces and put them back together in a compelling, reclamatory collage. Ignoring the rest of the Candyman series in favor of a direct follow-up to Bernard Rose's allegory-rich 1992 slasher, DaCosta introduces fancy-pants artist Anthony (Yahya Abdul-Mateen II) to the same urban legend that consumed lookie-loo grad student Helen Lyle. The original story adapted Clive Barker to U.S. racism and wealth inequality—particularly in Chicago, and even more particularly in Chicago's Cabrini-Green projects. Now its homes and high-rises have been demolished or abandoned. A massive Target overlooks its northwest border, where you can buy athleisure and grab an in-house Starbucks before heading to Panera Bread. Gentrification may have neatly plastered over history, but that history cannot be so easily erased. "A story like that—a pain like that—lasts forever," says Colman Domingo's long-timer laundryman Burke. "That's Candyman." DaCosta makes it clear that Anthony's pulled by the legend, by history, more intimately than Helen ever was, and updates her scares in turn. The nightmarish apartments and putrid bathrooms Helen crawled through and photographed neatly reflected the entity haunting them; but the projects have been paved over, and Candyman persists. DaCosta shoots the city accordingly, either in dividing straight lines, or fully warped: You never notice how Marina City's towers look like beehives until they're flipped upside-down. Spurred on by Anthony's interest, Candyman's now an inevitability in every reflective surface. You can't look away from DaCosta's inspired compositions and layouts, your eyes led from one dark corner to the next with an Invisible Man-like mastery of negative space. One of these days, you think, she's going to run out of ideas about how to shoot a mirror kill. Not so, especially in her world of omnipresent, physically and psychically painful self-reflection. While the kills, perpetrated by a being mostly just seen in mirrors, are sometimes a bit too obfuscated by their gimmick to be viscerally satisfying, they slot in perfectly with the film's themes and aesthetic even when they're not dumping cascades of blood. The power of martyrdom, the cycles of economic exploitation, the blood price expected for progress—even if these ideas are imperfectly engaged with, they're so compellingly introduced as to solidify Candyman as a must-see horror and a must-discuss tragedy.—Jacob Oller
---
19. Argentina, 1985
Release Date: October 21, 2022
Director: Santiago Mitre
Stars: Ricardo Darín, Peter Lanzani, Claudio Da Passano, Alejandra Flechner, Norman Briski
Rating: R
Runtime: 140 minutes


The horrendous historical reckoning inherent to Santiago Mitre's Argentina, 1985 is unmistakably evoked through the film's title. The Argentine director, who is best known for political dramas that examine the country's social follies, meticulously recreates the circumstances surrounding what's considered the most ambitious trial against fascist human rights violations in Latin American history. Co-written by Mitre and Mariano Llinás (the filmmaker behind the four-part epic La Flor), Argentina, 1985 is a stylistically assured procedural that manages to tastefully recount the mass torture, rape, killing and "disappearance" of more than 30,000 Argentine civilians by the military dictatorship during the so-called Dirty War that lasted nearly a decade from 1974 through 1983. Through capturing victim testimonies as they were presented in court during this months-long trial as well as the dogged pursuit for justice by a ragtag team of bravely dedicated prosecutors, the film wholly resists sensationalization, opting instead to faithfully reconstruct the events that culminated in a landmark win for social justice amid a shakily budding democracy. Ricardo Darín plays Julio César Strassera, the lead prosecutor of the Trial of the Juntas, who is initially fearful over the prospect of publicly presiding over the case against these murderous fascists, none more notorious than one-time acting ruler Jorge Rafael Videla. Obviously, Strassera's apprehension is more than warranted: With the national wounds still raw from the junta's merry mass extermination of citizens accused of opposing their rule, he immediately begins to fret for the lives of his wife and children. This anxiety manifests in subtle and overt ways — he loses sleep, relies on nerve-numbing cocktails and begins taking his son to school on the subway instead of risking the threat of car bombs being planted in his modest sedan. However, the pressure of this undertaking is partially lifted from his shoulders when deputy prosecutor Luis Moreno Ocampo (Peter Lanzani) joins the case. Together, they select a legal team to aid in their extensive, labor-intensive hunt for witnesses, incriminating documents and written statements that detail the nauseating cruelty and violence of the junta. While much of the film is focused on the collection of evidence and ensuing court case, Argentina, 1985 is also masterfully imbued with period-specific details in the costume and set design, painstakingly emulated from archival footage. Sumptuously captured by cinematographer Javier Juliá's lens, these visual facets make the two-hour-and-twenty-minute runtime melt by. Of course, the film's streamlined, never-clunky narrative is no doubt bolstered by Llinás' involvement as co-writer. After helming an 808-minute feature in 2018, an 140-minute undertaking must feel like light work.—Natalia Keogan
---
20. AmbulanceRelease Date: April 8, 2022
Director: Michael Bay
Stars: Yahya Abdul-Mateen II, Eiza González, Jake Gyllenhaal, Garret Dillahunt, Keir O'Donnell, Olivia Stambouliah, Jackson White, A Martinez, Cedric Sanders
Rating: R
Runtime: 136 minutes


If Ambulance, Michael Bay's 15th feature currently basking in a gleeful critical reappraisal of Bay's canon, feels as entelechial as Bad Boys II, it can only be because Bay has found himself in the absolute best time to be Bay. Though an ensemble of Angelenos fills out the film as it barrels to pretty much the only conclusion it could have, Ambulance is about as tidy as a Michael Bay film can get. Within ten minutes we're deep in Ambulance: Strapped for money to pay his wife's escalating medical bills, let alone care for their infant son, Will Sharp (Yahya Abdul-Mateen II) agrees to join his adoptive brother Danny (Jake Gyllenhaal, always a joy to behold) on one last big score, a bank heist that goes inevitably wrong. Subsequently, they shoot a cop (Jackson White) and commandeer the cop's ambulance, also occupied by the "best" EMT in L.A., Cam Thompson (Eiza González)—just one more embittered soul in the grand gray tapestry that is the City of Angels. As Danny loses control and Will more and more accepts his fate as the offspring of a fabled bank-robbing psychopath, their bank robber father spoken of in hushed tones and unbelievable stories, the entire militarized might of the LAPD descends upon the stolen ambulance, led by Captain Monroe (Garret Dillahunt), a man who festishizes the police enough that Bay doesn't have to. Even when FBI Agent Clark (Keir O'Donnell) gets involved, he's only invited into Monroe's inner circle because he went to college with Danny. Bad Boys and the fever dream of Bad Boys II are about how Michael Bay thinks that cops must be psychopaths in order to confront a modern psychopathic world. In Ambulance, as much as his vision of the LAPD comprises sophisticated surveillance and world-killing artillery to rival the most elite military power of the U.S. government—making sure it all looks really fucking cool—he also makes sure to interrupt an especially destructive chase sequence (as he once had Martin Lawrence declare the events happening on screen obligatory and nothing else) among so many especially destructive chase sequences, to have Monroe's left hand, Lieutenant Dhazghig (Olivia Stambouliah), tell him how many tax dollars they're annihilating. Later, many, many police officers die in explosions and hails of gunfire, bodies indiscriminately everywhere. One detects glee in these scenes, as if Bay's countering Monroe's dismissal of so many flagrantly abused tax dollars by blowing up half the LAPD in a spectacle that practically demands applause. Maybe Michael Bay no longer sees the utility in unleashing psychopathic cops on a psychopathic world, but maybe he never did. In Bay's L.A., there are no sides, no good guys and bad guys, just a person who "saves my life" or doesn't—just people with holes punched into their bodies and people without. This is Bay's distinction between the "haves" and "have nots": People who have mortal trauma and people who don't. The film's disposable blue collar Italian lump, Randazzo (Randazzo Marc), puts it simply: "L.A. drivers! They're all mamalukes." Behold this urban wasteland of struggling mamalukes—it teems with more style than we'll ever deserve.—Dom Sinacola
---
21. We Need to Talk About KevinYear: 2012
Director: Lynne Ramsay
Stars: Tilda Swinton, John C. Reilly, Ezra Miller
Rating: R
Runtime: 112 minutes


We Need To Talk About Kevin concerns the experience of a mother (Tilda Swinton) struggling with the aftermath of a school massacre carried out by her son (Ezra Miller). In its narrative construction, it draws upon two key tropes: that of the "whydunnit" thriller, in which the mystery of the perpetrator's motivations are a driving factor, and that of the family horror, in which some dark element tears a traditional household apart. Indeed, the real horror is not that a teenager chose total negation over the banality of normative family life—it's that these appeared to be the only two choices available. Tilda Swinton is brilliant in the starring role as a mother who grapples with guilt about what her son has done and reflects on his childhood, wondering what, if anything, could possibly have been done differently when one gives birth to a "bad seed." The heartbreaking nature of the film is perfectly encapsulated by the scene wherein Kevin as a child briefly drops his sociopathic tendencies while ill, giving Swinton's character a brief chance to feel like a cherished mother, only to emotionally shut her out again as soon as his physical health returns, dashing her hopes that some kind of breakthrough had been made. —Donal Foreman
---
22. Evangelion 3.0+1.0: Thrice Upon a TimeYear: 2021
Director: Hideaki Anno, Mahiro Maeda, Katsuichi Nakayama, Kazuya Tsurumaki
Stars: Megumi Ogata, Megumi Hayashibara, Yuko Miyamura, Maaya Sakamoto, Akira Ishida, Kotono Mitsuishi
Rating: TV-MA
Runtime: 154 minutes


Since 1995, Neon Genesis Evangelion has penetrated the cultural consciousness with giant robots, angsty teens and esoteric Biblical references. It is the story of Shinji Ikari, a young boy destined to pilot a giant robot called Unit-01 in a future where creatures called Angels are destined to destroy humanity. But Shinji resists his fate, complaining at every turn and freezing with indecision as the survival of humanity lies on his shoulder. It is truly a one of a kind franchise, the brainchild of the genius and deeply depressed Hideaki Anno. It is a franchise that has plagued him for over 25 years, from a series to a slew of movies that worked to rewrite a dissatisfying ending. Now, Anno is finally done. With the release of his latest and last piece of Evangelion media, Evangelion 3.0+1.0: Thrice Upon a Time, the time of the Angels has come to an end. Thrice Upon a Time is the fourth Rebuild of Evangelion film, which is a complete retelling of the events from the original series. The final film in the universe of Shinji, Asuka, Rei and EVAs may not be the best place for franchise novices to start, but it should be a great motivator. Rarely do anime franchises end on such a pitch perfect note, but Anno shows it is possible with Evangelion 3.0+1.0: Thrice Upon a Time. After decades of grappling with what this series means to him and using it as a mechanism to process his own emotional baggage, Anno has finally found closure within his broken world full of angst and hope. This is a gasp of relief, a stifled sob of pride that punctuates a cultural milestone. With the release of this film, Anno is finally free.—Mary Beth McAndrews
---
23. DetourYear: 1945
Director: Edgar G. Ulmer
Stars: Tom Neal, Ann Savage, Claudia Drake, Edmund MacDonald
Runtime: 68 minutes


A Poverty Row staple with an unknown cast peering into the post-war dark night of the soul, Detour has come to embody the best film noir has to offer—namely, that budget and schedule concerns indirectly enriched the artistic product, paring down a weightier script and even more bloated source novel into a precise, exquisitely sharp bit of storytelling economy. Trapped within the sweaty mind of always-broke jazz pianist Al Roberts (Tom Neal) as he heads West from New York to settle down with his girlfriend (Claudia Drake), a symbol of stable life for Roberts who absconded with his heart to try to "make it" in Hollywood, we're stuck with only the unlucky guy's version of events throughout his increasingly desperate trip. After all, his hitchhiking journey seems doomed to fail from the start, but it grows damn near bleak with the accidental cadaver-ing of a gregarious Charles Haskell (Edmund MacDonald) following a whirlwind buddy meet-cute, and then completely hopeless with the introduction of Vera (Ann Savage), an iconic femme fatale who doesn't have to try hard to ensnare Roberts, by that point so far out of his league he's got his pants pulled up well past his nipples. As much an efficient encapsulation of its genre as it is a noir drowning entirely within its own hell-bent nightmare, Detour is most impressive for how gracefully Ulmer can get the most out of so little. —Dom Sinacola
---
24. A HeroRelease Date: January 7, 2022
Director: Asghar Farhadi
Stars: Amir Jadidi, Mohsen Tanabandeh, Alireza Jahandideh, Sahar Goldoost, Fereshteh Sadr Orafaie, Sarina Farhadi
Rating: PG-13
Runtime: 127 minutes


What's the price for having a conscience? Iranian master Asghar Farhadi's A Hero spirals out a good deed to all its messy conclusions, providing fertile ground for the filmmaker's command of aesthetic realism and closeknit interpersonal dynamics. Rahim (Amir Jadidi), a jailed debtor, returns a bag filled with money that he found on leave. The consequences from that act, pushed and prodded and wheedled by Farhadi's script—which adds a deft understanding of social media to a sharply constructed web of relationships and reputations—are an endurance test for the tear ducts. Doomed nobility is the biggest ask for Jadidi, but his big toothy smile and world-beaten posture allow him to find the perfect amounts of charm (whether genuine or off-putting) or pathos (which we know he'd hate) in Rahim. Sahar Goldoost, Maryam Shahdaei and Alireza Jahandideh make the film a truly potent ensemble drama, while Farhadi's daughter, Sarina Farhadi, has a memorable return to the screen a decade since her last role, in Farhadi's A Separation.—Jacob Oller
---
25. Small Axe: Red, White & BlueYear: 2020
Director: Steve McQueen
Stars: John Boyega, Steve Toussaint
Rating: NR
Runtime: 80 minutes


What Red, White & Blue has going for it are two extraordinary performances from John Boyega and Steve Toussaint. Boyega is charming as the fiery and conflicted Leroy Logan, a Black scientist who—following on a racist police attack on his father—decides to join the force to reform it from the inside. His father is played with equally compelling ferocity and dignity by Toussaint. There is so much to love in this film, as McQueen leans into his skill at suspense—ratcheting up the tension with incomparable style—and brings out performances that are able to convey so much without saying a word. However, the script doesn't match the rest of the film, with clunky exposition and uncharacteristic sentimentality weighing down the actors. At its core, Red, White & Blue is not about police reform. In fact almost all of Logan's fascinating career accomplishments take place long after the film's credits roll. Rather, Red, White & Blue is focused on a complicated father/son relationship. Viewed through that lens (and likely through the lens of your own specific paternal hang ups) it soars.—Leila Latif
---
26. Hot FuzzYear: 2007
Director: Edgar Wright
The second chapter in the Three Flavours Cornetto trilogy (before there was ever such a thing), Hot Fuzz is clear evidence that Edgar Wright is capable of anything. A blockbuster action flick, a thriller, a pulp plot, a winking noir, a commentary on classism in an increasingly urbanized society—the movie is all of these things, down to the marrow of its very existence. Moreso than Shaun of the Dead or The World's End, Hot Fuzz inhabits its influences with the kind of aplomb to which any cinephile can relate: Somewhere between fascination, revulsion and pure visceral joy there walks the Michael Bays, the Don Simpsons, the John Woos, the Jerry Bruckheimers, and Wright gives each stalwart his due. Plus, he does so with total respect, showing that he understands their films inside and out. And in that intimate knowledge he knows even better that filmmaking is a conflagration: Best to burn it all down and see what remains than build it from the ground up. —Dom Sinacola
---
27. Small Axe: EducationYear: 2020
Director: Steve McQueen
Stars: Kenyah Sandy, Sharlene Whyte, Tamara Lawrance, Naomi Ackie
Rating: NR
Runtime: 80 minutes


Education is McQueen's most personal and tender work, focused on the education of Black children in the 1970s. McQueen, now broadly recognized as a creative genius, was repeatedly told as a child by his teachers that he would never be capable of doing more than basic manual labor. In Education, he reopens those old wounds through Kingsley, a bright young boy who dreams of being an astronaut. Thanks to institutional racism and undiagnosed dyslexia, Kingsley is sent to a "special school" where he is placed alongside white children with intense and apparent learning disorders and other Black children who have no discernible reason for being there. Of all the films he has made, this one is scrubbed clean of most of McQueen's stylistic signatures: The whole thing resembles a film actually made in the 1970s rather than a modern film in a '70s setting. By making a film rooted in his own memories, McQueen entirely transports us there. The film's heroines are based on the real-life Black activists who fought for West Indian children's futures and created the Saturday schools that nurtured McQueen. Education serves both as a beautiful tribute to their achievements across the community and in recognizing the talents of one of Britain's most gifted artistic visionaries.—Leila Latif
---
28. Love & FriendshipYear: 2016
Director: Whit Stillman
Stars: Kate Beckinsale, Chloe Sevigny, Xavier Samuel
Rating: PG
Runtime: 93 minutes


The title of Whit Stillman's latest comedy may be Love & Friendship, but while both are certainly present in the film, other, more negative qualities also abound: deception, manipulation, even outright hatred. Underneath its elegant period-picture surface—most obviously evident in Benjamin Esdraffo's Baroque-style orchestral score and Louise Matthew's ornate art direction—lies a darker vision of humanity that gives the film more of an ironic kick than one might have anticipated from the outset. Still, the humor in Love & Friendship is hardly of the misanthropic sort. As always with Stillman, his view of the foibles of the bourgeois is unsparing yet ultimately empathetic. Which means that, even as Stillman works his way toward a happy ending of sorts, the film leaves a slightly bitter aftertaste—which is probably as it should be. Such honesty has always been a hallmark of Stillman's cinema, and even if Love & Friendship feels like more of a confection than his other films, that frankness, thankfully, still remains. —Kenji Fujishima
---
29. Small Axe: Lovers RockYear: 2020
Director: Steve McQueen
Stars: Micheal Ward, Amarah-Jae St. Aubyn, Kedar Williams-Stirling, Shaniqua Okwok
Rating: NR
Runtime: 70 minutes


In Lovers Rock, McQueen untethers himself from a conventional narrative and leans into style, movement and feeling set over the course of a single house party in Notting Hill—an area of London that (in 1980) was largely populated by the West Indian community, but has since become one of the most expensive neighborhoods on the planet. This film is based generally on the parties the Black community held for themselves, as they were not welcome in London's bars and nightclubs at the time. At the center of this film are Martha (Amarah-Jae St. Aubyn), a middle-class British Christian with Jamaican roots and the dreamy code-switching mechanic Franklyn (Micheal Ward). Released in a time of quarantines and social distances, the film had a rapturous reception, bringing a warmth into our homes and a longing to return to an evening of such possibilities. A single scene where the dance floor sings along to "Silly Games" by Janet Kay is McQueen at his greatest and most joyful, transporting the audience into a giddy hypnotic ecstasy. In many ways Lovers Rock is McQueen's smallest film, but may end up being his most beloved.—Leila Latif
---
30. Small Axe: MangroveYear: 2020
Director: Steve McQueen
Stars: Letitia Wright, Shaun Parkes, Malachi Kirby, Rochenda Sandall, Alex Jennings, Jack Lowden
Rating: NR
Runtime: 127 minutes


Mangrove is McQueen's greatest film not only because it is an exceptional piece of filmmaking, but because it shows off virtually every one of McQueen's strengths. The first half looks at the state-sponsored terrorizing of the Mangrove restaurant, a Notting Hill restaurant opened by Frank Crichlow (Shaun Parkes) in 1968 that became a hub for the West Indian community and British Black Panthers. After a demonstration protesting the Mangrove's treatment is swarmed by the racist police force, nine of the participants (including Crichlow himself) are framed for inciting a riot. The second half of the film follows their trial and the toll it takes on them. From start to finish, McQueen fires on all cylinders, shining a light on a largely forgotten piece of history and drawing exceptional performances out of the entire cast (but in particular Parkes and Malachi Kirby). Many of Mangrove's most beautiful moments, including its climax, hold tight on Parkes' face and let us experience intense pain, rage, fear, joy and relief through the bottomless wells of his soulful brown eyes. And it is thrilling: The earlier scenes of police, skulking down streets like apex predators, both disturb and terrify. But McQueen is able to accomplish seamless tonal shifts, with those same police officers' interrogation in a later courtroom scene proving absurd and hilarious. Particular praise must also be given to cinematographer Shabier Kirchner. The use of camera in this film is as unpredictable as it is beautiful, making every moment visceral and riveting. McQueen picks out unusual shots and angles to give every scene the thoughtful composition of a Vermeer. There is a pure poetry to Mangrove, and an implicit footnote: The bravery of these activists will eventually be captured by a Black filmmaker and turned not only into his greatest work (so far), but perhaps the best British film of the decade.—Leila Latif
---
31. Beavis and Butt-Head Do AmericaYear: 1996
Director: Mike Judge
Stars: Mike Judge, Bruce Willis, Demi Moore, Robert Stack, Cloris Leachman
Rating: PG-13
Runtime: 80 minutes


Mike Judge was at the top of his powers in the mid to late '90s, when he was juggling Beavis and Butt-Head with King of the Hill and also developing Office Space. Although it lacks the music video commentary that was often the funniest part of the MTV series, Beavis and Butt-Head Do America is the rare feature-length adaptation of a TV show that's actually better than the source material. A higher budget resulted in the best animation ever associated with Beavis and Butt-Head, while the extra length of a movie let Judge and his co-writer Joe Stillman take the cultural satire the show was known for in deeper and wider ranging directions. It also features Robert Stack's best animated performance since that time he got to cuss in the Transformers movie.–Garrett Martin
---
32. Sound of MetalYear: 2020
Director: Darius Marder
Stars: Riz Ahmed, Olivia Cooke, Paul Raci, Lauren Ridloff
Rating: R
Runtime: 120 minutes


Ruben Stone (Riz Ahmed) is challenged by his rehab sponsor: Sit in a room completely silent. If you're unable to do that, write about what's going through your mind. As a recovering addict and blossoming rockstar, this is difficult to do by itself. But with Ruben's rapidly deteriorating hearing, he fears the silence like no other. The Darius Marder-directed Sound of Metal explores a musician's struggle with identity due to his new disability. An experiment of sound design paired with a stellar lead performance makes for a captivating film. Along with his girlfriend, Lou (Olivia Cooke), Ruben co-leads the metal band Blackgammon. They travel to gigs in their Winnebago and bond over the open road. Ruben loses his hearing in a sudden way, causing concern. Afraid, he goes to an audiologist to discover his hearing loss is pretty advanced. Concerned about his sobriety being in jeopardy from the shocking news, Lou convinces Ruben to go to a community retreat for the deaf. While there, he balances the warring feelings of learning to live and love himself as a deaf person and wishing for his old life. Boasting a solid story about profound loss (or is it simply profound change?), knockout performances by Ahmed and Paul Raci in a supporting role, and award-worthy sound design, Sound of Metal cuts through the clutter. But most importantly, it does so by prioritizing the deaf/hard-of-hearing community through its hiring of deaf talent, its use of deaf consultants and captions throughout the film. Marder's film is the kind of movie that could've easily gone in the wrong direction (for all the right reasons). Instead, it sticks the landing.—Joi Childs
---
33. Hard EightYear: 1997
Director: Paul Thomas Anderson
Starring: Philip Baker Hall, John C. Reilly, Gwyneth Paltrow, Samuel L. Jackson
Rating: R
Runtime: 101 minutes


It's hard to think of a director who came onto the film scene with a louder bang than Paul Thomas Anderson. His feature debut Hard Eight arose after his 1993 short film, Cigarettes & Coffee, made a splash at the Sundance Film Festival Shorts Program. This led the Sundance Institute to invite him to a Directors Lab, where he would develop a feature film: Hard Eight. Because this is the film biz, development did not come without its fair share of headaches. Anderson shot the film in 28 days, but the studio he paired up with didn't like his cut, and it took a year of arguments before it was finally released. The struggle was worth it, though, as Anderson's finished product is whip-smart and engrossing. The film follows Sydney (Philip Baker Hall), an old man who takes the hapless John (John C. Reilly) under his wing and teaches him how to be a successful gambler. The two get mixed up with cocktail waitress/sex worker Clementine (Gwyneth Paltrow), who, in turn, gets them mixed up with a precarious hostage situation. Hard Eight traverses the difficult terrain of keeping a crime-heist film fun without having it verge into camp. The film successfully remains a moving, insightful character study—while still not sacrificing moments of thrilling action—all the way through. And though at times the editing is awkward and performances are a little stiff, it still often seems like the work of a veteran in the director's chair. It's hard to believe that Anderson was only twenty-five when he made it.—Aurora Amidon
---
34. The Vast of NightYear: 2019
Director: Andrew Patterson
Starring: Sierra McCormick, Jake Horowitz
Rating: PG-13
Runtime: 89 minutes


The Vast of Night is the kind of sci-fi film that seeps into your deep memory and feels like something you heard on the news, observed in a dream, or were told in a bar. Director Andrew Patterson's small-town hymn to analog and aliens is built from long, talky takes and quick-cut sequences of manipulating technology. Effectively a '50s two-hander between audio enthusiasts (Sierra McCormick and Jake Horowitz playing a switchboard operator and disc jockey, respectively) the film is a quilted fable of story layers, anecdotes and conversations stacking and interweaving warmth before yanking off the covers. The effectiveness of the dusty locale and its inhabitants, forged from a high school basketball game and one-sided phone conversations (the latter of which are perfect examples of McCormick's confident performance and writers James Montague and Craig W. Sanger's sharp script), only makes its inevitable UFO-in-the-desert destination even better. Comfort and friendship drop in with an easy swagger and a torrent of words, which makes the sensory silence (quieting down to focus on a frequency or dropping out the visuals to focus on a single, mysterious radio caller) almost holy. It's mythology at its finest, an origin story that makes extraterrestrial obsession seem as natural and as part of our curious lives as its many social snapshots. The beautiful ode to all things that go [UNINTELLIGIBLE BUZZING] in the night is an indie inspiration to future Fox Mulders everywhere. —Jacob Oller
---
35. His Girl FridayYear: 1940
Director: Howard Hawks
Stars: Cary Grant, Rosalind Russell, Ralph Bellamy
Rating: PG
Runtime: 92 minutes


Special effects have become so sophisticated that many of us have probably forgotten how much pure amazement you can wreak with a great story and a script that doesn't let up for one second. This amazing, dizzyingly paced screwball comedy by Howard Hawks stars Cary Grant and Rosalind Russell, and takes us back into two of the decade's hallmark preoccupations: The "remarriage comedy" and the intrigue and obsessiveness of the newspaper world. The minute Russell's Lindy Johnson stalks into the newspaper office run by her ex-husband Walter Burns (Grant), you know it's to tell him she's getting remarried and leaving journalism to raise a family, and you know that's not how it's going to end. No high-suspense mystery here. What puts you on the edge of your seat in this film is how you get there. Hilariously acted and expertly filmed, His Girl Friday derives much of its comedic impact from the incredibly clever and lightning-fast banter of the characters. Don't even think about checking your phone while you're watching this. In fact, try to blink as little as possible. —Amy Glynn
---
36. Black DynamiteYear: 2009
Director: Scott Sanders
Stars: Michael Jai White, Byron Minns, Tommy Davidson, Kevin Chapman
Rating: R
Runtime: 84 minutes


It may seem to be a bit late to spoof the blaxploitation films of the 1970s, but don't tell the guys who made Black Dynamite. Scott Sanders, Michael Jai White and Byron Minns have made a funny satire whose distance from the source material works to its advantage. It pulls its style from films like Shaft and Coffy, using a low-grade film stock, polyester clothing, and afro wigs to mimic their textured look, but it pulls most of its humor from the same vein of silliness that produced movies like Airplane!, expecting an audience that responds to absurdity, not movie allusions. Even if your nearest exposure to Foxy Brown is through a Quentin Tarantino homage, Black Dynamite likely has a joke aimed at you.–Robert Davis
---
37. The Lost City of ZYear: 2017
Director: James Gray
Stars: Charlie Hunnam, Robert Pattinson, Sienna Miller
Rating: PG-13
Runtime: 141 minutes


James Gray's The Lost City of Z is an anti-period movie. In the vein of The Immigrant, Gray's glorious last film, Z is fascinated with its milieu (this time we begin across the Atlantic in Blighty, from 1906 to 1925) and luxuriously adorned with period detail—but the strangulated social climate and physically claustrophobic spaces of its ostensibly sophisticated Western society make that environment appear totally unappealing. Only once we reach the Amazon, untainted by Western hands, does the film relax, its beguiling score and open-air scenery turning inviting. There, in a land of uncomplicated tribes and indifferent wilderness, a man like soldier and explorer Major Percy Fawcett (Charlie Hunnam) can find freedom from the narrow-mindedness infecting early 20th century Britain. Darius Khondji's cinematography doesn't just complement Gray's movie, it deepens its meaning, strengthening the appeal of Fawcett's jungle, endlessly verdant and mysterious where home in England appears dull and monotone. Every frame is sumptuous and misty-eyed, always pining for a lost era when adventurers might still find corners of the Earth completely untouched. (Gray may show little love for Empire, but he depicts colonial exploration in itself as a romantic adventure.) The film doesn't make for much complexity, but it feels deeply. Like Fawcett, it aches—like his obsession, the jungle, it envelops, casting a lasting spell. —Brogan Morris
---
38. IdaYear: 2013
Director: Pawel Pawlikowski


A compelling examination of how the past can shape us even when we don't know anything about it, Pawel Pawlikowski's quiet Polish film takes place in the 1960s, when World War II has ended but still grips people's lives. In the title role, Agata Trzebuchowska—with a well-tuned balance between naivete and curiosity despite being a non-professional actor—plays a nun-in-training who learns that her family was Jewish and killed during Nazi occupation. She embarks on an odyssey to find their graves with her cynical, alcoholic aunt Wanda (Agata Kulesza), former prosecutor for the communist government. The relationship between the two characters grows more and more complex as they go deeper down the rabbit hole of their family's past. Shot in black-and-white and academy ratio (1.37:1) by cinematographers ?ukasz ?al and Ryszard Lenczewski, Ida uses its frame to distinct effect, often resigning characters to the lower third of the screen. The effect can be unsettling, but intriguing; that space could contain the watchful power of Ida's lord, but it could also be nothing more than an empty void. After a life of certitude, Ida has to decide for herself. —Jeremy Mathews
---
39. MiraiYear: 2018
Director: Mamoru Hosoda
Stars: Haru Kuroki, Moka Kamishiraishi, Gen Hoshino
Rating: PG


Most, if not all, of Mamoru Hosoda's original films produced in the past decade function, to some degree or another, as exercises in autobiography. Summer War, apart from a premise more or less recycled from Hosoda's 2000 directorial debut Digimon Adventure: Our War Game!, was the many-times-removed story of Hosoda meeting his wife's family for the first time. 2012's Wolf Children was inspired by the passing of Hosoda's mother, animated in part by the anxieties and aspirations at the prospect of his own impending parenthood. 2015's The Boy and the Beast was completed just after the birth of Hosoda's first child, the product of his own questions as to what role a father should play in the life of his son. Mirai, the director's seventh film, is not from Hosoda's own experience, but filtered through the experiences of his first-born son meeting his baby sibling for the first time. Told care of the perspective of Kun (Moka Kamishiraishi), a toddler who feels displaced and insecure in the wake of his sister Mirai's birth, Mirai is a beautiful adventure fantasy drama that whisks the viewer on a dazzling odyssey across Kun's entire family tree, culminating in a poignant conclusion that emphasizes the beauty of what it means to love and to be loved. Mirai is Hosoda's most accomplished film, the recipient of the first Academy Award nomination for an anime film not produced by Studio Ghibli, and an experience as edifying as it is a joy to behold. —Toussaint Egan
---
40. The Phantom of the OperaYear: 1925
Director: Rupert Julian
Stars: Lon Chaney, Mary Philbin
Rating: NR
Runtime: 79 minutes


Before Dracula and the official birth of Universal Horror, there was Phantom of the Opera. (By the way: It sucks that none of the major streamers, including Netflix and Shudder, have the rights to show all of the classic Universal Monster series. I want to be able to watch Son of Frankenstein or The Wolf Man streaming on demand some day, guys! Get those licensing deals in place!) Regardless, it's nice that Shudder has at least one of these old classics, on account of it being in the public domain. This is the original version of Phantom, starring Lon Chaney Sr., the "Man of a Thousand Faces." The pace is slow, the acting style on display is rather alien to watch today— overdramatic holdovers from the vaudeville era—and you know how the classic story goes, but man: Chaney's face. t's one of the truly iconic faces of horror, right alongside Boris Karloff, Bela Lugosi and Chaney's own son, Lon Chaney Jr., who would go on to play The Wolf Man. Phantom of the Opera is indispensable for Chaney's self-devised makeup, which reportedly had theater patrons fainting in the aisles in 1925. —Jim Vorel
---
41. Walk Hard: The Dewey Cox StoryYear: 2007
Director: Jake Kasdan
Stars: John C. Reilly, Jenna Fischer, Raymond J. Barry, Kristen Wiig, Tim Meadows, Margo Martindale
Rating: R
Runtime: 96 minutes


Although Walk Hard: The Dewey Cox Story claims to be a spoof of biopics and their extreme depictions of artists—especially musicians—biopics' exaggerations are a reflection of the frailties and eccentricities of the artists which they profile, so it's hard to distinguish a satire about biopics from a satire about musicians. Regardless of what category the film falls into, Walk Hard does not really tow the fine line of being clever so much as it provides a fun and absurd romp with heaps of laughs. John C. Reilly, who plays rising and troubled music star Dewey Cox, skillfully presents a dopey-yet-conniving and shallow-but-sincere character with a heart of fool's gold. Looking something like Johnny Cash crossed with Tom Waits, Cox has multiple addictions, wives and musical phases. Aspiring to a level beyond greatness after he accidentally kills his brother by splitting him in half with a machete when they are young boys growing up in Alabama, Cox is compelled to compensate for the loss of his brother, leading to a life of excess and indulgence. But Reilly isn't the only star of the film. Kristen Wiig shines as Cox's frustrated wife and the mother of their seemingly infinite amount of children; as Cox's other frustrated wife and duet partner, Jenna Fischer is superb. Tim Meadows is hysterical with a stand out performance as Cox's bandmate who can't seem to stop doing or introducing Cox to increasingly heavy drugs. Additionally, cameos from Jack White (Elvis Presley), Jack Black (Paul McCartney), Paul Rudd (John Lennon), Jason Schwartzman (Ringo Starr), Justin Long (George Harrison), Eddie Vedder, Jackson Browne and Lyle Lovett make the film even more ridiculous. Like most films of its ilk, Walk Hard may go too over-the-top to prove itself, but there is something charming about it, underscored by its genuine love of music and affinity for musicians. It is also obvious from one of the first lines in the film ("Guys, I need Cox!") that this project neither takes itself too seriously nor asks the same of its viewers. —Pamela Chelin
---
42. HeathersYear: 1989
Director: Michael Lehmann
Stars: Winona Ryder, Christian Slater, Kim Walker
Rating: R
Runtime: 102 minutes


As much an homage to '80s teen romps—care of stalwarts like John Hughes and Cameron Crowe—as it is an attempt to push that genre to its near tasteless extremes, Heathers is a hilarious glimpse into the festering core of the teenage id, all sunglasses and cigarettes and jail bait and misunderstood kitsch. Like any coming-of-age teen soap opera, much of the film's appeal is in its vaunting of style over substance—coining whole ways of speaking, dressing and posturing for an impressionable generation brought up on Hollywood tropes—but Heathers embraces its style as an essential keystone to filmmaking, recognizing that even the most bloated melodrama can be sold through a well-manicured image. And some of Heathers' images are indelible: J.D. (Christian Slater) whipping out a gun on some school bullies in the lunch room, or Veronica (Winona Ryder) passively lighting her cigarette with the flames licking from the explosion of her former boyfriend. It makes sense that writer Daniel Waters originally wanted Stanley Kubrick to direct his script: Heathers is a filmmaker's (teen) film. —Dom Sinacola
---
43. American PsychoYear: 2000
Director: Mary Harron
Stars: Christian Bale, Jared Leto, Justin Theroux, Willem Dafoe, Chloë Sevigny, Reese Witherspoon
Runtime: 96 minutes


There's something wrong with Patrick Bateman (Christian Bale)—really wrong. Although he writhes within a Christopher Nolan-esque what-is-a-dream conundrum, Bateman is just all-around evil, blatantly expressing just how insane he is, unfortunately to uncaring or uncomprehending ears, because the world he lives in is just as wrong, if not moreso. Plus the drug-addled banker has a tendency to get creative with his kill weapons. (Nail gun, anyone?) Like anybody needed another reason to hate rich, white-collar Manhattanites: Mary Harron's adaptation of Bret Easton Ellis' is a scintillating portrait of corporate soullessness and disdainful affluence.–Darren Orf
---
44. The Neon DemonYear: 2016
Director: Nicolas Winding Refn
Stars: Elle Fanning, Keanu Reeves, Christina Hendricks, Jena Malone
Rating: R
Runtime: 117 minutes


If Nicolas Winding Refn—anthropomorphic cologne bottle; asexual jaguar—is going to make a horror film, Nicolas Winding Refn will make a horror film about the things that scare Nicolas Winding Refn most: asymmetry, sex, fatherhood. In The Neon Demon, every character is either someone's daughter or a deranged daddy figure, both thirsty for the kind of flesh only Los Angeles can provide, the roles of predator and prey in constant, unnerving flux. Part cannibal-slasher movie and part endlessly pretty car commercial, Refn's film about a young model (Elle Fanning) making it in the fashion industry goes exactly where you think it's going to go, even when it's trying as hard as it can to be weird as fuck. But despite his best efforts, Refn sustains such an overarching, creeping atmosphere of despair—such a deeply ingrained sense of looming physical imperfection, of death—that it never really matters if The Neon Demon doesn't add up to much of anything more than a factory showroom of the many gorgeous skins it inhabits, violently or not. —Dom Sinacola
---
45. It's a Wonderful LifeYear: 1946
Director: Frank Capra
Stars: James Stewart, Donna Reed, Lionel Barrymore
Rating: PG
Runtime: 130 minutes


Frank Capra's Christmas fantasy actually kind of flopped at the box office when it was released, and put Capra on the out-to-pasture list as the studio decided he was no longer capable of scoring a hit. Then it was nominated for five Academy Awards and has become known as one of the most acclaimed films ever made. On Christmas Eve, suicidal George Bailey (the sublime Jimmy Stewart) receives a visit from a sort of junior angel who calls himself Clarence Odbody (Henry Travers). Clarence is charged with pulling Bailey off the ledge, in return for which he will be granted wings. So he shows Bailey visions of his life, progressing from his childhood, showing Bailey all the times he made someone's live better (or outright saved it). Ultimately Clarence jumps into the river before George can do it; activating the suicidal man to save Clarence rather than kill himself. It's not enough, so Clarence shows him what the world would look like if he'd never been born. When George sees that his existence has had and continues to have a positive impact on the world, he goes home to his family, Clarence gets his wings and happiness ensues. Yup, it's a Christmas story. And it's one of the most enduring ones for a bunch of reasons, including Stewart's amazing performance and a beautiful script by Frances Goodrich and Albert Hackett along with Capra. (Both Stewart and Capra commented that it was their favorite of all the films they'd respectively worked on.) Timeless, big-hearted and disarmingly sincere, this film is one I defy you to have one cynical comment about. Go on: be cynical. You can't, right? Right. Because it's not possible. —Amy Glynn
---
46. The HandmaidenYear: 2016
Director: Park Chan-wook
Stars: Kim Tae-ri, Kim Min-hee, Ha Jung-woo, Cho Jin-woong
Rating: NR
Runtime: 145 minutes


There are few filmmakers on Earth capable of crafting the experience of movies like The Handmaiden so exquisitely while maintaining both plot inertia and a sense of fun. (Yes, it's true: Park has made a genuinely fun, and often surprisingly, bleakly funny, picture.) The film begins somberly enough, settling on a tearful farewell scene as Sook-hee (Kim Tae-ri) is carted off to the manor of the reclusive and exorbitantly rich aristocrat Kouzuki (Cho Jin-woong), where she will act as servant to his niece, Lady Hideko (Kim Min-hee). But Sook-hee isn't a maid: She's a pickpocket working on behalf of Fujiwara (Ha Jung-woo), a conman scheming to get his mitts on Hideko's assets. (That's not a euphemism. He only wants her for her money.) The reveal of Sook-hee's true intentions is just the first of many on The Handmaiden's narrative itinerary. Park has designed the film as a puzzle box where each step taken to find the solution answers one question while posing new ones at the same time. But you're here to read about the sex, aren't you? It's in the sex scenes between the two Kims that Park shows the kind of filmmaker he really is. The sex is sexy, the scenes steamy, but in each we find a tenderness that invites us to read them as romance rather than as pornography. We're not conditioned to look for humanity in pantomimes of a sexually explicit nature, but that's exactly when The Handmaiden is at its most human. There's something comforting in that, and in Park's framing of deviance as embodied by the film's masculine component. We don't really need him to spell that out for us, but the message is welcome all the same. —Andy Crump
---
47. Ash Is Purest WhiteYear: 2018
Director: Jia Zhangke
Stars: Tao Zhiao, Fan Liao
Rating: NR
Runtime: 136 minutes


Ash Is Purest White's story spans decades, a staggeringly beautiful epic, as comedic as it is heartbreaking, that stills feels impossibly intimate—confined, even, and not by space or imagery, but by emotion. China, over the decades through which the film sweeps, tumbles amidst modernization with little care for those who can't afford to change with the times. Then there is love, passion and crime: At its heart, Ash Is Purest White is a romance between two criminals, Qiao (Tao Zhao) and Bin (Fan Liao). They are serious people with serious demeanors, their day-to-day lives oscillating between the nothingness of a routine lifestyle and violence. Yet, the violence is rarely ever seen—though when it is, Zhangke Jia directs it with a sense of relentless desperation and urgency—and most of the violence of the emotional sort. Yet, there is also a grand sense of human comedy that hangs over the film's proceedings, as the stories of Jia's core characters reflect China at large: Everything is changing, nothing is sacred, the past pales in comparison to the rapidly approaching future. Reality can be fought, but time is inescapable—always encroaching and always passing us by. —Cole Henry
---
48. Fist of FuryYear: 1972
Director: Lo Wei
Stars: Bruce Lee, Nora Miao, Riki Hashimoto, Huang Tsung Hsing
Rating: R
Runtime: 106 minutes
Bruce Lee's second feature is a definite upgrade over the rawness of The Big Boss, sporting a bigger budget, better production and a story more important to Lee's values. His character, Chen Zhen, becomes a Chinese folk hero when he stands up to the invading Japanese occupiers—especially in the classic scene in which he breaks a sign reading "no Chinese and no dogs" in the local park. Fist of Fury marks Bruce Lee's true arrival, fully formed as an action legend, and if there's a precise moment when the audience can witness that happen, it's the iconic dojo fight: Chen shows up at the Japanese training facility to absolutely go to town on everyone inside. Just how iconic would Bruce Lee become? Pretty much every piece of clothing Lee wore in any film became a symbol of martial arts badassery for decades to come, whether it's a simple white shirt, or this film's navy blue suit, or, of course, the yellow tracksuit from The Game of Death. That's how you know the guy is a legend. —Jim Vorel
---
49. VivariumYear: 2020
Director: Lorcan Finnegan
Stars: Jesse Eisenberg, Imogen Poots
Rating: R
Runtime: 97 minutes


A quirky real estate story, where first-time homeowners Tom (Jesse Eisenberg) and Gemma (Imogen Poots) get a lot more than they bargained for, Vivarium is a low-key sci-fi nightmare of the mundane in the vein of early David Cronenberg. Director Lorcan Finnegan's film also functions as a relationship allegory, where Tom and Gemma find themselves stuck in a trendy neighborhood of cookie-cutter homes where starting a family isn't just an expectation but something foisted upon them. It isn't as grisly as something like Shivers, but more affecting in its surreal design and hopelessness. Eisenberg and Poots own the screen as a disintegrating couple coping in distinct ways to their newfound terrarium where they are observed, manipulated, and—perhaps most disturbingly of all—objectively provided for by unseen and undefinable forces. Its 2020 release feels especially fitting as repetition and hopelessness become permanent residents of the couple's home. Genre elements seep into the film, accelerating in hiccups and starts that are as arresting as the film's intentionally artificial design. Startling sound dubbing, odd colorizing, and a few genuine "Oh shit" moments make Vivarium a tight, nasty fable that would fit in with the best Twilight Zone episodes. —Jacob Oller
---
50. A Shot in the DarkYear: 1964
Director: Blake Edwards
Stars: Peter Sellers, Elke Sommer, George Sanders, Herbert Lom
Rating: PG
Runtime: 102 minutes


Amazing to think that when the first film in the Pink Panther series was made, it was intended as a vehicle for its top-billed star David Niven. Wisely, director Blake Edwards realized the true star of the show was the bumbling French policeman Inspector Clouseau, as embodied by the brilliant Peter Sellers. So, they rushed another film into production (it was released in the States a mere three months after The Pink Panther) and comedy greatness was born. Ever the sport, Sellers quite literally threw himself into the part, crashing and stumbling through his investigation of murder and mangling the English language each step of the way. Try as they might to recapture the fire of this first sequel, nothing quite matched the freewheeling spirit of A Shot in the Dark. —Robert Ham