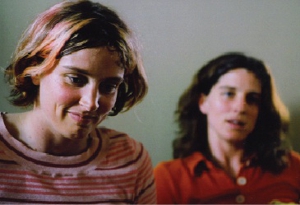 Release Date: Aug. 7
Director/Writer: Andrew Bujalski
Cinematographer: Matthias Grunsky
Starring: Tilly Hatcher, Maggie Hatcher, Alex Karpovsky, Katy O'Connor
Studio/Run Time: The Cinema Guild, 100 mins.

Mumblecore icon speaks volumes in latest offering

In his first two features, Funny Ha Ha and Mutual Appreciation, lo-fi trailblazer Andrew Bujalski spearheaded the mumblecore movement, funneling untrained actors and quarter-life ambiguity into a surprisingly rich product. Beeswax continues Bujsalski's history of creating domestic visual poetry that borders on novelty.

The story documents the relationship of twin sisters Jeannie and Lauren (Tilly and Maggie Hatcher) as they cope with twentysomething trials of lost wallets, lukewarm lovers and tentative lawsuits.
While the script (or lack thereof) reins in its players from divulging openly, each subtle facial expression and stuttered line is its own monologue in this affectionate anti-drama. Despite the ADD conversations and lax plot, the earthy performances are endearing enough to reverse years of big-budget desensitization.
Watch the Beeswax trailer here:
Others Tagged With