Kid Sister: Ultraviolet
[Downtown Records]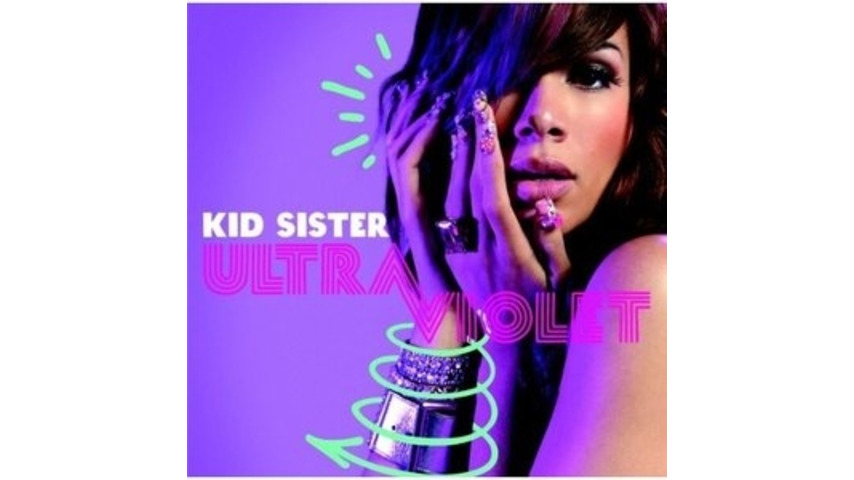 Kanye West-approved Chicago rapper finally releases debut
The first words we hear on Ultraviolet are, "Hi, I'm Kid Sister." At this point, the introduction is warranted. It's been two years since the Chicago-based rapper/singer made a splash with her Kanye West-assisted single "Pro Nails"—which, in Internet time, makes it feel like a relic on this long-delayed debut. Her next big moment came with a guest spot on "Beeper," by The Count & Sinden, which appeared on an earlier, unreleased version of Ultraviolet but is missing here. It's not hard to guess why. Like "Pro Nails," "Beeper" celebrated a status object (a distinctly has-been one, at that), and the pager samples twittering in the beat gave it full novelty-track status. But Kid Sister wants to go wherever you go, not pass through your earbuds in a flash. This reconstituted version of her belabored debut strains to get away from product jingles and change her gimmicky image.
These days, neon ground effects vie for space with strobe lights—and, on Ultraviolet, Kid Sister exemplifies pop rap's modern embrace of techno sounds. Slinky new single "Right Hand Hi" is like a less chilled-out version of Kanye's "Flashing Lights"; pinging Euro-synths drive "Big N Bad," "54321" and others. Kid Sis tempers these ear-wormy club bangers with a pugilistic delivery, which comes to the fore on playground battle raps like "Get Fresh," where bouncy boasts ride a spare, blocky track. And her style is as limber as her squeaky voice. She flips New Wave like Santigold on "Daydreaming," featuring Cee-Lo Green, and raps over splashy '80s-style pop in "Life on TV." The subject matter is limited—it covers fame, mating rituals and scrappy braggadocio, all in a playfully superficial way—but the style is resilient.
This owes a lot to the production. You might expect producer A-Trak to be the VIP here, and his "Pro Nails" beat remains direly infectious, but the other beatmakers hold their own against his twitchy yet lucid style.
The album is undeniably solid, so why does it feel faintly underwhelming? Context is key. The record is squarely aimed at pop excellence, but pop moves fast—part of its pleasure derives from the collective energy surge that's happening right now. Kid Sister felt timely in 2007, crashing the airwaves alongside another diminutively named female MC with a pop-hop smash about beauty products—anyone remember Lil Mama's "Lip Gloss"? In 2009, even without "Beeper," Ultraviolet feels a little behind the curve.
Others Tagged With