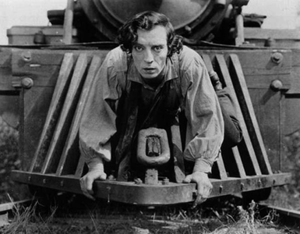 Blu-ray Release: Nov. 10
Director/Writers: Buster Keaton, Clyde Bruckman
Starring: Keaton, Marion Mack, Jim Farley, Charles Henry Smith
Studio/Run Time: Kino International, 78 mins.
A true classic
The irony of Buster Keaton's The General being the first silent feature to be released in America on Blu-ray is that—despite its current status in the pantheon of film classics—it initially bombed. And not just with audiences. It was also critically reviled for its inconsistent tone and lack of plot, not to mention Keaton's performance.
But the elements that struck its contemporary reviewers as lackluster are the very same that make the film timeless. Eschewing straight comedy, The General is equal parts farce, action flick and period piece, setting its absurdly dangerous (and hilarious) stunt work beside a surprisingly accurate representation of the Civil War. Most wrong of all, though, were earlier complaints about Keaton's acting. The General is the highlight of his career's tragicomic performances, featuring not just the awe-inspiring stunts that were his bread and butter, but also a level of fluidity only he and Chaplin attained at the top of their games. In hindsight, the one criticism about the film that rings true is Pauline Kael's re-evaluation from decades later: that it failed because it was too perfect.
Others Tagged With