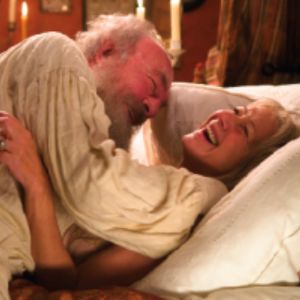 Release Date: Jan. 15
Director: Michael Hoffman
Writers: Michael Hoffman (Screenplay), Jay Parini (Novel)
Starring: James McAvoy, Christopher Plummer, Helen Mirren, Paul Giamatti
Cinematographer: Sebastian Edschmid
Studio/Run Time: Egoli Tossell Film. 110 mins.
Tolstoy's final war
Despite its wandering backstory and revisionist depiction of a germinating religious movement helmed by one of the greatest authors of the 20th century, The Last Station features brilliant performances by both Christopher Plummer as the aged Leo Tolstoy and Helen Mirren as Sofya, his long suffering wife and working partner of 48 years.
Seen primarily through the eyes of Tolstoy's newly appointed and idealistic secretary Valentin (James McAvoy), the author's last days are occupied with the establishment of an anarchist religion that is explicitly despised by Sofya. She fears that Leo, with help from his devoted assistant Chertkov (Paul Giamatti), is assigning all royalties of his novels to the Russian people, thus leaving her with nothing. While Sofya's mercurial temperament destroys the tranquility of the Tolstoy estate, Valentin's loyalty to Tolstoy and Chertkov is compromised by his sympathy for Sofya and his sexual awakening with beautiful freethinker Masha (Kerry Condon).
Each explosive confrontation between Leo and Sofya is a form of cinematic alchemy only a pair of masters like Plummer and Mirren could pull off. It's an affair of love and hate, history and legacy—one that inspires Valentin to appreciate the spirit behind Tolstoy's Christian anarchism, a movement which the film, regrettably, never really addresses.
Watch the trailer for The Last Station:
Others Tagged With