The New Pornographers: Together
[Matador]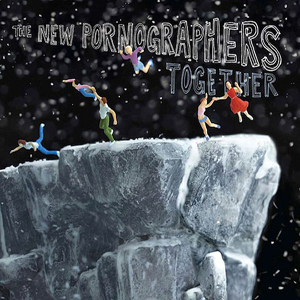 Easy, breezy, beautiful
The New Pornographers have been so reliable for so long that they're easy to take for granted. Learning that the band's fifth album, Together, is their most oddly cohesive and stickiest yet is great but hardly remarkable news—the same has been said for almost all of their previous releases. What's surprising, though, is how loose and comfortable it all feels; the record is punchy, but it breathes easily with a kind of windows-open grace.
Grand opener "The Moves" roars alive and goes on to smash a few walls before plinking piano and sweeping harmonies settle in. Singer/songwriter A.C. Newman fuels the whole album with a recurring series of insistent staccato bangs (guitar, keys, voice), sometimes to ravenous effect ("A Bite Out Of My Bed") and sometimes just to add a little zip ("Sweet Talk, Sweet Talk"). The Dan Bejar-sung "Silver Jenny Dollar" seems like an homage to '90s alt-acoustic radio, with its "whoa-whoa-whoas" and an ephemeral girl-you-can-never-have; meanwhile, Neko Case's "My Shepherd" is an all-out torch song detailing some pretty serious emotional abuse: "You're my lord, you're my shepherd / Careful kitten, no one gets hurt / You made me this way." And it all comes together in grand, vicious unison on the closing blowout "We End Up Together."
This messy-pop template is nothing new for the Pornographers, but they've never applied it to such satisfying ends. Add in some guitarwork by St. Vincent's Annie Clark, a trumpet cameo from Beirut's Zach Condon, backing vocals by Okkervil River's Will Sheff and work by the ultra-reliable Dap-Kings, and it's the band's most colorful patchwork to date.
Others Tagged With